Cold Weather Recipes
Gather your kids around and try some of our cold weather recipes. Winter time doesn't have to be a boring time. It is a great time of the year for cooking with your kids. We have recipes for making edible snowballs, snowman recipes and recipes to warm you up after playing outside. Enjoy!
Planned Kids Cooking Curriculum
~This post may contain affiliate links and I'll earn a small commission if you shop through them. There is no extra cost to you. This is how we help support our family and continue to bring you amazing content. To learn more see the
affiliates disclosure here.
~
Snowballs: Cold Weather Recipes
Lemony Snowballs
½ Cup butter, soft
2/3 Cup sugar
1 egg
¼ Cup lemon juice
1 ¾ Cup flour
¼ teaspoon salt
1/4 teaspoon baking soda
¼ teaspoon cream of tartar
powdered sugar to use after snowballs have baked
Cream butter and sugar together in mixing bowl. Add egg and lemon juice. Blend together. Add dry ingredients, salt, baking soda, cream of tartar and flour. Stir together until well blended. Preheat oven to 350 degrees. Roll dough into small balls and place on cookie sheet. If dough is too sticky to handle chill for 2 hours. Bake snowball cookies for 10-12 minutes until bottoms are lightly browned. Move to cooling rack or sheet of waxed paper. After cookies have cooled slightly so you can handle them, roll them in powdered sugar. Makes about 24.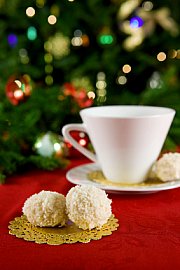 Snowball Surprises
¾ Cup butter
½ Cup sugar
1 egg
½ teaspoon vanilla
¼ teaspoon salt
1 ¾ Cup flour
Peanut M&M or other chocolate candies
powdered sugar to use after snowballs have baked
In mixing bowl cream butter, sugar and egg together. Stir in vanilla, salt, and flour to creamed mixture and mix until well blended. Preheat oven to 350 degrees. Roll dough into balls hiding a chocolate candy inside each ball. Place on cookie sheet and bake for 10-12 minutes until bottoms are lightly browned. Move to cooling rack or sheet of waxed paper and cool several minutes. Roll each cookie in powdered sugar and place on serving platter. Enjoy! Makes about 30.
For a different variation of this recipe you can omit the chocolate candies and add in 1 Cup mini chocolate chips to the dough. Then form into balls and cook.
Baked Ice Cream Snowballs
In small oven safe dishes, often called ramekins, place broken cookies into bottom of dish. You will need 6 -3 inch ramekins for this recipe. Add your favorite ice cream to the ramekins to fill the dish. Place the ramekins in the freezer while you finish preparing this fun cold weather recipe.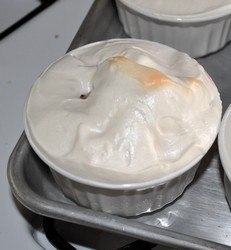 3 egg whites at room temperature
¼ teaspoon cream of tartar
¼ Cup sugar
½ teaspoon vanilla
Preheat oven to 400 degrees F. In mixing bowl add the egg whites. With your mixer whip egg whites several minutes until they look like soft peaks. Add the cream of tartar, sugar and vanilla. Continue whipping in the mixer for several minutes until peaks become stiff.
Take the ice cream out of the freezer and add the egg white mixture(known as meringue) to the top of each ice cream dish. Completely cover the ice cream with the meringue. Place on cookie sheet and bake for 5-10 minutes until the meringue is browned. This won't take long to brown. Now you have your baked snowballs that you can decorate with chocolate syrup or eat as is.
Tortilla Snowflakes
Kids will have a lot of fun making these cold weather recipes! Using kitchen scissors, have kids cut out tortilla snowflakes just like they would make snowflakes out of paper. Fry slightly in oil and sprinkle with powdered sugar.


Snowball Dessert
8 oz. cream cheese, softened
1/2 cup butter, softened
1/4 teaspoon vanilla extract
3/4 cup powdered sugar
3/4 cup chopped cookie crumbs or miniature chocolate chips
Powdered sugar for rolling
In a mixing bowl combine cream cheese, butter and vanilla. Cream together. Add in powdered sugar. Blend. Stir in cookie crumbs. Shape into a ball. Lay out a sheet of plastic wrap and scatter powdered sugar over the top. Place dessert ball on top of sugar and roll around to coat entire ball. Wrap up in plastic wrap and chill several hours. Serve with graham crackers, plain vanilla cookies or shortbread cookies.
Snowmen Cold Weather Recipes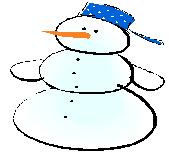 Easy Snowman Cake
Prepare a cake mix and bake in two
round cake pans.
One cake pan smaller than the other. One will be the bottom of the snowman one will be the top. Allow to cool and frost with white frosting. Sprinkle shredded white coconut over all of frosting or leave without. Add gumdrops or other candies for eyes and a nose. Add licorice whips for a smile. Add chocolate candies for buttons and pretzels sticks for arms.
Popcorn Snowman
2 ½ quarts popped corn
¼ Cup butter
1 pkg. 10 oz. Marshmallows
1 teaspoon Vanilla
Pop popcorn and set aside. In a saucepan over low heat melt butter and marshmallows. Stirring constantly until smooth. Stir in vanilla. Pour over popped pop corn and mix until well coated. With buttered hands form into snowball shapes. Make one large ball for the bottom, one medium ball and a smaller ball for the head. Use candy or nuts for eyes, nose, mouth and buttons.
Mashed Potato Snowmen
Mashed potatoes
Carrot sticks
Green peas
Olive slices
Place mashed potatoes into three ball shapes on a plate. Or use just one mashed potato ball for the snowman head. Decorate the snowman with a carrot stick nose, green peas for eyes and an olive slice for a mouth. The perfect cold weather recipe your kids will love.
Visit our
snowman theme party
for more ideas.
Make teaching easier with our activities and recipes
compiled in one easy to read format.
Soup Recipes

Pizza Soup
8 oz.(2 small cans) sliced mushrooms
1 Can black olives sliced
4 Cups water
15 oz. pizza sauce or spaghetti sauce
2 Tablespoons Italian seasoning
Add the following ingredients together in soup pan. Stir together. Then you can add other pizza ingredients you would like such as chopped pepperoni, chopped Canadian bacon, or chopped green peppers. Simmer 15-20 minutes. If desired serve with bread sticks or slices of French bread.
Meatball and Ravioli Soup
6 oz. ground turkey or ground beef
1 egg
3 Tablespoons bread crumbs
Parsley
1 teaspoon salt
¼ teaspoon pepper
6 Cup chicken broth
2 medium carrots, peeled and sliced
1 potato peeled and diced
Frozen or fresh ravioli or pasta, optional
Combine ground meat, egg, bread crumbs and parsley in bowl. Mix together and form into small meatballs. Set aside in the fridge while preparing the rest of this cold weather recipe. In saucepan add broth and carrots. Bring to a boil and add meatballs. Cook 5 minutes. Add ravioli. Simmer until raviolis are cooked. Make sure meatballs are done by cutting one in half or using a meat thermometer. Serve soup sprinkled with Parmesan cheese.
Easy Cold Weather Recipe: Microwave Broccoli Cheese Soup
10 oz. pkg. Frozen broccoli
2 Cup milk
1/3 Cup flour
1 Cup water
2 Cup
Velvetta cheese
cut into cubes
1 Cup half and half
2 chicken bouillon cubes
Combine milk, flour, water, chicken bouillon cubes and half and half in microwave safe dish. Whisk together. Add in broccoli and cook in microwave several minutes stirring often. Stir in cheese and cook until cheese is melted and broccoli is tender.
See more
soup recipes.
More Cold Weather Recipes and Ideas

Hot Cocoa Recipes
Try our kids craft recipes for more winter fun
Share your Favorite Cold Weather Recipe
Submit your favorite kids recipe
Do you have a favorite recipe your kids love to make? Or a recipe your kids ask you to make again and again? Share it with us!
Reader's Submitted Recipes
Click below to see contributions from other visitors to this page...

Hot Buttered Rum Batter
Ingredients 1 pound butter 1 pound brown sugar 1 pound confectioners' sugar 1 quart vanilla ice cream, softened 1 tablespoon ground cinnamon 1 teaspoon …
---
Related Seasonal Recipe Pages:
~
School Lunches
, ~
Apples
, ~
Pumpkins
, ~
Kids Halloween Recipes
, ~
Halloween Recipe Ideas
, ~
Thanksgiving
, ~
Hanukkah Recipes
, ~
Kids Christmas cooking
, ~
Christmas Candy Recipes
, ~
Make Homemade Chocolates
, ~
Jar Mixes
, ~
Gift Basket Ideas
, ~
Homemade Fudge Recipes
, ~
Homemade Suckers
, ~
Christmas Cookie Recipes
, ~
Gingerbread House Recipes
, ~
Food Gift Ideas
, ~
Dough Ornament Recipes
, ~
Happy New Year
, ~
Cold Weather Recipes
, ~
Valentine's Day
, ~
Valentine Dessert Recipes
, ~
St. Patrick's Day
, ~
April Fool's Day Recipes
, ~
Passover Recipes
, ~
Kids Easter Recipes
, ~
Sugar Eggs Recipe
, ~
Resurrection Cookies Recipe
, ~
Russian Easter Bread Recipe
, ~
Cinco de Mayo, May 5
, ~
Mother's Day Recipes
, ~
Father's Day Recipes
, ~
Kid's Campfire Cooking Recipes
, ~
Dutch Oven Cooking for Kids
, ~
4th of July Recipes
, ~
Ice Cream Recipes
, ~
Popsicle Recipes
, ~
Simple Smoothie Recipes
, ~
Picnic Ideas and Recipes
, ~
Easy Grilling Recipes
, ~
Grow your own Italian Pizza Garden
---