Kids Campfire Cooking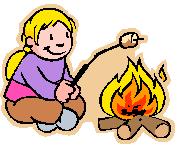 Everything tastes better roasted over an open fire maybe that is why kids campfire recipes are so popular. Camping can be a great family activity and something kids will remember throughout their life.
Here are some outdoor cooking for kids recipes, camping meal ideas and tips to help make your camping trip extra fun.
Kids Campfire Cooking Safety Tips
Use caution around a campfire. Keep hands and feet away from fire.
To prevent falling into the fire, don't play around a campfire.
When cooking on a campfire use long potholders and/or have an adult help.
When you are done with your kids campfire cooking, make sure the fire is totally out. Sprinkle water on the fire and stir the ashes around with a stick.
Kids Campfire Cooking-Breakfast
Campfire Breakfast
Muffin tin
6 Eggs
Chopped Ham
Shredded cheese
Diced potatoes
Salt and Pepper
In half of muffin tin place 6 eggs in 6 holes. Sprinkle with shredded cheese and chopped ham. In other 6 holes of muffin tin, add diced potatoes and season with salt and pepper. Bake on a flat rock over the campfire or on a cooking grate.
Kids Campfire Cooking Recipes- Snacktime
Campfire Popcorn
Tin foil
Popcorn Kernels
Oil
Butter and salt for seasoning
Tear off an 18 inch square of tin foil. In center of each square add 1 teaspoon oil and 1 tablespoon popcorn. Bring corners together and tie with a string. Place on hot coals and shake with a long stick until popcorn is popped. Season with butter and salt if desired.
Kids Campfire Cooking- Camping Meal Ideas

Tin Foil Dinners

Kids love to prepare their own packet dinner themselves so have all the ingredients out and let them assemble their own. Wrap up the tin foil, use an extra sheet if needed and write with a permanent marker each persons name.
Hamburger patty -one for each person
Carrot sticks or circles
Potatoes, cut in circles or small chunks 1-2 per person depending on size
Frozen green beans
Onion, cut in rings
Cream of mushroom soup
Seasoning salt
Dry onion soup mix, optional
Tear off large sheet of tin foil, one for each person. Shape hamburger into patties. Prepare carrots, potatoes, and onion by cutting into circles or small chunks. Arrange everything on kitchen counter and let family assemble their own dinner.
Start with the hamburger (or other meat) on the bottom. Season with seasoning salt. Top with vegetables. Sprinkle with more salt and a shake of dry onion soup mix. Add one or two spoonfuls of cream of mushroom soup. This will help make a gravy. Wrap up tin foil. If needed use another sheet of tin foil to make secure. Write name on each packet hamburger foil dinner. Place on a cookie sheet in case the tin foil dinner leaks juice.
Place in the coals for 30 minutes. Check one tin foil packet to see if meat is cooked through and potatoes are tender. Be careful of steam when opening dinners.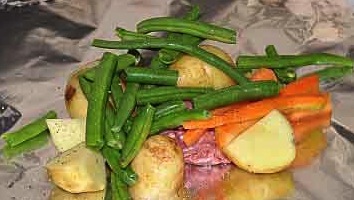 You may need to check several times to test for doneness. Make sure you use a potholder and be careful as the steam will be very hot when opening the tin foil.
Campfire Corn on the Cob
Place an ear of corn on top of a sheet of tin foil. Add dots of butter and wrap up tightly. Cook in the coals about 15 minutes.
Taco Salad in a Baggie
A simple lunch for a camping or hiking adventure.
Place cooked hamburger and refried beans in a ziploc bag. Top with shredded cheese, shredded lettuce and chopped tomatoes. Make one for each camper plus a few extra just because they are so easy and yummy. Bring along a bag of tortilla chips. When lunch arrives dip your chips into the taco salad or break chips into the baggie and eat with a fork.

A great reader tip is to use individual size bags of chips and add all ingredients directly in the chip bag. This also makes less clean up which is always great for kids campfire cooking.
Campfire Meatloaf
Large onion for each camper
1 lb. Ground beef
1 egg
1/4 cup milk
Season with salt and pepper
2 slices bread, crumbled
Tin foil
Prepare meatloaf before hand or bring along a bowl or bag to mix together at the campsite. Cut out center of onion or cut onion in half and scoop middle out. Place meatloaf mixture in each onion and wrap in tin foil. Cook in coals 15-20 minutes and flip over once.
Cooking over a Campfire Video
Nicodemus' Ham Happiness
by Wendy Perez (Brevard County, FL, USA)
In heavy duty foil pack include:
*1/4 piece of a ham steak
*1/2 cup, cut up sweet potatoes (the thinner you slice them -- the quicker your meal will cook)
*1/2 cup green beans (you can use fresh or frozen - whichever you prefer)
*butter
*garlic powder
*brown sugar
cook around 15 minutes -- until veggies are tender -- remember, you can always increase the veggie portions ENJOY!
please note: I don't add salt to this because of the ham -- if you substitute another type of meat -- you might want to also include some Lawry's seasoned salt or Goya Adobo seasoning (which has everything from salt, black pepper, garlic, oregano mixed in already - very convenient!)
Kids Campfire Cooking: Dessert

Apple Pie on a Stick
Red or Green apple
Cinnamon
Sugar
Push a stick through a green apple and turn the stick over the coals of a campfire. (as you would when roasting a marshmallow). When the apple peel starts to loosen carefully peel off or have an adult peel skin off. In a bowl mix together cinnamon and sugar then roll your apple around the mixture until evenly coated on all sides. Roast over fire for a few more minutes and let cool.
Banana Dessert Tin Foil
Banana
Tin foil
Brown sugar
Chocolate bar or chocolate chips
Tiny marshmallows, optional
Slit a banana down the middle but leave the banana in the peel. Down the slit sprinkle brown sugar, chocolate bar chopped or chocolate chips and tiny marshmallows. Wrap up in tin foil and warm in coals.
Mini Campfire Cakes
Hollow out oranges leaving the peel in a cup shape. Pour cake batter into each orange peel and wrap up in tin foil. Place in coals and bake.
Mini Smores
Make a traditional smore simpler and more fun.
Large Marshmallows
Graham crackers, chocolate wafers, or any type of flat cookie
Bag of miniature candy bars
Roast marshmallows and place between two flat cookies and a miniature candy bar.
See more
campfire fun desserts.
Add some fun to your campout with these
printable camping games
.
See our reader's
favorite campfire recipes.
What is your Favorite Kids Campfire Cooking Recipe?

Submit your favorite kids recipe
Do you have a favorite recipe your kids love to make? Or a recipe your kids ask you to make again and again? Share it with us!
Reader's Submitted Recipes
Click below to see contributions from other visitors to this page...

Campfire Dessert Recipes

Campfire Dessert Recipes...
Deep Dish Apple Crisp Campfire Style Not rated yet
20 graham crackers, crushed fine 1/2 cup chopped nuts (your choice) 2 Tbsp white sugar 1/4 cup butter, melted 1 reg. can apple pie filling Heavy Duty...
Campsite Pears Not rated yet
2 large ripe pears 2 tsp sugar 1/4 tsp cinnamon 1/4 cup dried cranberries or other dried fruit 1/4 cup granola 1/4 cup apple juice ice cream, frozen yogurt,...
Teriyaki Steak Wraps Not rated yet
1 Tbsp butter 1 lb. beef steak, cut into thin strips 1/4 cup teriyaki 4 (8 inch) tortillas 1 cup finely shredded cabbage sour cream and chives (optional)...
Campfire Chicken Wraps Not rated yet
4 chicken breasts, bones and skin removed, cut into 1 inch chunks 1 can pineapple chunks salt and pepper to taste 2 Tbsp butter 1/4 cup brown sugar,...
Potato Vegetable Campfire Bundles Not rated yet
6 medium size red potatoes, scrubbed and diced small 2 packages frozen veggies, your choice (I like green beans, broccoli, cauliflower, lima beans) 1 garlic...
Beef Stew Bundle Not rated yet
1 lb. ground beef, divide into fourths 4 Tbsp butter, cut into fourths 1 tsp salt, divided 1/2 tsp black pepper, divided 4 small red potatoes, scrubbed...
Campfire Trout Not rated yet
4 fresh trout, cleaned and patted dry 1/3 cup milk 1/2 tsp salt 1/2 cup flour 3 Tbsp oil for frying 3 Tbsp butter for frying 2 Tbsp butter for sauce 2...
Eggplant Lasagna Packets Not rated yet
1 lb. Italian sausage, cut into thin circles 1 small eggplant, cut into thin circles 1 Tbsp olive oil 1 ripe tomato, cut into circles 1 tsp dried oregano...
---
Related Seasonal Recipe Pages:
~
School Lunches
, ~
Apples
, ~
Pumpkins
, ~
Kids Halloween Recipes
, ~
Halloween Recipe Ideas
, ~
Thanksgiving
, ~
Hanukkah Recipes
, ~
Kids Christmas cooking
, ~
Christmas Candy Recipes
, ~
Make Homemade Chocolates
, ~
Jar Mixes
, ~
Gift Basket Ideas
, ~
Homemade Fudge Recipes
, ~
Homemade Suckers
, ~
Christmas Cookie Recipes
, ~
Gingerbread House Recipes
, ~
Food Gift Ideas
, ~
Dough Ornament Recipes
, ~
Happy New Year
, ~
Cold Weather Recipes
, ~
Valentine's Day
, ~
Valentine Dessert Recipes
, ~
St. Patrick's Day
, ~
April Fool's Day Recipes
, ~
Passover Recipes
, ~
Kids Easter Recipes
, ~
Sugar Eggs Recipe
, ~
Resurrection Cookies Recipe
, ~
Russian Easter Bread Recipe
, ~
Cinco de Mayo, May 5
, ~
Mother's Day Recipes
, ~
Father's Day Recipes
, ~
Kid's Campfire Cooking Recipes
, ~
Dutch Oven Cooking for Kids
, ~
4th of July Recipes
, ~
Ice Cream Recipes
, ~
Popsicle Recipes
, ~
Simple Smoothie Recipes
, ~
Picnic Ideas and Recipes
, ~
Easy Grilling Recipes
, ~
Grow your own Italian Pizza Garden
---