Mini Cornucopia Snack
Using Bugles snack chips, (they are shaped like mini cornucopias) add a dot of frosting inside. Place 3-4 Runt candies or Trix cereal on top of your frosting. Either of these are shaped like fruit so it makes a fun cornucopia snack.

Popcorn balls
by Noah
(Maine)
This is not really a recipe. We just make popcorn and then mix in whatever we have or want at the time.

We put in different things for different seasons, also. Sometimes, it's pretzels (we use different shapes too, sometimes the sticks, sometimes the knots, or the checkerboards, we've even used yogurt covered pretzels before), nuts, dried fruit, sometimes candies, chocolate chips or peanut butter chips. We have put in teddy grahams before too.

We mix in whatever we want and then melt a package of marshmallows. Stir everything so it is coated with the melted marshmallows. You can make them into popcorn balls, but we usually just leave it in a big bowl and everybody can pick out of the bowl.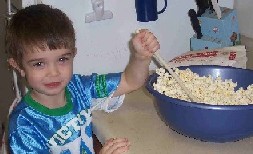 Cornucopia Trail Mix
This activity works well for a cooking group or class. Before the actual cooking day, have each student bring in 1 Cup of something to share in a cornucopia trail mix. Such as raisins, nuts, popcorn, bite size snacks, dried fruit, etc.

The kids add all their ingredients to a large bowl, stir it together and fill their cornucopia sugar cones.

Sugar cones look like cornucopias. At Thanksgiving the Pilgrims and the Indians shared their food together and had a feast this is a fun way to get kids to act out the same idea.
Turkey Bread
by Myshel
(Maine, USA)
I used frozen bread dough that you can buy in any grocery store. I broke the bread dough into some pieces. Than I smashed the dough into a flat, circle/oval shape for his body. Then I made a rectangle for his neck.

Then another oval for his head, and just a string for his flappy thing, and then pulled a little bit of dough out from underneath for his beak. Then the last part you can decide however many feathers you want, We are a family of 5 so I made five feathers, and you just take another ball of the bread dough and just like the body squished it into ovals.

Then lastly the feet are are rectangles, which we took some kitchen sheers and cut three slits into them for his toes. Then the color came from an egg wash, of just egg whites and food coloring. The trick is to make sure all the pieces are mostly all the same thickness so they can cook evenly. For the eye you can use a raisin.
Turkey Shaped Toast
Cut out a turkey from a piece of bread with a turkey shaped cookie cutter. Have kids add candy corns for feathers and a raisin for an eye with peanut butter as their glue.

Pieces of fruit leather also work well for feathers.
Planned Kids Cooking Curriculum
~This post may contain affiliate links and I'll earn a small commission if you shop through them. There is no extra cost to you. This is how we help support our family and continue to bring you amazing content. To learn more see the
affiliates disclosure here.
~