Cool Salads for a Hot Fourth of July
Trying to stay cool this Fourth of July? Here are some nutritious, easy to make "cool" food ideas. They are cool and refreshing, fun and festive to serve to your Fourth of July guests!


Red, White and Blue Cheese Salad
Combine 5 cups cubed watermelon, 2 cups sliced strawberries, 2 cups raspberries, 1 cup crumbled blue cheese and 2 tbsp. fresh, chopped mint in large bowl. Drizzle with ½ cup of raspberry vinaigrette. Serves 6
Firecracker Macaroni Salad
Combine all of the following ingredients in a large salad bowl:
1 pkg. cooked shell macaroni
1 chopped green pepper
1 small can chopped pimiento
1 chopped onion
1 cup chopped sweet pickles
1/2 cup chopped celery
1/2 cup mayonnaise
1 tbsp. vinegar
1/4 cup sugar
Salt and pepper to taste. Serve immediately or chill for a couple of hours.
Fiesta Salad
Combine these ingredients to make the dressing:
3 tbsp. olive oil
1 tsp. red wine vinegar
1/4 tsp. cumin
1/2 tsp. chili powder
salt and pepper to taste
cayenne to taste
1 small clove garlic, mashed
Add these ingredients to the dressing:
2 cans whole kernel corn, drained
2 cans black beans, drained and rinsed
1 red bell pepper, diced medium
2 roma tomatoes, diced
1/2 red onion, finely chopped
4 green onions, chopped
3 tablespoons cilantro, finely chopped
Toss all ingredients together with the dressing.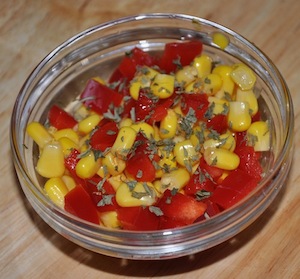 Cool Veggie Salad
Combine the following ingredients together in a medium sauce pan, bring to a boil. Stirring until sugar dissolves.
3/4 cup vinegar
1/2 cup vegetable oil
1 teaspoon salt
1 teaspoon pepper
1 tablespoon water
1/2 cup sugar
Combine the following veggies and mix together with the vinegar mixture above:
1 can (16 oz) French style green beans, drained
1 can (17 oz) English peas, drained
1 can (12 oz) shoe peg whole kernel corn, drained
1 jar olives, drained
1 cup chopped tomatoes
1 green pepper, finely chopped
1 bunch green onions, chopped
Cover and place in refrigerator for 12 hours, stirring occasionally.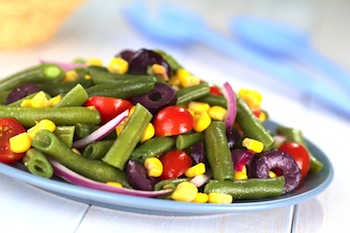 All American Salad
In a small bowl, whisk these ingredients together until smooth:
1/4 cup blueberry or raspberry vinegar
1/4 cup blueberry chutney
1/4 cup minced red onion
Salt and pepper, to taste
Incorporate 2/3 cup canola oil, until smooth
Toss together these veggies in a large bowl:
8 cups washed and torn salad greens
3 cups blueberries
2 cups hulled and sliced strawberries
4 ounces crumbled blue cheese
Add the dressing and toss to coat evenly. Top with 1 cup toasted almonds.
~This post may contain affiliate links and I'll earn a small commission if you shop through them. There is no extra cost to you. This is how we help support our family and continue to bring you amazing content. To learn more see the