Fun, Festive Food Ideas for the Fourth
Looking for some great food ideas for the Fourth of July? You've come to the right spot! Below are some ideas you can use to make your Fourth of July celebration fun and festive with food!

Flag Cake
1. Make a 13x9 cake using your favorite cake recipe (can be from a box mix too, any flavor)
2. Frost with white frosting (cream cheese or vanilla)
3. Use blueberries to make the stars of the flag in the upper left corner
4. Use strawberries to make the red stripes on the flag
5. For added spark (pun intended) add a few sparklers!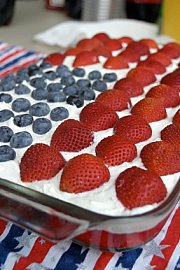 Red, White and Blue Cupcakes
1. Make your favorite flavor cupcakes
2. Divide white frosting into thirds. Color 1/3 with red food coloring and 1/3 with blue food coloring.
3. Frost each cupcake, alternating colors.
4. You can make little flags on each cupcake using the red, white and blue frosting.
5. Get little flags or sparklers to stick in the center of each cupcake

Lunch or Dinner Ideas
Need some ideas for
lunch or dinner
? Try these easy to make, yet fun food ideas!
Red, White and Blue Potato Salad
– Use new red potatoes, white baby potatoes and blue or purple potatoes in your favorite potato salad recipe. (Leave the skins on the red and blue potatoes.)
Grilled Hamburgers with Bacon
– Mix hamburger with chopped onion and Worcestershire sauce, form 1 inch thick patties and wrap each patty with a slice of bacon, securing it with a toothpick. Grill on each side about 5 to 7 minutes. Top with your favorite burger toppings.
Festive Steak Fajitas
– Using grilled skirt steak, red and yellow bell peppers, onions and your favorite toppings like shredded cheese, lettuce and tomatoes, fold together in a warmed tortilla. A colorful main course that can be served with guacamole, refried beans and Spanish rice!
Faux Fried Chicken
– It looks like fried chicken, but it's baked-healthy and delicious! Dip pat-dried chicken drumsticks in a mixture of buttermilk and your favorite seasonings and roll each of them in a crushed Cornflakes cereal mixed with parmesan cheese. Bake in the oven at 425 degrees for 40 minutes, or until the chicken is done.
Dessert
Here are a couple of festive, cool
desserts
or treats you can serve on the fourth. These are sure to please family and guests of all ages!
Frosted Fireworks
– Using red and blue flavored beverages, such as Kool-aid or Gatorade, pour into ice cube trays and freeze. Place some red, blue and clear cubes in a festive dessert glass and pour seltzer (flavored if you prefer) over the colored ice cubes. Toss in a little flag for added festiveness.
Red, White and Blue Fruit Salad
– Toss diced apples, strawberries and blueberries into a mixture of honey, lime juice and fresh, chopped mint. Serve as a side dish with any entrée or use as a topping over vanilla ice cream.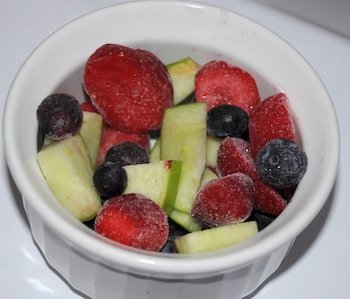 These ideas will make for a festive, fun and colorful addition to any Fourth of July Celebration.
~This post may contain affiliate links and I'll earn a small commission if you shop through them. There is no extra cost to you. This is how we help support our family and continue to bring you amazing content. To learn more see the