Red, White and Blue Food Ideas
Are you planning a smashing Fourth of July party, but don't want to serve the traditional burgers or chicken? Here are some simple, yet very festive food ideas using red, white and blue. Use a combination of the following food ideas to create a red, white and blue Fourth of July Feast.


Red Foods
Main Course
New Mexico Style Red Enchiladas
– Brown some ground beef, drain. In a large skillet, combine a large can of red enchilada sauce and 1 tablespoon of vegetable oil. In a separate skillet warm tortillas until just flexible. Then dip each tortilla in the enchilada sauce. Next, make layers starting with a dipped tortilla then add a couple of spoonfuls of meat, a couple of spoonfuls of the enchilada sauce. Top with shredded cheese. Repeat, making as many layers as you'd like, but a good amount is usually 3. Top it all off with a fried egg and serve with a dinner roll. (Trust me!)
Salad
Summer Tomato Salad
– Using not-too-ripe, coarsely chopped tomatoes and cherry tomatoes combine with chopped basil and parsley leaves. Drizzle EVOO and toss.
Appetizer
Fourth of July Apples
– Combine an 8 oz. pkg. of cream cheese, 3 tbs. butter-softened, ½ cup of crumbled blue cheese, ½ cup chopped walnuts. Refrigerate for 3 hours. Core and cut apples into eighths and sprinkle with lemon juice. Use a butter knife to apply spread to apples.
Blue Foods
Main Course
Blue Catfish Fillets
– Dip catfish fillets (patted almost dry) in ¾ cup blue cornmeal with finely chopped jalapeno pepper, 2 cloves of garlic and ½ tsp. salt. Heat one inch of oil in large skillet and fry the fillets until brown on each side and the fish begins to flake inside. Serve salsa, or lemon or lime wedges.
Salad
Blue Potato Salad
– Using ½ lb. Peruvian fingerlings (blue potatoes), boil until soft, but not mushy. Gently mix in 2 tbsp. grainy mustard, ¼ cup white wine vinegar, 3 thinly sliced celery stalks, 2 tbsp. minced flat leaf parsley and 2 sliced green onions. Makes 8 servings.
Appetizer
Blue Cheese Ball
– Using 3 (3-oz each) pkgs. cream cheese, 1 (4-oz) pkg. blue cheese, crumbled,1 jar Kraft Old English cheese spread, 1 small onion, grated finely, 2 tsp. Worcestershire sauce, Mix all together. Form into two balls, medium size then wrap in plastic wrap. Refrigerate overnight. Roll in chopped nuts. Serve with Blue Corn Tortilla Chips
Dessert
Blue Ice Cream
– Scoop vanilla ice cream into a parfait bowl or other clear dessert cup. Add some blueberry syrup, fresh blueberries, another scoop of ice cream, some more blueberry syrup and top with whipped cream.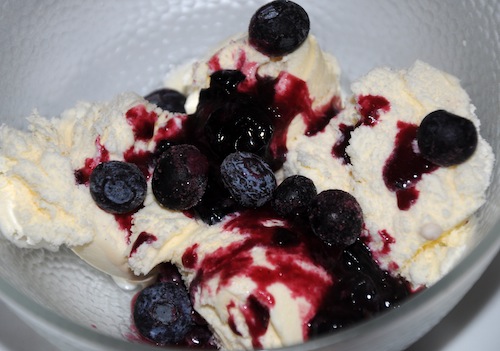 White Foods
Main course
Pork Steak in Mushroom Sauce
- You can make this in the oven or in a crock pot. I prefer the crock pot because the pork comes out so tender! Place 6 to 8 boneless pork steak in crock pot; let cook for 2 hours on high. Add 2 cans of cream of mushroom soup, 2 cans of cream of celery soup and cook for 2 more hours on high. To bake in the oven, place the pork steak in a 13x9 glass baking dish, top with the cans of soup and cover with aluminum foil. Bake on 350F for an hour to an hour ½. Top with shredded cheese, if desired.
Salad
White Pineapple Salad
– Drain 1 large can pineapple and reserve juice; add enough water to the juice to make 2 cups. Heat to a boil and add Jello, mix until dissolved. Chill until thick as syrup. Mash 2-8 oz. pkgs. cream cheese and add to Jello mixture. Mix well with mixer. Add ½ pt. whipped cream and 1 cup crushed nuts, mix well. Pour into a 9x 12 dish and chill well.
Appetizer
White Pizza Bagel Bites
– Using 1 pkg. frozen bagel bites, place on cookie sheet, cut side up. Sprinkle with garlic powder and bake until lightly toasted. Top with shredded mozzarella cheese, sliced olives and chopped green pepper. Bake for 5 more minutes, until cheese is melted.
Dessert
All American Cup Cakes
– Make cupcakes using your favorite recipe, top with white frosting. Make a flag on each one using blueberries for the stars and red licorice pieces for the stripes.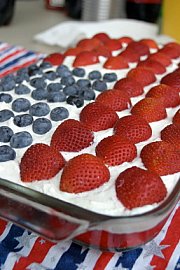 ~This post may contain affiliate links and I'll earn a small commission if you shop through them. There is no extra cost to you. This is how we help support our family and continue to bring you amazing content. To learn more see the