Cooking Learning Ebooks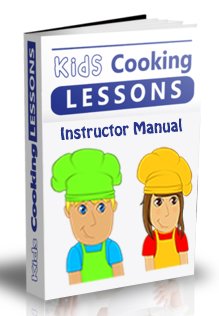 Cooking Learning Ebooks- Teach Kids Cooking Lessons with these age appropriate, step by step lessons combined into one curriculum!
We've compiled all our kids cooking lessons into one easy to read e-book including a section for each age group. This e-book is designed to give you and your family, friends, organizations, youth groups or homeschool groups a fun hands on cooking experience in the kitchen.





Thank you very much, you have saved me alot of time with my lesson planning. In Britain now, we need to put lesson objectives with each lesson plan, so using your plans it will be simple just to add these.

I particularly like the Assistant Chef and Chef-in-training lessons; as I work in an Additionally Resourced Unit, the structure of these plans is very suited to our children. Many thanks once again,


~Kim






Kids Cooking Lessons Ebook
Along with all of our kids cooking lessons we've also included in this ebook:



Cook and learn about food worksheets


Activities to do in the kitchen


Cooking quizzes


A Review of what was learned in each section


Tips on teaching in groups


Filler ideas when you're waiting for your lessons to cook


BONUS: When you've finished our four lesson levels move on to our

10 Basic Cooking Lessons




As a matter of fact

we have packed every nook and cranny

of each page with cooking ideas, recipes and kids cooking fun.



You can buy the Kids Cooking Lessons as an Instructor Manual and a Student Manual and in an

Electronic Digital Download.



As well as included in a

complete

Teacher Curriculum Set

.





What do people love about our Cooking & Learning ebooks?
We have so much valuable information and recipes on our site that our readers, kids, teachers and parents can get overwhelmed. Our Kids Cooking Activities Ebooks make it easier and convenient to have a printable ebook available that has no ads and easy to teach with. I've used them myself in teaching and have added thoughts and suggestions to help you in teaching.
If you'd like our lessons in e book form with extra learning worksheets, more recipes and other things not available on our website, then this e-book is for you.
There is seriously so much information and fun in these books it's impossible to condense into a review. I learned so much from these books for both my children and I. The layout is easy to read. The instructions are clear and easy to follow. There are recipes/instructions for children of all ages.

Kids Cooking Lessons Ebook
Receive all of our kids lessons in the Assistant Chef, Chef in Training, Junior Chef and Senior Chef levels along with added teaching tips, quizzes, worksheets and more. Plus once you've finished the Senior Chef level move on to a bonus section with our 10 Basic Cooking Lessons.






See our Teacher Curriculum Set for teaching Kids Cooking Lessons in a complete ready to go set.



YOUR BOOKS ARE FABULOUS! I knew by viewing your website over the past few months that you had a lot of what I need to perform my cooking classes, but I never dreamed that I would get the expertise and continuously wonderful ideas from your books! I am positively thrilled to death about them.


~Sheila
These Cooking Learning Ebooks are Perfect For:

Kids who love to cook



Parents who want to teach kids about cooking and good nutrition



Home school families



Childcare providers



Youth group leaders



Girl scout/Boy scout leaders



Anyone who wants a planned curriculum or ideas for teaching kids to cook



After school activities program



Kids Summer Camps



Immediately after your purchase, you can download your e-Book and start learning and cooking with the kids within minutes.

This e-Book is in the Adobe PDF file format. You will need Adobe Reader to read these Cooking Learning Ebooks. You can get it here. Adobe Reader.







Please Note: Once you buy the ebooks and your payment is processed you will be directed to a page with a download link. You will also automatically be sent an email with the download link.
If you have any problems once you buy the ebooks or you don't receive the email, check your junk email folder. Any other problems, please contact me directly.

Contact me, Home from Cooking Learning Ebooks, To Kids Cooking Activities Store