Contact Me Directly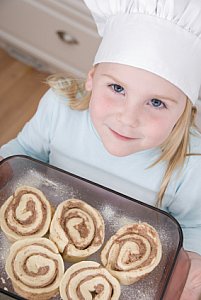 Do you have an experience cooking with your kids to share? A favorite easy kids recipe? An idea for Kids-Cooking-Activities.com?

I'd love to hear your comments, suggestions or questions you might have for this website. I'm trying to build a website full of information, ideas, activities and recipes kids can cook by themselves or with an adult's help.

For this site to grow and better serve you as my readers, I need your feedback. Tell me what you like about the site, and what you'd like to see more of.

Check out our FAQ page
and maybe you'll find an answer you are looking for.
Please note this is an informational website and we don't have physical cooking classes available. However, we do have a comprehensive curriculum set to help you teach kids cooking.

If you are interested in finding out if kids cooking classes are available in your area, check out the kids cooking school directory.

Contact me directly by filling out the form below.
Please be aware that your personal information is safe here.
If you'd like to fill out our survey and help us improve the site we'd love for you to do that too. Jump down to the survey poll.

Your name and email address will NEVER be shared for any reason and you will not receive any spam or unsolicited email from this site.
Please read our privacy policy.

Thanks for browsing today!
By submitting your comments, recipes or questions you grant Kids-Cooking-Activities.com permission to use your comments in their website, blog, newsletter or other Kids Cooking Activities publications. However please be aware your email address will always be safe and we will NOT share this information. Please read our privacy policy.

Follow Kids Cooking Activities