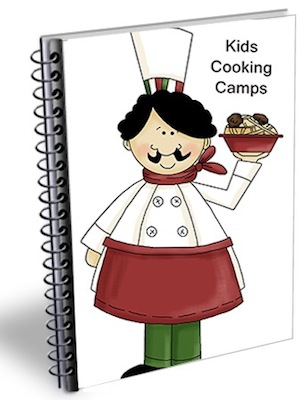 Kids Cooking Camp Curriculum
You can use our Kids Cooking Camp any time of the year. These camp curricula work well for summer time, spring break, Christmas break or throughout the year as a weekend camp. They can also be used for after school programs, Scout groups or homeschooling.

There are several curriculum units we have available right now to choose from. Each camp Ebook has ideas, recipes and step by step directions with real pictures. You will find all of these camps in our Kids Cooking Activities Store. Here are the details of the camps we have available right now:
What do people love about our ebooks?
We have so much valuable information and recipes on our site that our readers, kids, teachers and parents can get overwhelmed. Our Kids Cooking Activities Ebooks make it easier and convenient to have a printable ebook available that has no ads and easy to teach with. I've used them myself in teaching and have added thoughts and suggestions to help you in teaching.
We just finished week 1 of kids cooking camp. All three of my children had so much fun and can't wait for week 2.
Keep up the good work- WE love your whole site! Absolutely inspiring!


~Krista
7 Weeks Kids Camp Curriculum Units
The camps below are designed to teach a 7 week program held once a week. Or you can do a camp more days throughout the week for fewer weeks.

Homemade Spa Party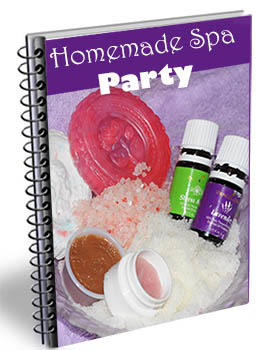 7 weeks of homemade spa party workshops. This is a popular unit where children create 1-2 different spa recipes each week. Lots of spa ideas including

bath bombs, bath salts, homemade soap, homemade lip gloss and more

.

No one said cooking activities need to be edible!

7 weeks of Homemade Spa Workshops
$6.00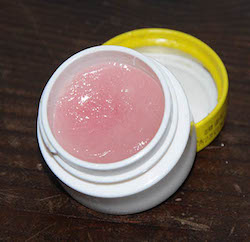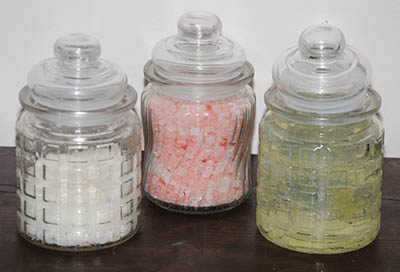 ---
Working with Dough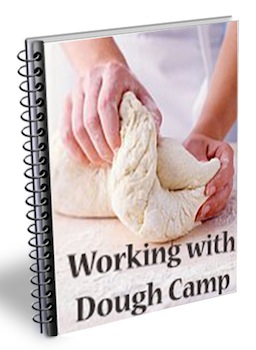 This unit is for kids who love to get their hands messy and create delicious creations, desserts, and main dishes out of dough. Included are 7 weeks of recipes and step by step directions with pictures to teach kids about working with dough.

Creating and Working with Dough Curriculum Unit
$4.00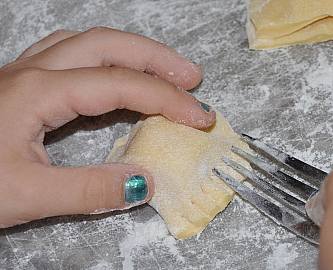 The kids and I just finished week one of the camp and they enjoyed it so much and surprisingly so did I. The second surprise is the bread was delicious!


~La Sonia
---
Spectacular Desserts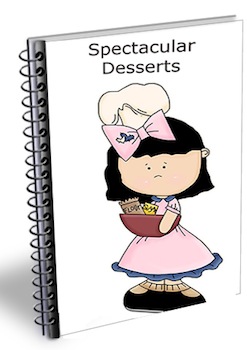 7 weeks of yummy desserts with step by step directions and pictures. A favorite unit with kids!


Spectacular Desserts Unit
$4.00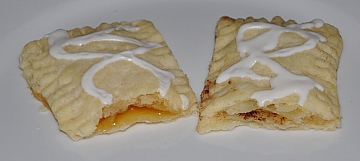 The books look great. I teach a foods class for special needs children and the recipes look like they will be perfect.


~Marisa
---
Fun with Food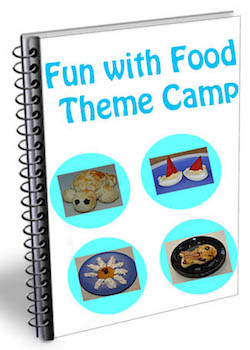 Our Fun with Food camp will have children creating theme cooking ideas each week. 7 fun topics with 3-4 fun with food recipes and ideas for a total of 30 cooking activities in this ebook.

Themes covered are:
sunshine
insects
transportation
snakes
fish
balls/sports
homes

Fun with Food Cooking Camp
$4.00





---
Cooking with Color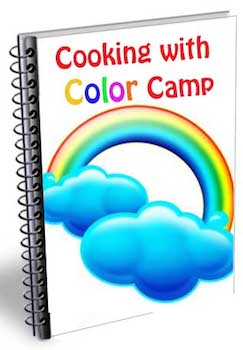 This cooking with color camp includes recipes and ideas for 8 colors for a total of 20 recipes.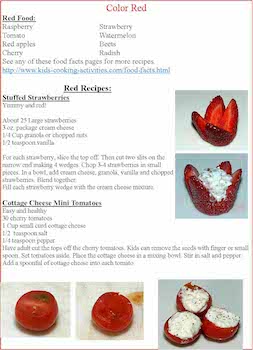 Color themes include:
Red
White
Yellow
Orange
Green
Purple
Blue
Brown
Rainbow Dessert Ideas






Looks great - nice to have the photos!
Keep writing MORE!




---
Larger Cooking Camp Units
These camps are larger than 7 weeks and include months of themed ideas.
Picture Recipes for Non Readers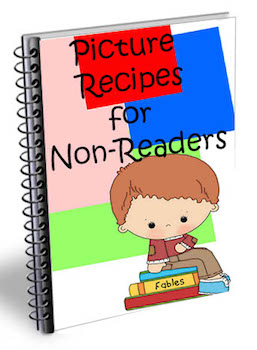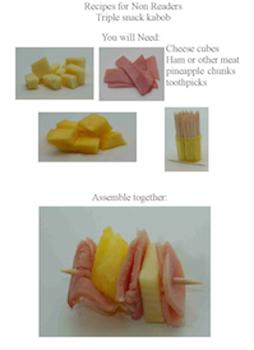 This camp focuses on using picture recipes for non readers or young children to create. 20 recipes included in the Ebook.


Picture Recipes
$6.00













---
Pre-K - Grade 1 Activities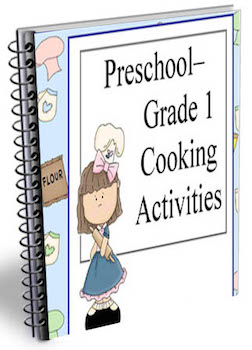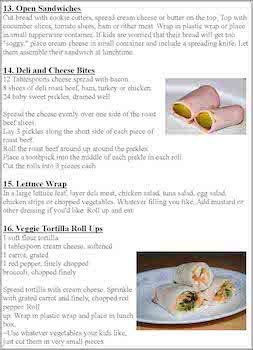 Cooking Recipes and Ideas for 3-6 years old.

This Ebook has 25 preschool snack recipes you can create into class cooking projects (or just use as snack ideas to feed the kids.)

A large variety of no bake recipes as well as 6 ideas that will need an oven are included in the ebook as well as a list of appropriate cooking tasks for 3-6 year olds.

Pre-K Grade 1 Cooking Camp
$4.00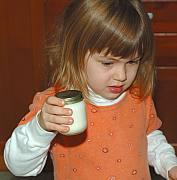 ---
Cook with Books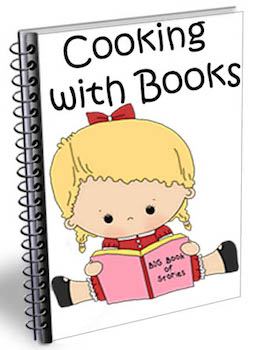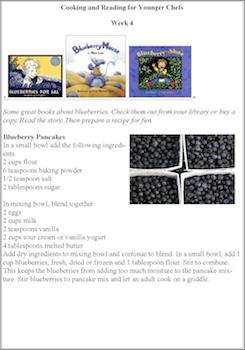 A cooking and reading program with picture books. Each week you read a book or two and create a recipe that goes with the book for a total of 12 Cooking with Book Ideas.


Cooking with Books
$4.00












---
USA Regional Kids Camp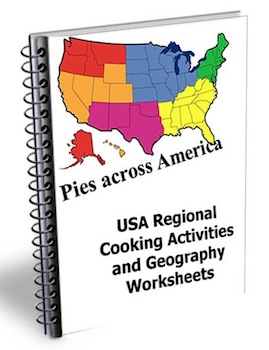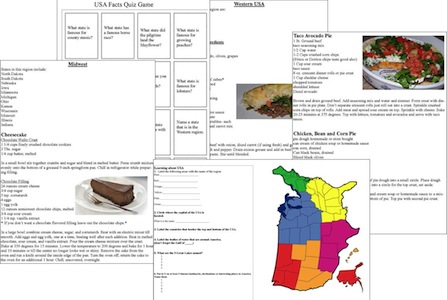 Learn about USA Regions through our Pies Across America Unit. This ebook is filled with 12 activities to teach about different regions in the USA and includes geography worksheets and games.

USA Regional Cooking Activities and Worksheets
$6.00









---
Seasonal Activities Camp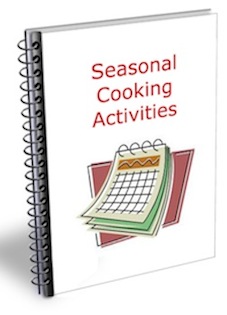 This unit is composed of 3-4 cooking activities and recipes

per month

ideal for the season or holidays, for a year of seasonal cooking adventures.

These seasonal activities follow Northern hemisphere seasons. This means November, December, January, our activities will be centered around winter. You can change the month's activities to fit your region, if needed.



Seasonal Kids Camp




$7.00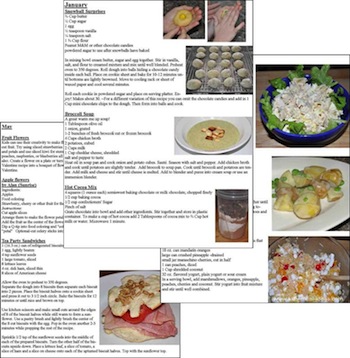 I have now downloaded the ebooks and look forward to "experimenting" with my kids in the kitchen!!!


~Lianne

---
Alphabet Theme Camp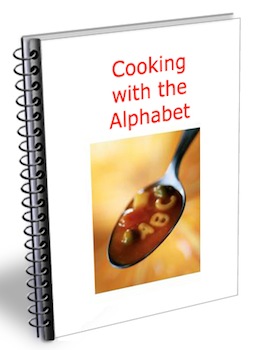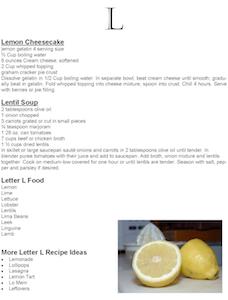 A fun way to practice the alphabet with cooking.

Each A-Z letter includes 1-2 recipe activities and a list of foods and more recipe suggestions to use for each letter for a total of over 50 activities. We've included some alphabet cooking ideas and making pretzel letters as well.


Cooking with the Alphabet Camp
$6.00
---
Growing and Cooking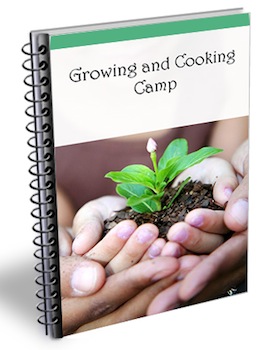 This unit gives you tips on growing different vegetables, recipes to try for each vegetable and food facts about vegetables. We've included 10 vegetables and herbs with information on planting and why you should plant a vegetable garden with your kids. Each vegetable or herb includes at least 4 recipes to cook.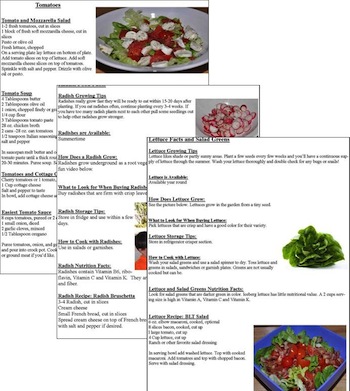 Unlike other summer camp curricula this one is designed to plant your seeds and watch them grow, then harvest them and try the recipes. However it will also make a great vegetable and healthy eating themed camp unit.



Grow and Cook Camp


$7.00













---
Bible Activities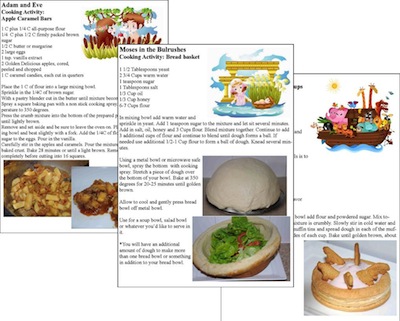 13 Bible Theme Cooking Activities. Read and study a bible story and create a recipe that goes with it for a total of 13 bible ideas.


Cook with Bible Stories
$4.00













---
Fairy Tales Activities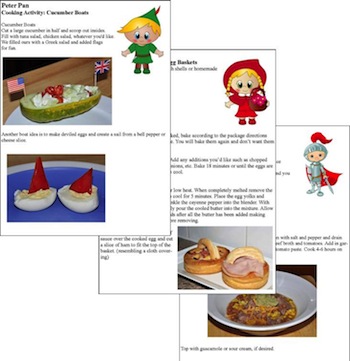 12 cooking activities to go with fairy tales for a cook and reading program. Read a fairy tale and create a recipe that goes with it.


Cook with Fairy Tales
$4.00














---
Kids Recipes Ebook Series
Our series of Kids Recipes, is designed to get children involved with cooking meals for themselves and the family.

Any of these ebooks would work well implemented as a camp.




The ebooks are very attractive and professionally done - it really looks good and I can see there is a HEAP of work in it.


~Marianne


Introduce Kids Cooking Activities with these Kids Cooking Camp Units!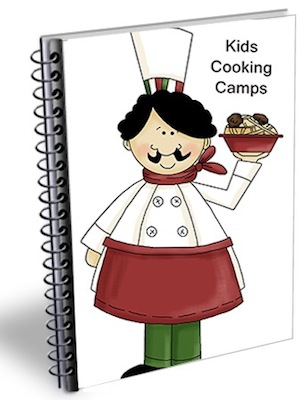 Downloadable e-Book (PDF File)
Immediately after your purchase, you can download your e-Book and start learning and cooking with the kids within minutes.
This e-Book is in the Adobe PDF file format. You will need Adobe Reader to read these Kids Cooking Activities Ebooks. You can get it here. Adobe Reader.
Please Note: Once you buy the ebooks and your payment is processed you will be directed to a page with a download link. You will also automatically be sent an email with the download link. If you have any problems once you buy the ebooks or you don't receive the email, check your junk email folder. Any other problems, please contact me directly.