World Studies Ebook Unit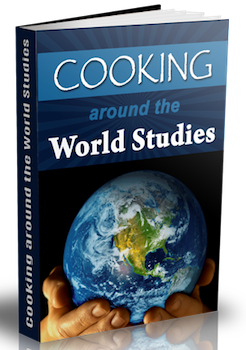 International Cooking with Kids
Take a trip around the world without leaving your own kitchen!

The World Studies ebook is our largest ebook, over 120 pages. It is great for teaching more about geography, cultural studies and creating international recipes. This unit is great for older kids from 4th grade and up to high school. However, you can adjust the lessons depending on whatever your age group.

This book is available in our Kids Cooking Activites Store.

International Cooking Ebook
We have over 20 countries included in this large learning ebook. Each country includes:
Fun facts about the county
Facts on what the country is famous for
A printable dinner menu invitation designed for each country
Kid friendly International recipes unique to that country
Photos of attractions, scenery or areas of interest in the particular region
As a homeschooling family, we have loved using different recipes from the World Studies ebook. Not only has it increased the repertoire of meals in our home, but it has been a great way to learn about different countries.

We love reading about a time period in history, listening to the stories, dressing up as characters and now cooking the meals has been made extremely easy by using Debbie's Ebook.

Not so long ago, we enjoyed a night with another homeschooling family where the children gave talks on different countries and enjoyed cooking and tasting the unique flavours from around the world. This ebook just makes it all so easy!

Thank you for adding flavour to our Unit Studies!

What is include in the World Studies ebook unit that I won't see online?
This ebook unit has more countries, activities and recipes not available on our website including:.
Indonesia
Australia
Germany
Latin America
Morocco
New England, USA
Russia
Spain
Southwest, USA

International recipes not on our site such as Japanese Rice Balls.
Geography activities, world maps and geography quiz
Printable dinner menu invitations designed for each country. Perfect for making a fun cultural night.
A 7 Week World Studies cooking camp
World Studies Book
I love your international cooking e-book. I teach summer cooking courses for kids in grades 3-7 and this year, I wanted to do "cooking around the world" with the older students.

Countries covered in the World Studies ebook unit:
America
Asia
Australia
British
Caribbean
Eastern Europe
France
Germany
Greece
India
Ireland
Italy
Latin America
Mexico
Middle East
Morocco
New England USA
Russia
South Africa
Southern USA
Southwest USA
Spain

We were able to get the World Studies Unit, and from what I can see (a quick scan), it appears to be just what we need.

Add this USA Regional Cooking Book to your Geography and Cooking Studies!
What do people love about our ebooks?
We have so much valuable information and recipes on our site that our readers, kids, teachers and parents can get overwhelmed. Our Kids Cooking Activities Ebooks make it easier and convenient to have a printable ebook available that has no ads and easy to teach with. I've used them myself in teaching and have added thoughts and suggestions to help you in teaching.
These Kids Cooking Activities Ebooks are Perfect For:

Kids who love to cook



Parents who want to teach kids about cooking and good nutrition



Home school families



Childcare providers



Youth group leaders



Girl scout/Boy scout leaders



Anyone who wants a planned curriculum or ideas for teaching kids to cook



After school activities program



Kids Summer Camps




I just took a look at the ebooks. I think they are great. I am using one in my travel class. I am teaching children to prepare a trip and learn everything involved with planning trips so I think the cooking book of the different culture will be a great hands on activity while we are learning about some countries and states.

Downloadable e-Book (PDF File)

Immediately after your purchase, you can download your World Studies ebook unit and start learning and cooking with the kids within minutes.

This e-Book is in the Adobe PDF file format. You will need Adobe Reader to read these Kids Cooking Activities Ebooks. You can get it here. Adobe Reader.

Please Note: Once you buy the ebooks and your payment is processed you will be directed to a page with a download link. You will also automatically be sent an email with the download link. If you have any problems once you buy the ebooks or you don't receive the email, check your junk email folder. Any other problems, please contact me directly.

Disclaimer, Disclosure, Privacy, Terms of Use