Annabel Karmel Cookbook Author Interview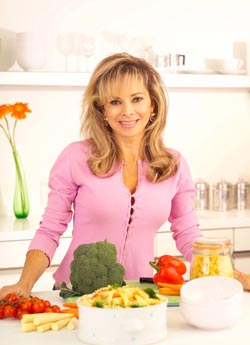 I was first introduced to Annabel Karmel's cookbooks with Mom and Me and then First Meals. I loved them because they were so bright, colorful and fun. They are a delight for every kid to look through and choose a new recipe to try. Not to mention Mrs. Karmel's cookbooks are full of healthy nutritious food to feed your family.

Mrs. Karmel was gracious enough to answer some questions in a recent interview. Hope you enjoy reading about her as much as I did.


I think I love your Baby First Meals book the best and wish I had it when my kids were babies. You have over a dozen cookbooks out, do you have a favorite cookbook?
I have written 20 books. Of the book published in the US my favourites are First Meals for Babies and Toddlers, Favorite Family Meals for older children and families and Cook It Together for Teaching Kids How to Cook with fun and delicious recipes

Most fans of your cookbooks, probably don't know you are a musician as well.
That was like another life, I was a musician and I used to play the harp. I lost my first child a little girl called Natasha when she was only 13 weeks old as she caught a viral infection that then developed into encephalitis. My world was turned upside down and after her death I wanted to do something to help other children to make some sense of her short life so I wrote my first book the Healthy Baby Meal Planner. This book was published by Simon and Schuster in 1991 and has sold over 3 million copies worldwide and what started off as one book almost as a therapy to get over Natasha's death and to help me feed a very fussy second child ended up being a new career. I love what I do and am really passionate about creating healthy but delicious recipes for children.

Which came first your passion for food or music?
I love music and was a professional musician for over 8 years however I always loved cooking and it was my hobby. I consider myself very lucky to be doing something that I love. Creating recipes and working with children is my dream. I have three new books out this year Top 100 Finger Foods in February, You Can Cook a Complete Kids Cookbook and First Foods in the summer.


What process do you go through when creating a new recipe?
I usually make a list of the recipes and the ingredients that I will use the day before and do the shopping. I then work out in my head the sort of recipe I want and then just experiment in the kitchen until I am happy with the result. Provided I am happy with it, I then test the recipe on babies or children to see if they like it. Its no good making a healthy recipe that children don't want to eat. In the UK I have the best selling range of children's meals in supermarkets which is based on recipes from my books. I have also just launched a co branded food range with Disney in the UK - so I'm working with Winnie the Pooh and Mickey Mouse which is a lot of fun.

Do your kids have an all time favorite recipe you've created?
Yes there is a salad dressing in Favorite Family Meals that they absolutely love. Also from this book they like my Sesame Beef Stir Fry, Fruity Curried Chicken, Salmon Teriyaki and my Iced Berries with Hot white Chocolate Sauce.

Have you always loved to cook?
Yes. My mother was a good cook and she inspired my love of cooking.I always enjoyed inviting friends over to cook for them. For my children I would organise 'Cooking Birthday Parties' where they would cook things like mini pizzas, cupcakes and animal cookies and bake their own Birthday Tea. I am always thinking about food and love eating!

Do check out Annabel Karmel's books they are a treat for your kid chefs and whole family.


Join in and write your own page! It's easy to do. How? Simply click here to return to Your Favorite Kids Cookbook.
Kids Cooking Activities Teaching Materials
Make teaching easier with our activities and recipes compiled in theme sets and books with an easy to read format
Perfect for teaching!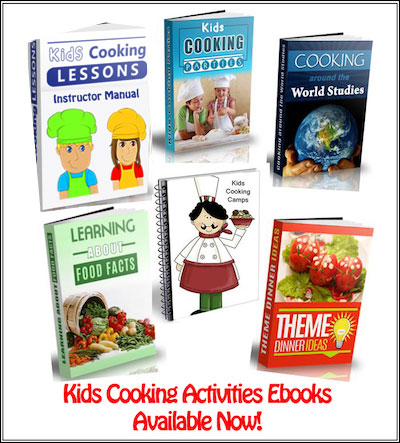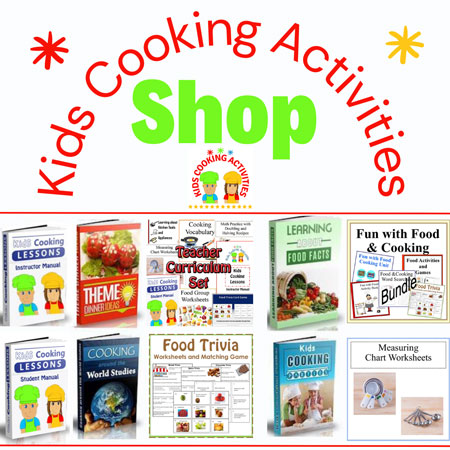 ~This post may contain affiliate links and I'll earn a small commission if you shop through them. There is no extra cost to you. This is how we help support our family and continue to bring you amazing content. To learn more see the
affiliates disclosure here.
~
Follow Kids Cooking Activities