International Gourmet Recipes for Kids
With our international gourmet recipes in our world studies program, kids will learn about cooking around the world. However, you don't have to pack your bags for these cooking adventures. In each world study, kids will learn about recipes native to each country as well as other facts about different cultures. Then they can try some kid friendly recipes on their own which are native from each country.
Food is the one thing that connects people globally. We all eat, we all have to eat and we all love to eat. We may not all speak the same language throughout the world but we all have food in common.
Cooking Around the World Studies
Each page includes:
Facts about the country
Fun country food facts
A Phrase in the native language (if possible)
Map of country, flag or pictures of country
International Recipes for kids to try
Cooking international recipes is a great way to get your kids involved and learn about other cultures throughout the world. Make it a family tradition and have an International night each month. You can dress up for the occasion, create ethnic food and take a trip without leaving your house.
Please Note: Most of these recipes are for advanced chefs or will require help from an adult.

Cooking Around the World with International Recipes for Kids
Spices around the World
"Kids Cooking Activities gives an excellent breakdown of multicultural food." ~Kids Cooking Activities Reader
More Learning Around the World
Interesting World Food Facts
Philippines and Indonesia are the world's leading producers of Coconut.

Most Bananas are grown and shipped from Central America.

Africa's Ivory Coast is the largest producer of cocoa beans. Cocoa beans are where chocolate comes from.

Olives are grown mostly in the Mediterranean region.

Asia is where most of the world's rice comes from.
Try this Foods Around the World Trivia Worksheet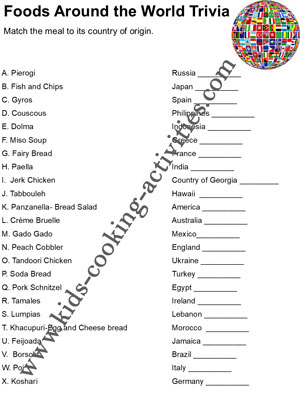 Do you have an International Recipe or World Studies Fact?
Do you have an International recipe or know a lot about a country we could add to our world studies section? You can create your own page.
Reader's Submitted Recipes
Click below to see contributions from other visitors to this page...

Ancient Mesopotamia Bread

Ancient Mesopotamia Bread Ingredients: 2 Cups flour 1 Cup of water 1/2 teaspoon of salt Directions: Mix the water, flour, and salt together slowly. …
Pork Sui Mai Dumplings Recipe Not rated yet
Ingredients: 2 lbs. ground pork can water chestnuts, chopped finely 3 carrots, chopped finely 4-5 whole mushrooms, chopped finely 1 garlic clove …
Jamaican Cornmeal Porridge Not rated yet
Cooking around the World in Jamaica Easy Cornmeal Porridge Ingredients Needed: 1/2 Cup Cornmeal 2 1/2 Cups Milk 1/4 tsp Cinnamon 1/2 tsp Salt …
Follow Kids Cooking Activities