Kids Seasonal Cooking Activities
Changes in the seasons provides opportunities to cook with your child throughout the year. Whether it is a holiday celebration or a seasonal activity, these are always memorable experiences for children. Whether it is an Easter brunch or birthday celebration, food usually plays some role in holidays and seasonal times.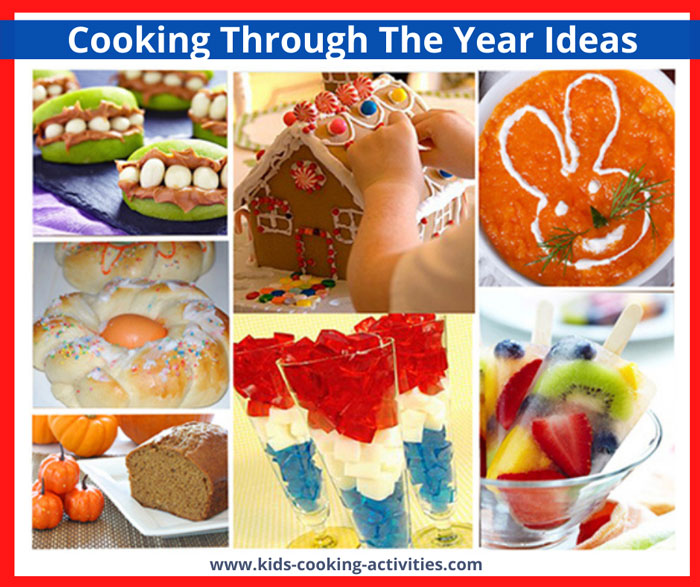 See the links below for our kid's seasonal activities to find ideas for cooking with kids the whole year through.
Holiday cooking with kids brings home the joy and togetherness that defines the holidays. Religious and secular holiday cooking provides opportunities to connect and bond with your children as you share traditional recipes, create new ones, all while making lasting memories.
Kids Cooking Activities Teaching Materials
Make teaching easier with our activities and recipes compiled in theme sets and books with an easy to read format
Perfect for teaching!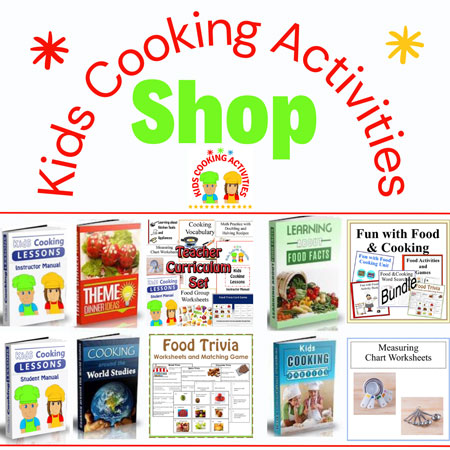 ~This post may contain affiliate links and I'll earn a small commission if you shop through them. There is no extra cost to you. This is how we help support our family and continue to bring you amazing content. To learn more see the
affiliates disclosure here.
~
Cooking Through The Year
There are the major holidays but essentially you can find a holiday in every month, if not day of the year. The opportunity for holiday cooking with kids is an opportunity that is available all year long. If the pressures of the major holidays such as Passover or Christmas are too great to allow for the patience and time needed to tutor your chefs, there are plenty of other opportunities throughout the year.
We've organized these kids seasonal cooking activities in groups of four according to
winter
,
summer
,
spring
or
autumn
season. In addition to those we also have a
birthday
section, you'll want to check out. However don't forget
fruit and vegetables
change with the season as well! And for even more check out our
national food days
calendar of cooking activities.
Kids Seasonal Cooking Ideas
Cooking in Autumn
Autumn is a time we think of kids going back to school, harvesting gardens and picking
apples
. It is a busy time of year and a start of new beginnings for most kids. It is also a great time to get kids involved in the kitchen and cooking.
Autumn holidays immediately bring thoughts of
Halloween
and
Thanksgiving
but there are plenty of other secondary holiday opportunities. Celebration of fall harvests and the yields of those harvests are not only a reason to celebrate but also a reason to cook and consume the bountiful supply of fresh fruits and vegetables. Read
15 Autumn Cooking Activities.
Check out our
National Food Month Ideas
for
September
,
October
and
November
.
Kids Seasonal Cooking Activities in Autumn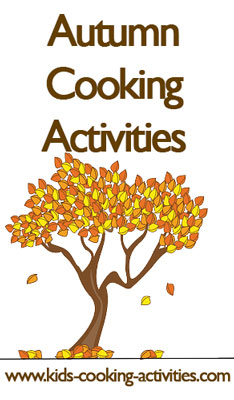 Apple Season-
Try some of our kid's seasonal apple recipes and ideas to enjoy this apple season.
Pumpkins-
Visit your local pumpkin patch and try some of these pumpkin recipes with your kids.
Kids Halloween Recipes -
Halloween theme recipe fun ideas for kids
Halloween Recipe Ideas
-Menu ideas for Halloween such as snacks, dinner and dessert.
Thanksgiving-
In America and Canada Autumn includes a celebration of harvest time with Thanksgiving. We have recipes and ideas to get kids involved in the Thanksgiving season.
Kids Seasonal Cooking Activities in Winter
Winter Cooking with Kids
Christmas,
Hanukkah
,
New Years
,
Valentine's Day
and
St. Patrick's Day
are not the only winter holidays. Again, each offers special cooking experiences with the kids but there are plenty of lesser-known days to create memories and traditions.
Check out our
National Food Month Ideas
for
December
,
January
and
February
.
Hanukkah
- recipes to make on Hanukkah
Christmas cooking with kids-
all of our Christmas cooking ideas listed here.
Christmas Candy
-Chocolates, Peanut Brittle and more homemade candy recipes.
Reindeer Theme Food Ideas
- reindeer inspired fun food recipes
Learn How to Make Homemade Chocolates
Homemade Fudge Recipes
- Recipes for chocolate fudge, peanut butter fudge, vanilla fudge and more fun delicious easy fudge recipes.
Homemade Suckers
-Whatever the season, try creating your own homemade suckers.
Christmas Cookies
-Cut out cookies, cookie decorating parties, fun Christmas cookie ideas and more.
Gingerbread Houses
-Start a tradition with your kids of decorating a gingerbread house. We have a traditional recipe and a simple version.
Food Gift Ideas
- Food gift ideas to give and share.
Jar Mixes
- Recipes for soup mix in a jar, cookie mixes, pancake mixes, etc with gift tags to attach to your mixes in a jar.
Edible Gift Basket Ideas
- Recipes and ideas to create your own gift baskets and goodies for presents.
Dough Ornaments
-Recipes for dough ornaments as well as cinnamon ornaments, spice ornaments and ideas for decorating.
Hot cocoa recipes
- make a batch of homemade cocoa or cocoa mix.
Happy New Year
-This is a holiday that kids don't often get involved in but we have some ideas to help you and your kids have some fun and still go to bed on time.
Chinese New Year
- celebrate Chinese New Year with Asian recipes
Snow Theme Recipes
- Create some fun with our snowballs and snowman theme recipes.
Mardi Gras-
Celebrate Louisiana food with a Kids Mardi Gras theme party.
Valentine's Day
-It is the season of love and most seasonal cooking is with chocolates and candy but we have even more ideas to get your Valentine's Day started off right.
Valentine Desserts
- Create something sweet for your Valentine.
Homemade Valentine Recipes
- Valentine ideas including anything edible or food related
Seasonal Kids Cooking Bundle Set
Kids Seasonal Cooking Ideas in Spring

No one can ignore the traditions of Easter and Passover cooking. These holidays in particular inspire traditional family rooted recipes. Preparing traditional dishes with your children is a surefire way to keep the traditions of generations alive while creating new ones.
Check out our
National Food Month Ideas
for
March
,
April
and
May
.
Kids Seasonal Cooking Activities in Spring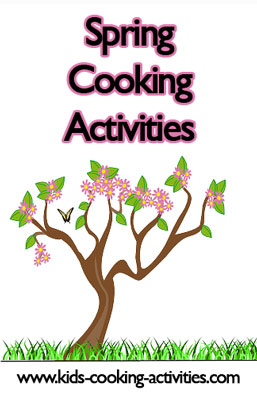 St. Patrick's Day
- St Patrick's Day recipes include Irish recipes, green food and just fun recipes to celebrate St Patty's Day whether you're Irish or not.
April Fool's Day-
Say April Fool's by surprising your family or friends with some foolish food fun.
Earth Day
- Projects and ideas to celebrate Earth Day on April 22.
Easy Passover Recipes
- recipes for celebrating Passover
Kids Easter Recipes-
Celebrate this Easter season with recipes and ideas for bunnies, eggs, nests and Easter dinner.
Sugar Eggs-
How to make sugar eggs and decorate them with your kids this Easter season.
Resurrection Cookies-
A recipe and cooking activity to do with kids the night before Easter Sunday.
Russian Easter Bread
- An Eastern European tradition.
Italian Easter Bread with dyed eggs
- A fun kids recipe for Easter
Cinco de Mayo, May 5-
Mexican recipes and a
fiesta theme party
to go with it.
Earth Day Food and Fun
- celebrate Earth day with these 5 ideas.
Mother's Day-
Mother's day recipes and ideas for kids to cook on mom's special day.
Kids Summer Cooking

Check out our
National Food Month Ideas
for
June
,
July
and
August
.
Kids Seasonal Cooking Activities in Summer
During the kids break from school try starting our
Kids Cooking Lessons
or
Kids Cooking Camps
.
Kids Summer Cooking Activities
-get your kids cooking during summertime with these fun ideas.
Summer Cake Decorating Ideas-
learn how to make a fun beach ball, pool or flip flops cake
Summer Dinner Ideas
Easy summer dinner ideas and 25 summer lunches for kids
Grow your own Italian Pizza Garden
. - Learn how to grow two vegetables and two herbs used often in homemade pizza.
14 Plants for Kids To Grow in a Garden
Father's Day
- Cook up some recipes for a special father in your life.
Kid's Campfire Cooking
- Outdoor cooking recipes for kids.
Campfire Desserts
Dutch Oven Cooking for Kids
- Learn how to cook with a dutch oven.
4th of July
- Celebrate America's Independence Day with some kid friendly, patriotic recipes.
Homemade Ice Cream
- Easy ice cream recipes with and without a machine.
Popsicles
- Kids popsicle recipes.
Simple Smoothies
- Easy to make, healthy smoothie recipes for kids.
Picnic Ideas and Recipes
- Kids picnic ideas and recipes.
Make Homemade Lemonade
and have a lemonade stand. Bake cookies or other treats to go along with the drinks.
Easy Grilling Recipes
- easy ideas for use grilling outside.
Kids Cooking Ideas-Birthdays
If you need ideas for a kid's birthday party consider having a kid's cooking party. Check out our
Cooking Birthday Party Ideas
as well as all the
Kids Cooking Party pages
for ideas, menus, to do list and help with planning.
Seasonal Cooking with Fruits and Vegetables
Helping your child understand where and how fruits and vegetables are grown can help peak their interest in eating healthy.
Our Food Fact Sheets
are very informative. They include facts for many fruits and vegetables such as how it grows, when they're available, what to look for when buying them, how to cook them, and recipes as well.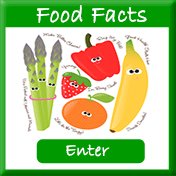 Search for a seasonal cooking activity or recipe.
Seasonal Cooking Activity
Do you have a seasonal activity or recipe to share?
Follow Kids Cooking Activities