Age Appropriate Kids Cooking Lessons
Children from any age can help in the kitchen and learn culinary skills. Our kids cooking lessons are divided into age appropriate groups. We've divided 5 different age groups with more than 10 basic lessons for children in each. Below you will also find some tips on getting started teaching cooking, as well as why you should use cooking lesson plans.
Kids Cooking Activities Teaching Materials
Make teaching easier with our activities and recipes compiled in theme sets and books with an easy to read format
Perfect for teaching!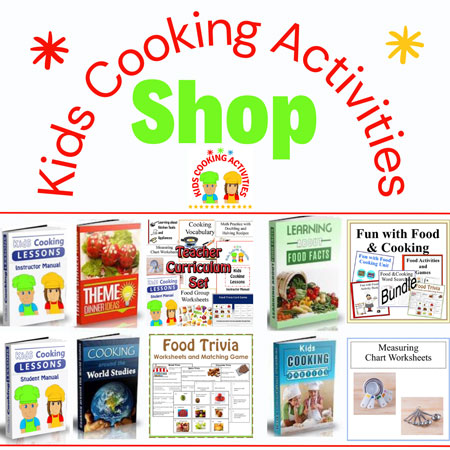 ~This post may contain affiliate links and I'll earn a small commission if you shop through them. There is no extra cost to you. This is how we help support our family and continue to bring you amazing content. To learn more see the
affiliates disclosure here.
~
Why Start Cooking Lessons?
It might be scary and stressful to imagine your kids in the kitchen. Are you saying to yourself, cooking lessons? NOT in my kitchen?
You might have egg shells in the scrambled eggs or flour pasted on the wall but remember cleaning up is an important skill to teach when cooking, also. Try to remember the benefits of teaching children to cook.
A lot of knowledge comes with spilling milk. To read the 10 reasons why to teach children to cook visit our homepage.

How to Get Started With Lessons?
To use the lesson plans it is best to choose a day that is low on stress and one where you have time for an enjoyable lesson. Your time in the kitchen could be a Saturday morning when there is no school, during a younger child's nap or a quiet Sunday afternoon.
Whatever works best for you (the teacher) and your child or children. Remember to make the experience fun, stress-free and enjoyable.
Please, also remember, learning to cook is a continuous learning experience not something, that is learned in 10 easy lessons.
Ideas for Using Children's Cooking Lessons:
One on one with your children
Girl Scout/Boy Scout troops
Church youth groups
Kid's summer camp
Day care/preschool centers
After school programs

Home school groups

"Love your site. I will be using your lessons as part of a homeschool unit study on cooking next year." ~Jo-anne
Free Online Cooking Lessons and Ideas
Each lesson has coordinating recipes and age appropriate tasks to help kids learn and experience the lesson topic.
Toddler in the kitchen- For the under 3 age group

Assistant Chef - for 3-6 years old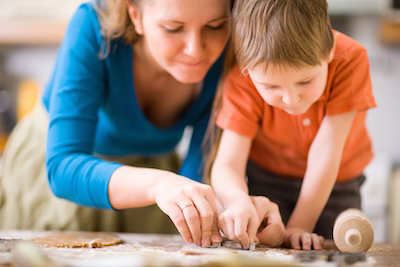 Chef in Training- for 7-11 years old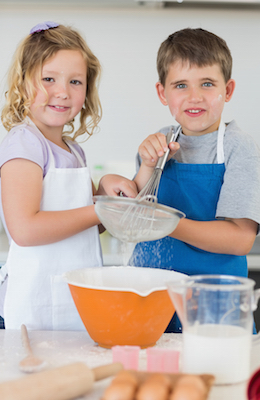 "Thanks! My mom and I are having a lot of fun learning these kids cooking lessons. It is very cool!" ~Kids Cooking Activities Reader
---
Buy all of our cooking lessons in one complete guide with
extra worksheets and help teaching kids.

---
Junior Chef - for 12-15 years old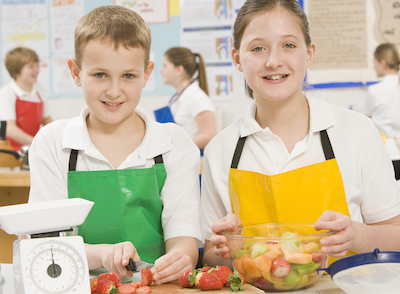 Senior Chef -for 16-18 years old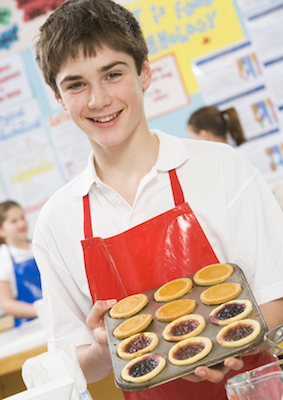 Now move on to our
basic cooking lessons.
Here are some
cooking tips for college age students

Stress Free Cooking Tips with Kids
Delegate Tasks
From the ripe ole age of four,
children learn to follow direction and duplicate tasks
. This is a great time to begin
working with them on delegating tasks
. From cutting soft vegetables, like steamed broccoli, to pealing a potato, children can take a lot of the redundant tasks off of your hands; and they will be happy to do so.
Kids love to be in the kitchen, it makes them feel important and grown up because they believe the kitchen is reserved for "big people." Giving them a few tasks to perform helps to build their confidence and begins teaching them about kitchen safety. As they get older, you will find yourself needing to do less and less as they become more comfortable around the tools and foods of the kitchen. Each of our cooking lesson levels have appropriate tasks per age.
Have Them Clean Up Afterwards
Sometimes, cooking with kids isn't stressful until it is time to clean up. This could be another delegated task, but just having them help can remove a big part of stress. Let one wipe the scraps into the trash while the other rinses the plate off to hand to you. Make cleaning up just as much fun as the cooking and it will not be a problem getting your kids to help out.
Cooking with your kids can be an extremely joyous and fun time. It takes a little thinking ahead, the right tools and a good attitude, but nothing you can't accomplish on your own. Call the little ones, give them a peeler and a task and watch as your stress levels are peeled off like that potato.
Tips to Get your Kids in the Kitchen
Sometimes it is difficult to get kids interested in the workings of a kitchen. While we have already discussed why it is important, let's take a look at how we can excite them enough to get started.
Let Them Experiment
Kids love to try new things and the kitchen is a great place to do it. It is easy to clean up if there is a mess and with the proper instruction on safety, the kitchen can be a great place to get creative. Of course, some experiments fail, but no matter what happens, we, as adults, have the open door to discuss what happened and why it happened.
Kids get excited when they get to play around and experimenting in the kitchen is just that. The once elusive domain is now within reach and not only that, they get to have fun and play around. If you want to get kids fired up, give them the ability to play in the one area they were previously banned from entering. Try these
70 simple kids cooking activities list.
Let Them Ask Questions
Questions are a great tool to spark a kid's interest. Kids ask questions because they want to know and understand how things work and why they do what they do. It is important to field all of the questions you can when teaching a child to cook. It is also fun for the adult, even if they don't know the answer, to sit down with a child, find the answer and talk about what they found out.
Questions lead to more questions and bonds become tighter. Making room in the kitchen to stop and have a discussion will keep a child interested and will help them develop critical thinking skills for later in life. Learning how to ask the right question is also an important part of growing up. For instance, there is a big difference in the answer to "Where does milk come from" and "How do we get our milk."
Another great way to keep the interest flowing is to ask a question back. For instance, in the "Where does milk come from" question above, ask them where they think it comes from. This is a great tool to unpack and straighten out any wrong information they might have received in the past.
Let Them Have Room to Do It on Their Own
This step will probably make some adults extremely nervous. Yes, you read correctly, let them have room to do it on their own. Let the child try their hand at certain tasks and then ask you for help if needed. This is a great way to spark interest because they get to put their hands on things sooner.
Kids love to try new things, especially when there are not a bunch of rules and regulations that come before they get to play. Let your kids discover that there has to be an easier way to stir the cake mix than with a fork and that pouring the flour slowly will keep it from puffing up their noses.
It is easy to get kids interested in cooking when they have some room to experiment, ask questions and try their hand at something new. The best way to keep a child interested is to get in the kitchen with them and learn to relax a little and have fun. So get up, grab your kids and get into the kitchen to kick-start the fun.
Here are some tips on how to teach classes to kids.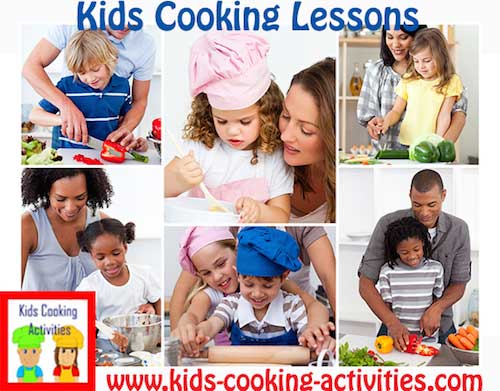 More Help and Resources for Teaching Children to Cook
Include these pages in your teaching curriculum.
Kitchen Rules and Safety
- the page includes downloads for Kitchen Safety chart and a Food Sanitation Chart.
How to start a business
What do you learn in the kitchen?
Add lessons to your homeschooling
Teaching children or adults with Disabilities
Teaching Life Skills

Getting Kids Interested in the Kitchen
5 cooking tips
- Need help getting kids interested in helping in the kitchen?
Stress Free Cooking Tips
6 Ideas to teach beyond the kitchen
10 Reasons for Kids To Learn to Cook
Kids Cooking Lesson Plans
Follow Kids Cooking Activities