Age Appropriate
Kids Cooking Lessons
Children from any age can help in the kitchen and learn culinary skills. Our kids cooking lessons are divided into age appropriate groups. We've divided 5 different age groups with more than 10 basic lessons for children in each. Below you will also find some tips on getting started teaching cooking, as well as why you should use cooking lesson
plans.
Planned Kids Cooking Curriculum
~This post may contain affiliate links and I'll earn a small commission if you shop through them. There is no extra cost to you. This is how we help support our family and continue to bring you amazing content. To learn more see the
affiliates disclosure here.
~
Why Start Cooking Lessons?
It might be scary and stressful to imagine your kids in the kitchen. Are you saying to yourself, cooking lessons? NOT in my kitchen?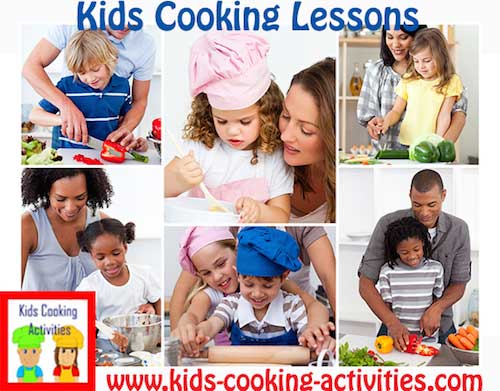 You might have egg shells in the scrambled eggs or flour pasted on the wall but remember cleaning up is an important skill to teach when cooking, also.
Try to remember the benefits of teaching children to cook.
A lot of knowledge comes with spilling milk. To read the 10 reasons why to teach children to cook visit our homepage.


How to Get Started With Lessons?
To use the lesson plans it is best to choose a day that is low on stress and one where you have time for an enjoyable lesson. Your time in the kitchen could be a Saturday morning when there is no school, during a younger child's nap or a quiet Sunday afternoon.
Whatever works best for you (the teacher) and your child or children. Remember to make the experience fun, stress-free and enjoyable.
Please, also remember, learning to cook is a continuous learning experience not something, that is learned in 10 easy lessons.
Here are some tips on how to teach classes to kids.
Ideas for Using Children's Cooking Lessons:
One on one with your children
Girl Scout/Boy Scout troops
Church youth groups
Kid's summer camp
Day care/preschool centers
After school programs

Home school groups

"Love your site. I will be using your lessons as part of a homeschool unit study on cooking next year." ~Jo-anne
Free Online Cooking Lessons and Ideas
Each lesson has coordinating kids cooking recipes and age appropriate tasks to help kids learn and experience the lesson topic.
Toddler in the kitchen- For the under 3 age group


Assistant Chef - for 3-6 years old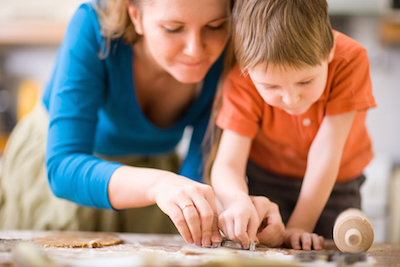 Chef in Training- for 7-11 years old
"Thanks! My mom and I are having a lot of fun learning these kids cooking lessons. It is very cool!" ~Kids Cooking Activities Reader
---
Buy all of our cooking lessons in one complete guide with
extra worksheets and help teaching kids.


---
Junior Chef - for 12-15 years old
Senior Chef -for 16-18 years old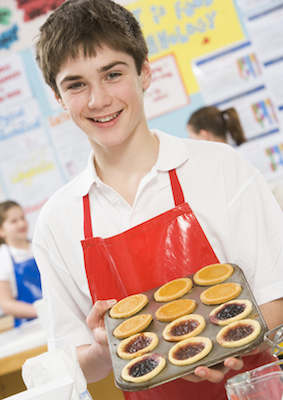 5 Tips to get your kids in the kitchen
Follow Kids Cooking Activities