About Us @ Kids-Cooking-Activities.com
I love the process of putting cooking ideas and recipes together and creating them into webpages and cooking lessons. You will find on this website there are many sections such as:
Children's cooking parties
World studies program
Craft recipes
Cooking lesson plans
Kitchen Science Experiments
Cook with Book ideas
Learning about Food Facts
I have a wide variety of kids cooking ideas I have put together for children of different ages. Take a look around and you are sure to find something that will get children involved in the kitchen. Through the past 10 years this website has evolved a lot.
I strive to help teachers and parents organize and plan cooking lessons for children so they can save time and energy. Educators whether they are homeschooling, teaching in a school system or volunteering in a youth program all have one thing in common, lack of time. You can find them up late at night planning for classes and using any spare time they have for lesson planning and idea research. With our plans and projects you will still need to do the grocery shopping but you'll never have to plan a cooking lesson again.
How Did I Get Started Cooking with Kids?
I started kids cooking activities and kids cooking lessons with my children after my oldest son would create "something" in the kitchen almost everyday. He would fill a pot with water, add sugar, salt, apples, whatever he could find and ask me to cook it on the stove top. He didn't want to follow a recipe and just wanted to create something using whatever inspired him.
When my oldest son was in kindergarten, his teacher asked for parent volunteers to cook with the kids each week. I knew my son would love this idea, so I signed up. I learned it wasn't just my son who was enthusiastic about cooking, all the children loved to cook and were excited for cooking class each week.
This was the start of something great!
Beyond my son's kindergarten class, I have done a lot of cooking classes with kids through after school activities, preschool groups, girl scout and boy scout groups, church groups and cooking parties.
It helps that I love to cook and try new recipes, so it was natural for me to get my children involved at home and seek opportunities for cooking with kids.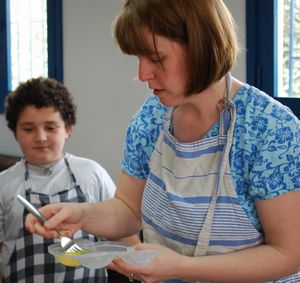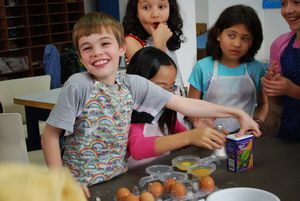 Join our Kids Cooking Activities Community

Please bookmark our page, subscribe to
Kids Cooking Activities Club
or follow us on social media.
Follow Kids Cooking Activities
Why I Created this Website?
I wanted to share my ideas we've done with other teachers, moms, dads, and grandparents. I know when I first started researching all I could find were children's cooking lessons locally. They were creating recipes with names I've never even heard of. Way too gourmet even for me and I love to cook!
That is why this website has down to earth kid friendly and easy recipes to help them learn and just have fun in the kitchen.
Build your own website!
Want to learn how you can build your own website?
I love being able to work from home writing and publishing on the web. I'll help walk you through the process of building your own website too.
My websites have and continue to be a great creative outlet for me!
Happy Cooking!!


Interested in more about
Kids Cooking Activities?
View our
Media kit.
Or
contact me here.