Easy Dog Treat Recipes
Making easy dog treat recipes is not difficult to do and it's a sure fire way of knowing exactly what goes into your dog's food. Too many dog treat companies try to save money by bulking out their biscuits with filler, meaning that you get a cheaper treat but your dog's health suffers. Making your own dog biscuits can also be a great way to introduce your child to cooking and teach them how to care for their pet.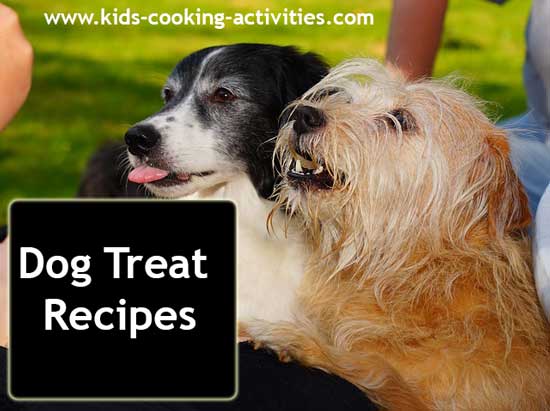 Kids Cooking Activities Teaching Materials
Make teaching easier with our activities and recipes compiled in theme sets and books with an easy to read format
Perfect for teaching!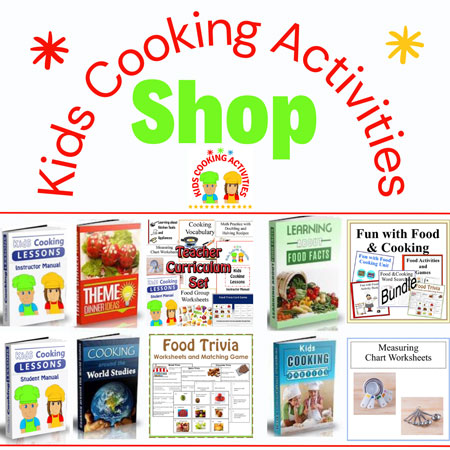 ~This post may contain affiliate links and I'll earn a small commission if you shop through them. There is no extra cost to you. This is how we help support our family and continue to bring you amazing content. To learn more see the
affiliates disclosure here.
~
Getting the Right Dog Biscuit Recipe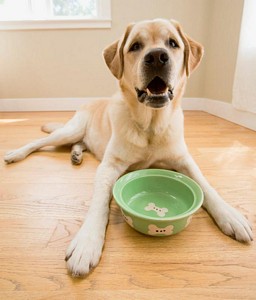 Finding easy dog treat recipes is not hard, as a popular thing to try as they are popular, but finding the right mix of ingredients for your dog is sometimes tricky.
You can split homemade dog biscuit recipes into three categories:
Simple-to-make treats
Treats that cater to your dog's individual tastes
Healthy snacks

Of course, some dog treat recipes do not fall into any of these categories, but using these three helps to narrow the options.
Easy Dog Treat Recipes
When you cook with children for the first time, you should start with something easy. Depending on the skill and experience of your child, you may want to let them do all the work under your guidance or let them instruct you. Either way, cooking together is fun as long as you can keep the dog away long enough to make the treats. For a simple yet healthy snack for your dog, gather:
2 cups of plain or whole wheat flour
1 tablespoon of baking powder
1 cup of chunky or smooth peanut butter
1 cup milk
Mix the dry ingredients together in one bowl and the milk and peanut butter in another. Add the dry ingredients to the milk and peanut butter mixture to make a dough and knead for about five minutes. Use a cookie cutter to make shapes and bake in a pre-heated oven for about 20 minutes. The cookies should be hard but not rock solid. Don't let your dog eat them until after they have cooled.
Special Dog Biscuit Treats
Most of the easy dog treat recipes you will find tend to focus on using your dog's favorite flavors to make biscuits. These usually consist primarily of meat, fish or cheese, so a recipe like this one allows you to use any of their favorite food and flavors: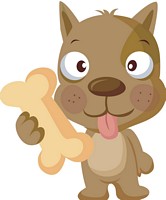 2 ½ cups of white or whole wheat flour
1 egg
1/2 cup of milk
2 Tablespoons of your dog's favorite flavor, such as a stock cube, melted cheese or liquid from a can of tuna
Sieve the flour to make it smooth and then add the flavoring, egg and milk. Mix well to make dough and if it is too stiff to roll out, add some more flavoring. Finally, cut out your cookie shapes and bake in a pre-heated oven for 20 minutes.
---
Make teaching easier with our activities and recipes compiled in one easy to read format.
---
Healthy and Easy Dog Treat Recipes
Using herbs in a dog biscuit is a great way to get some vitamins and minerals into your dog's diet. For example, oregano can help relieve bacterial infections, parsley is great for joint pains, and lavender helps to soothe nervous puppies. Just add them to any recipe to get the benefits.
It is clear that easy dog treat recipes do not differ greatly from cookie recipes, so they can be a great way to introduce your child to baking, as well as saving money on expensive treats. The dog's enthusiasm is sure to bring a smile to your child's face and encourage them to try new recipes to obtain an even better response from their furry friend.
Dog Ice Cream
by Kristie Barker (Brigham Ut)
Coconut milk in the can
1/4 cup of blueberries
1 cup of ice
1/2 cup of yogurt
1/4 cup of water
* I only use half the can of coconut milk and 1 whole banana
Blend all the ingredients in a blender until smooth and place it in the freezer for about a hour. Serve it in a bowl or in a ice cream cone and enjoy it with your pet.
1/4 a cup is plenty for a small dog and 1/2 cup for a larger dog. We like to make this instead of giving them real Ice Cream and they will never know the difference. If your enjoying it so will they.
If you want to make it with a topping try some chopped peanuts and small amount of honey for some syrup.
Do you have a homemade dog biscuit recipe to share?
Submit your favorite kids recipe
Do you have a favorite recipe your kids love to make? Or a recipe your kids ask you to make again and again? Share it with us!
Follow Kids Cooking Activities