Importance of Washing Hands
by Sheila Hubbard
(Jackson MO)
As our class was discussing how to safely prep food and cook together we talked about why we should wash our hands before and after handling food items. We talked about germs and how they spread quickly, even when we dont know they are there.

After predicting how much germs can spread and possibly make us sick we went to the sink and washed our hands with soap. I asked if anyone could see the germs on their hands. After we decided we couldn't see anything I said lets see what happens when we touch the "dirt" (cinnamon). Everyone thought it smelled very good while they took turns watching each friend stick their fingers into the individual bowls. By the time everyone had had a turn each friend had cinnamon "dirt" all over their hands.

We then looked at the germs left on our hands, the table, the paper towels, etc. We talked about what was left behind on the surfaces were germs! How do we clean them up and get ourselves clean so we don't get sick. Then we made several bigger bowls of hot (temperature checked) soapy water and we took turns washing our hands and the surfaces with the soapy water and rinsing everything clean.
Kids Cooking Activities Teaching Materials
Make teaching easier with our activities and recipes compiled in theme sets and books with an easy to read format
Perfect for teaching!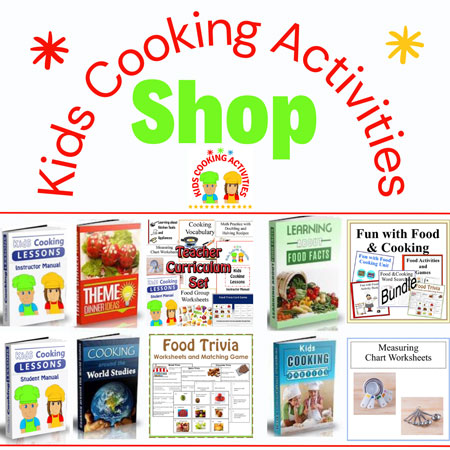 ~This post may contain affiliate links and I'll earn a small commission if you shop through them. There is no extra cost to you. This is how we help support our family and continue to bring you amazing content. To learn more see the
affiliates disclosure here.
~
Follow Kids Cooking Activities