Kids Free Recipe Cards
These kids free recipe cards will get your child's recipe collection started. Whether it is a three ring binder with printed recipes or a recipe file box, start collecting your recipes now.
Recipe Cards
Free blank recipe cards
- Kids can print these off, write down their favorite recipes and start their own recipe file.
Fruit and Vegetable recipe card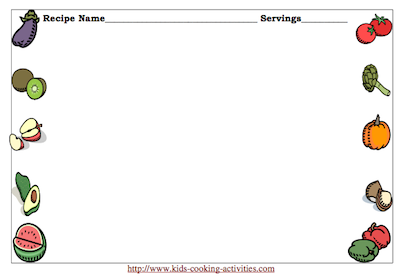 Chef recipe card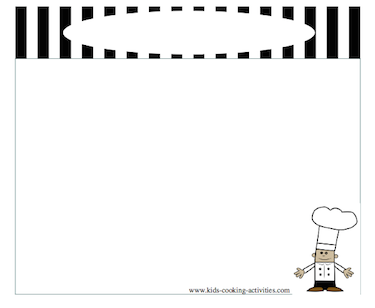 Printable recipes
- Print these 20 recipe cards off to start your collection and we have
120 more
available.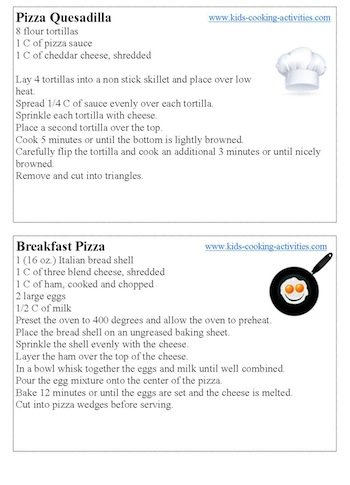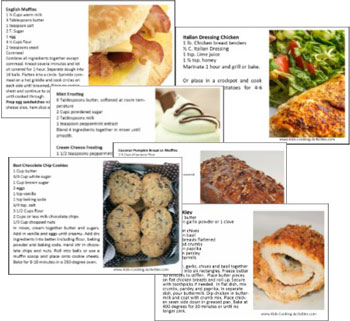 Sign up for our weekly Kids Recipe Card Newsletter for more recipe cards to add to your collection.
More Free Recipe Cards and Resources
For preschool kids, print off the picture recipes and add to your recipe file.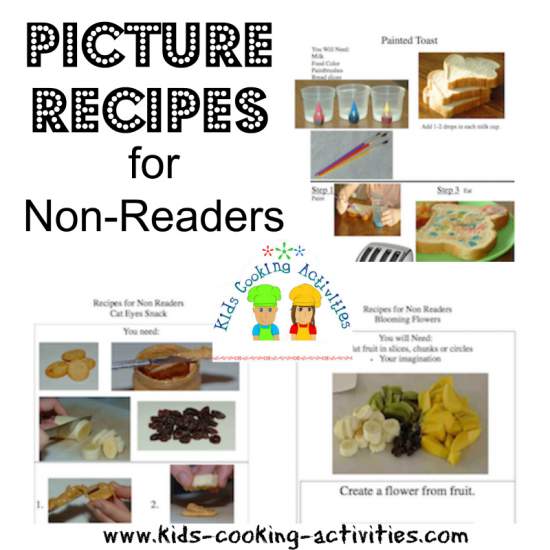 Visit the
kids cooking printables page
for a lot more free resources you can print off to use while cooking.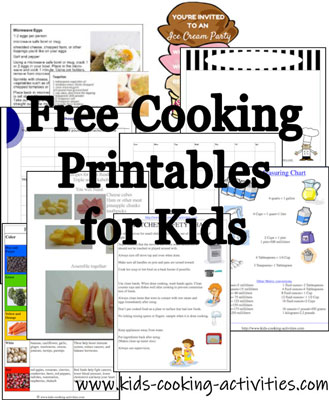 20 Free Recipe Cards
Sign up for the
Kids Cooking Activities Club Newsletter
for tips and ideas to help your kids learn and grow up in the kitchen. It is free and brought to your email box once a week. Once your address is confirmed the recipe cards will be sent to your email address.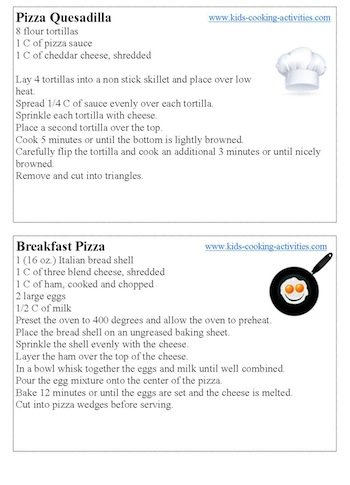 Or order from our shop here:
Creating Kids Recipe Books
by Wendy,
(South Africa)
Ever since our children were very young we have been cooking together.
Initially it was the usual easy kid recipes and decorating fairy cakes and biscuits. As our children have grown (they range in age from 12 - 5) I have asked them to participate in cooking the evening meal and other additional cooking chores.

Over the course of this last year my 10 and 12 year old children have learnt to create a great number of tasty meals. My son is the more adventurous and confident cook, thus he creates meals like "Basil and Parmesan Meatballs with a Tomato sauce over Spaghetti." My oldest daughter has preferred learning how to make waffles, flapjacks, choc chip brownies and egg dishes.

This year we are creating recipe books for them. As they master their dish they will write the recipe out and file it in a folder. This means when they eventually set up their own homes, they will have a tried and tested recipe book to give them a strong start.

My younger two children are well into their training process already (aged 5 and 8) by making salads, baking and making fresh carrot juice for us in the morning!

I hope this idea will inspire other moms with young chefs,
Regards
Wendy
Follow Kids Cooking Activities