Reindeer Pumpkin Bread Recipe
Dress this yummy Pumpkin Bread recipe up with a glaze and nut topping. Since we are celebrating the Christmas season we call it Reindeer Bread.
Ingredients:
1/2 cup butter, softened
1 cup white sugar
2 eggs
1 1/2 cups all-purpose flour
1 teaspoon baking soda
1/2 teaspoon salt
1 teaspoon ground cinnamon
1/2 teaspoon ground nutmeg
1/4 teaspoon ground ginger
3/4 cup pumpkin puree
6 ounces semi-sweet chocolate chips
1 cup chopped pecans, divided

Icing Ingredients:
1/4 cup powdered' sugar
2 tablespoons heavy cream
1/4 teaspoon ground nutmeg
1/4 teaspoon ground cinnamon

Directions:
Cream butter and sugar until fluffy.  Add one egg at a time mix well after each addition.  In a separate bowl blend together flour, baking soda, salt, 1 teaspoon of cinnamon, 1/2 teaspoon of nutmeg and the ginger.  Slowly stir 1/3 of the flour mixture into the sugar mixture.

Then stir 1/3 of the pumpkin into the sugar mixture.  Next stir in 1/3 of the flour and then the rest of the pumpkin. Finally stir in the last of the flour mixture.  Gently fold in chocolate chips and 3/4 cup of pecans.  Grease and flour a 9x5 inch loaf pan. Preheat the oven to 350 degrees.

Pour mixture into loaf pan and sprinkle with remaining pecans. Bake for one hour until a knife inserted in the middle of the loaf comes out clean. Cool completely.  For the icing stir together the confectioners' sugar and heavy cream. Add cinnamon and nutmeg and stir until smooth. Drizzle icing over bread loaf when completely cooled.

Download some Christmas reading to go with your cooking activity:


Join in and write your own page! It's easy to do. How? Simply click here to return to Submit your kids recipe.
Kids Cooking Activities Teaching Materials
Make teaching easier with our activities and recipes compiled in theme sets and books with an easy to read format
Perfect for teaching!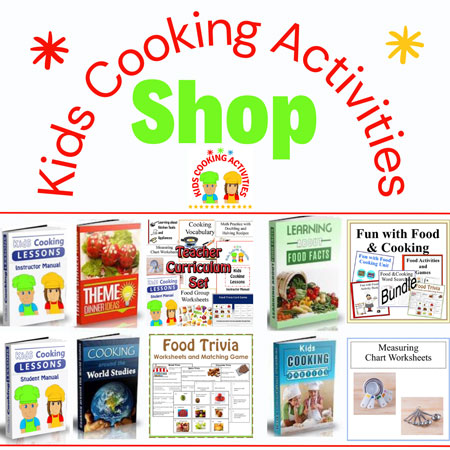 ~This post may contain affiliate links and I'll earn a small commission if you shop through them. There is no extra cost to you. This is how we help support our family and continue to bring you amazing content. To learn more see the
affiliates disclosure here.
~
Follow Kids Cooking Activities