Stuffed Pork Chops
by Virginia Lee Kindel
(Broomfield Colorado USA)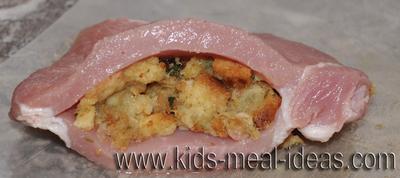 If you're busy and on a time budget whether you are a nanny or working full time here is a good recipe that is easy and the kids can do this themselves.
Ingredients:
4-6 pork chops-butchered cut
1 cup of milk
1 can cream of mushroom soup or your favorite creams
slice of bacon or bacon bits
stuffing
Mix the soups with the milk.
Place in a bottom of a casserole dish.
Add a slit to each pork chops to add stuffing.
Prepare stuffing and place inside the slit of the pork chop.
Bake at 325 degrees for approximately 30-45 minutes or place in a crock pot as well on low.
Then make a salad and a dessert and you are all set to go.
Make teaching easier with our activities and recipes compiled in theme sets and books with an easy to read format
~This post may contain affiliate links and I'll earn a small commission if you shop through them. There is no extra cost to you. This is how we help support our family and continue to bring you amazing content. To learn more see the