Ultimate Walnut Chocolate Chunk Cookies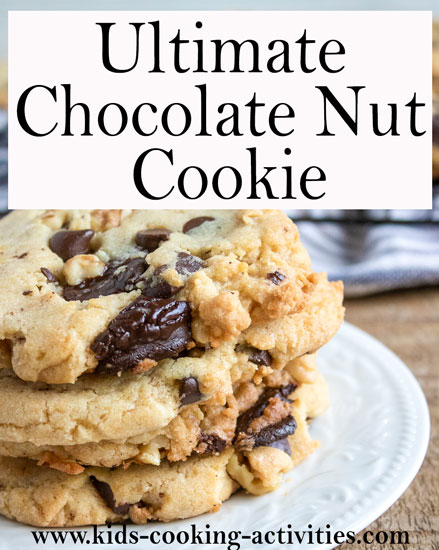 Prep time: 15 minutes
Baking time: 10-12 minutes
Yield: 24 cookies
Ingredients:
½ c. vegetable shortening
½ c. unsalted butter
1 c. granulated sugar
1 c. brown sugar, packed
2 large eggs
2 t. vanilla extract
3 c. all-purpose flour
1 t. baking powder
1 t. baking soda
½ t. salt
1 c. chocolate chips
3-oz. dark chocolate bar, chopped
1 c. walnuts, chopped
Directions:
1. Preheat oven to 375°F and line a large, rimmed baking sheet with parchment paper or a
Silpat® baking mat.
Set aside.
2. Cream together sugars, shortening and butter in a mixing bowl. Blend in eggs and vanilla and stir until combined.
3. Stir in flour, baking powder, baking soda, and salt. Combine.
4. Stir in chocolate chips, chopped chocolate and nuts. Stir gently until blended.
5. With a large muffin or cookie scoop, scoop balls of dough and place on prepared cookie sheet with 1-2 inches in between each ball. Flatten dough with the bottom of a glass.
6. Place in warmed oven and bake 10-12 minutes or until golden brown and cooked through. Remove from oven and cool slightly before serving.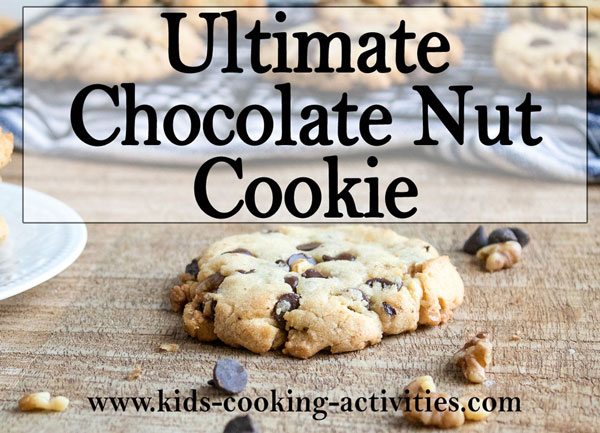 More
Cookie Recipes
Make teaching easier with our activities and recipes compiled in theme sets and books with an easy to read format
~This post may contain affiliate links and I'll earn a small commission if you shop through them. There is no extra cost to you. This is how we help support our family and continue to bring you amazing content. To learn more see the