8 Fun Camping Activities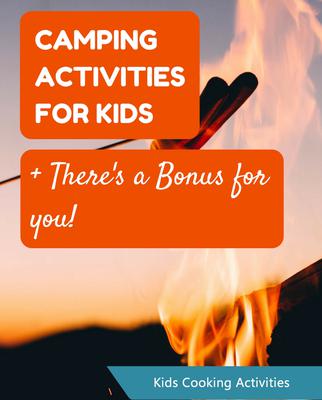 Camping is meant to be a fun experience. However, you can only play poke-the-ant-hill-with-a-stick so many times before it gets a little boring. Coming up with original ideas for activities to do while camping can sometimes pose a bit of a challenge. Let's explore some fun activities you may not have thought to do while camping.

Geocaching
If you are looking for an exciting adventure, look no further. Geocaching is the world's largest organized virtual treasure hunt. People camouflage and hide different size containers, called caches, some with toys and games inside, while others have just a little slip of paper.
The coordinates are posted online or on a Facebook page or other social media for all players to find. Others grab their GPS and try to track down the cache. Once you find the cache, you sign a log letting others know you found it and even trade out for some of the bounty inside.
Then hop back online and log your find when you get home.
Test Your Survival Skills
So you think you can survive if you got lost in the woods? Why not test your survival skills just to make sure. Can you build a fire or catch a fish? How good are you at gathering berries and other edibles? Can you read a compass? What about setting up a shelter? Write down three or four tasks that you think would be important if you were lost in the woods. Challenge everyone in your group to try and demonstrate their survival skills by completing one or all the tasks. Be sure to include prizes to all who "survive."
Hunt for Treasure
While geocaching is a lot of fun, nothing beats the excitement of the possibility to stumble upon real treasure. Many of our state and federal parks began life as Civilian Conservation Corps projects in the 1930s. By using old maps and a metal detector, you can sometimes locate the old dumps from these camps. One man's trash is another man's treasure. There could be some vintage tin cans and other objects that are intriguing and exciting to find.
Make Ice Cream
Play and Freeze Ice Cream Ball Ice Cream Maker
It's difficult to bring ice cream on a family camping trip, but there are products that can bring the ice cream making right to your campsite. These activities usually involve some cream, sugar, and a little flavoring.
Basically, you pour the ingredients into a
ball
with some ice in the middle to keep it cold and begin shaking, throwing, and kicking to keep the ball moving.
After a little while of moving the
ball
around, you crack it open and voila!... you have ice cream to go with your grilled dessert.
Try some of these
homemade ice cream recipes. 
Marshmallow Toss
Because these fluffy treats are so light, trying to throw them very far can get rather humorous. This is a game that's easy to plan and play. Each member of your group takes turns standing at a marker and throwing a marshmallow as far as they can. The distances are measured and points are awarded.
You can also bring some golf clubs and tees and set up your game that way instead. Another fun, and silly, way to play is to set the marshmallows in a row on a picnic table and have each participant huff and puff and blow their marshmallow over the finish line. Use a Sharpie pen to decorate and "personalize" each marshmallow to keep track of who has which one, and for even more fun, too.
Glow Stick Tag
Everyone should run around in the dark with 1 glow stick. However, "it" should have several glow sticks attached together to make a wand. If "It" catches you by touching his wand to you then you are the new "It!"
The great outdoors offers a lot of opportunities to have fun. Yes, there are campfires, fishing, and hiking, but sometimes you need to create something unusual to keep everyone interested and busy. Next time you go camping, try one of these activities for a little something different.
Hobo Hike
Give to each "hobo" a bandanna lined with saran wrap and containing bacon or hotdogs, buns, doughnuts, fruit and marshmallows. Each bundle is tied with opposite corner in knots so that it may be carried on a stick over the shoulder. After the hike, build a fire and cook the hot dogs and marshmallows.
Scout's Nose Game
Using about 10 paper bags, place in each bag an item that has a distinctive smell such as chopped onions, balsam, cheese, etc. The bags are then placed in a row about two feet apart. Each player walks down the line and sniffs each bag for about 5 seconds. At the end of the line, the player has about 2 minutes to quickly write down the names of the items in the bags, in the correct order wins.
Nature Scavenger Hunt
Download the Free Camping Scavenger Hunt Cards Here!
With an adult's help campfire cooking can become great memories.
Make teaching easier with our activities and recipes compiled in theme sets and books with an easy to read format
~This post may contain affiliate links and I'll earn a small commission if you shop through them. There is no extra cost to you. This is how we help support our family and continue to bring you amazing content. To learn more see the