Easy Ice Cream Recipes
Summer time is the perfect time for easy ice cream recipes. It is a way to cool off and enjoy a treat under a shady tree. Whether it is homemade ice cream recipes in a machine or a different method, we have the ideas and the recipes.
Kids Cooking Activities Teaching Materials
Make teaching easier with our activities and recipes compiled in theme sets and books with an easy to read format
Perfect for teaching!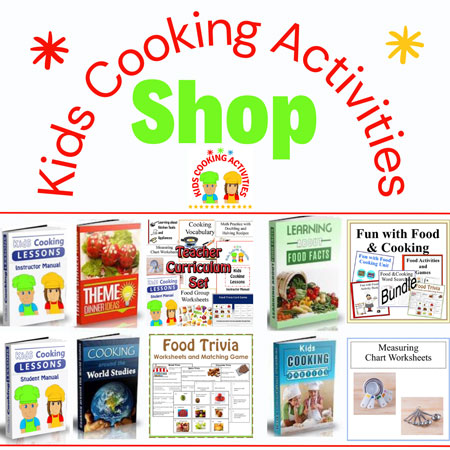 ~This post may contain affiliate links and I'll earn a small commission if you shop through them. There is no extra cost to you. This is how we help support our family and continue to bring you amazing content. To learn more see the
affiliates disclosure here.
~
Easy Ice Cream Recipes
Homemade Recipes in a Machine
Vanilla Ice Cream
Ingredients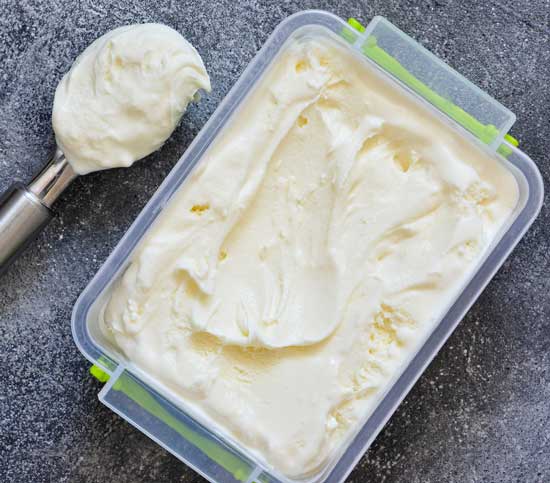 3 eggs
2/3 cup sugar
1 3/4 cups milk
1 3/4 cups cream
1 1/2 teaspoons vanilla extract
In a saucepan stir together eggs, sugar and milk. Cook on low heat . Stir constantly for 8-10 minutes until mixture starts to thicken. Set off stove and allow to cool. In separate bowl, stir cream and vanilla together. Pour into cooled milk mixture. Chill several hours. Then run through ice cream machine. Store in a plastic container in the freezer.
Chocolate
To make a
Chocolate Recipe
, stir in ¼ cup cocoa powder with the sugar and milk mixture. Cook and follow recipe above.
Strawberry Ice Cream
Ingredients
1 quart fresh strawberries
1/2 cup sugar
2 eggs
2 cups cream
1 cup milk
1/4 cup sugar
1/2 teaspoon vanilla
Wash strawberries and remove stems. Stir ½ cup sugar and strawberries together then set aside while preparing remaining recipe. In saucepan stir together eggs, cream, milk, ¼ cup sugar and vanilla. Cook on low heat. Stir constantly about 6-8 minutes until mixture starts to thicken. Add strawberries to cream mixture and stir together. Chill in fridge several hours then run through ice cream machine.
Peppermint Ice Cream
An easy ice cream recipe that includes a little peppermint candy flavor.
Ingredients
2 Cups whipping cream
½ Cup sugar
½ teaspoon Vanilla
½ teaspoon Peppermint extract
Red food coloring
About 1/2 Cup crushed peppermint sticks or peppermint candies crushed
Combine ingredients together and pour into ice cream machine or use the roll a can method. (below).
Mint Chocolate Chip Recipe
Ingredients
3 eggs, lightly beaten
1 ¾ Cup milk
¾ Cup sugar
Pinch salt
1 ¾ Cup whipping cream
1 teaspoon Vanilla
¼ teaspoon Peppermint extract
4 drops green food coloring, optional
½ Cup mini semisweet chocolate chips
In saucepan, combine eggs, milk, sugar and salt. Cook and stir constantly until mixture reaches 160 degrees on a candy thermometer. It will coat a metal spoon. Set aside and allow to cool. Then stir in cream, vanilla, peppermint extract and food coloring. Chill for 2 hours. Stir in chocolate chips. Fill ice cream freezer cylinder 2/3 full; freeze according to directions. Refrigerate remaining mixture until ready to freeze.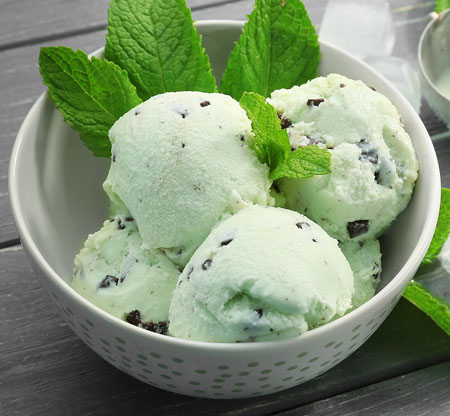 Super Easy 3 Ingredient Ice Cream Recipe
Ingredients
14 oz. Can sweetened condensed milk
4 Cups half and half or light cream
1 Tablespoon vanilla
2 Tablespoons cocoa, if you want chocolate flavor
Directions:
Combine all ingredients together then pour into ice cream machine.
More Recipes to Try
Chocolate Toffee
Oreo Cookie Cream
Use a basic vanilla ice cream recipe and prepare per directions. Before freezing stir in chopped sandwich cookies.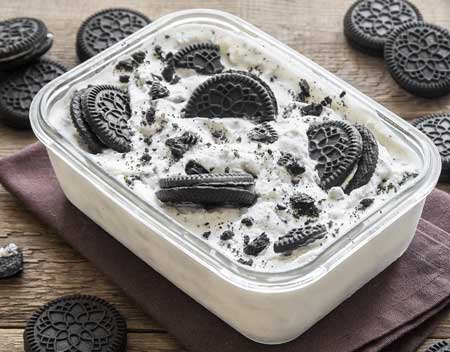 Banana Ice Cream
Ingredients:
4 Bananas, sliced
1/2 Cup heavy whipping cream
1/4 Cup milk
Directions:
Add ingredients to a food processor or blender. Blend until smooth. Pour into a plastic container and freeze until firm.
Roll in a Can Method
Don't have an ice cream machine? Try the roll a can method.
Place a 1 lb. can inside a 3 lb.can. (or a coffee size can)
Fill 1 lb. Can or Tupperware with tight fitting lid with ice cream ingredients. (use any of the recipes above.)

Layer crushed ice and rock salt around the small 1 lb. Can.

Cover both cans with their plastic lids. Tape shut if you'd like to make sure it remains sealed.

Get several people to help or at least two helpers. Sit in a circle on the floor and roll the can back and forth for about 15 minutes or until ice cream thickens.
Science Behind Homemade Ice Cream
The salt lowers the freezing point of the ice. Meaning your ice cream freezes gradually. The mixture of the salt and ice helps freeze your ice cream quickly. (But it will still take 10-20 minutes to be ready) You will start to see condensation on the outside of your can, this will show you that it is working!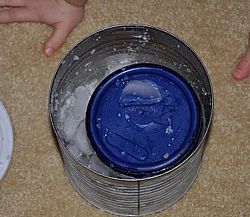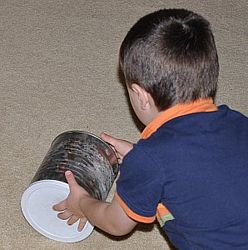 Baggie Easy Ice Cream Recipes
These are a lot of fun and super easy ice cream recipes kids can have fun putting together. The technique is different then the rolling a can method only because you are squeezing the bag and tossing it around but the science behind it is still the same. You might want to get your winter gloves out for this activity- it gets cold!
Individual Baggie Vanilla Ice Cream Recipes
Ingredients
½ cup half and half, milk or cream
1 tablespoon sugar
¼ teaspoon vanilla
1 sandwich size Ziploc baggie
1 gallon size Ziploc baggie
3 cups crushed ice
½ cup rock salt
Add cream, sugar and vanilla into small baggie and zip closed. In larger baggie add ice and rock salt. Place smaller ice cream filled bag inside larger rock salt baggie. Seal bag closed. Double check to make sure both are sealed tight. Squeeze, toss, wiggle, play catch with the bag until mixture thickens about 10-15 minutes. Eat with a spoon.

For a
Chocolate baggie ice cream recipe
add ¼ teaspoon cocoa powder or 1 tablespoon chocolate drink mix powder.

For a
Malted milk
flavor add 1 tablespoon malted milk powder.
Frozen Yogurt in a Bag
Ingredients
2 containers plain or vanilla yogurt
1 cup mashed fruit, strawberries or peaches work great
Add ingredients in a Ziploc bag and squeeze together to combine. Freeze several hours.(Or use the method above) When ready to eat snip a corner off a bag and squeeze out or eat with a spoon.
Here's another recipe for making frozen yogurt.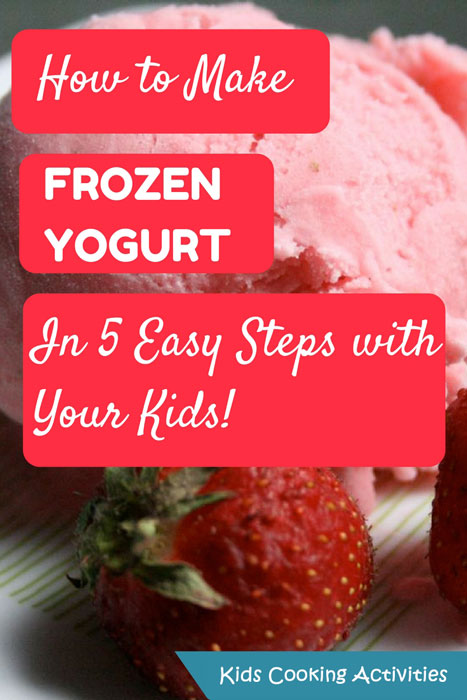 ---
Make teaching easier with our activities and recipes compiled in one easy to read format.
---
Fun Ice Cream Recipes for Kids
Ice Cream S'mores
Easy ice cream recipes that are a twist on the traditional s'more.
Ingredients
Whole graham crackers or square cookies
1/3 Cup marshmallow crème
1 Cup chocolate ice cream, softened
Break graham crackers in half to make squares. Top each cracker with a scoop of ice cream and a spoonful of marshmallow crème. Top with another graham cracker square. Wrap up in plastic wrap and freeze several hours.
Ice Cream Balls
Ingredients
Ice cream, flavor of choice
Crushed nuts, cookies or candies
Crush nuts, cookies or candies that you would like to roll ice cream balls in. Place crumbs in a bowl. Set out a sheet of waxed paper on top of a cookie sheet. Allow ice cream to sit out a few minutes and become soft. With plastic gloves or clean fingers take a scoop of ice cream out and roll into a ball with your hands. Set ball into crumbs and roll around to coat. Set on waxed paper cookie sheet. Set in freezer. Freeze several hours.
Homemade Sandwich Recipes
Ingredients
Ice cream of choice
Two flat cookies
Crushed nuts, cookies or candies, optional
Place a scoop of ice cream between two flat cookies. Press together. Roll outside edges with crushed nuts, cookies or candies, if desired. Wrap up in waxed paper and store in the freezer several hours. You can change the look and flavor very simply with this easy ice cream recipe by changing the ice cream flavor or use a variety of crushed cookies and candies.
Try this
waffle ice cream sandwich

Dipped Ice Cream Cones
Decorate your
ice cream cones.

Chocolate Ice Cream Boats
Create a
chocolate ice cream boat
. Or a
chocolate bowl
to serve your ice cream.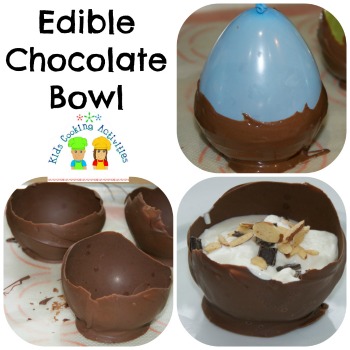 Ice Cream Social
Invite friends, neighbors or family and have an ice cream social. Include several flavors of ice cream or have each person bring their own favorite flavor. Have available at the party chocolate, caramel, strawberry syrup and fresh fruit such as chopped pineapple, sliced strawberries and cherries. This can be a great event when the weather is hot outside and no one wants to cook.
Ice Cream Kids Cooking Party
Check out our Sundae kids cooking party where kids can make cookie cups and
build their own sundae.
Easy Ice Cream Pies
Ice Cream Pie Recipe
These easy ice cream recipes can be as simple as you would like them to be. Prepare or buy a graham cracker crust. You can use plain graham crackers or a different variety of cookie crumb crust. Allow ice cream to soften by leaving out several minutes. Spread ice cream into pie shell. Top with chopped nuts, mini chocolate chips, drizzle chocolate sauce over the top or leave as is. Refreeze several hours.
Mini Pies
Follow the directions for ice cream pie above but make them in mini pie plates or mini tart dishes.
Peanut Butter Ice Cream Pie Recipe
Ingredients
Chocolate cookie crust or graham cracker crust
Vanilla ice cream
Chocolate ice cream
Peanut butter sauce (From below)
Chopped peanuts
Chocolate sauce, optional
Prepare crust and fill with softened vanilla ice cream. Drizzle peanut butter sauce over top of ice cream. Freeze for 1 hour or until harden. Spread layer of chocolate ice cream. Sprinkle with chopped peanuts and drizzle with chocolate sauce or leave as is. Refreeze several hours.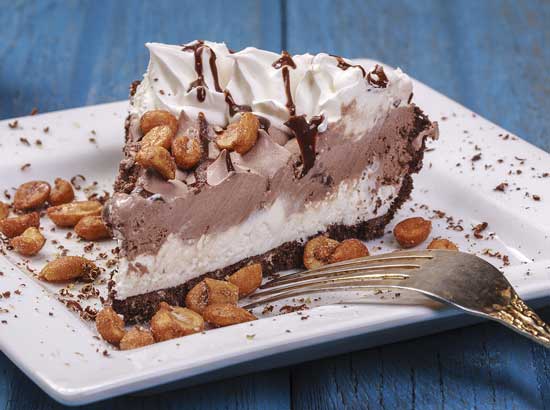 Pink Lemonade Ice Cream Pie Recipe
Ingredients: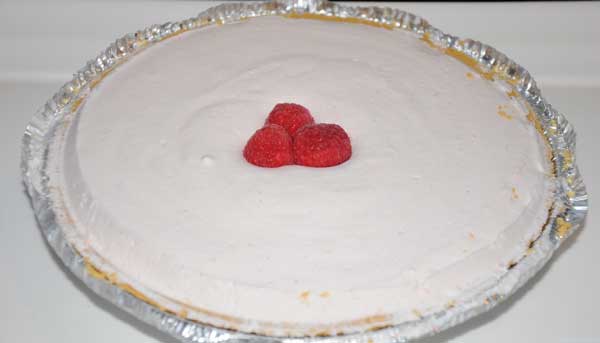 ½ Cup Pink lemonade, prepared or use plain lemonade if desired
2 cups vanilla ice cream
8 ounces cool whip or whipped cream
Graham cracker crust
Sliced strawberries, optional
Directions:
Stir vanilla ice cream and pink lemonade together. Add in whipped cream and stir until smooth. Pour into pie crust and freeze. Top with fresh sliced strawberries.
Mint Chocolate Chip Ice Cream Pie
Make this easy ice cream recipe in a pie dish or a casserole dish. No pie crust needed.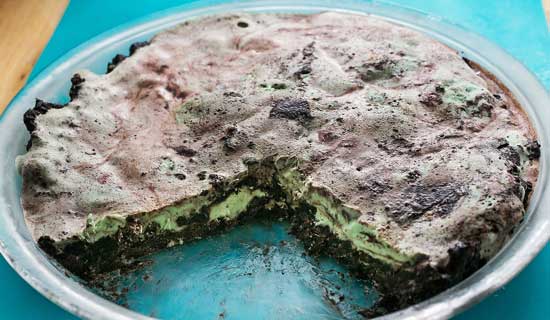 Ingredients:
½ gallon of mint chocolate chip ice cream
Hershey's syrup
Oreo Cookies or chocolate sandwich cookies
Directions:
Soften ice cream by leaving out for a few minutes. In 9x12 cake pan or pie pan, crumble Oreo cookies over bottom. Spoon ice cream on top. Arrange Oreo cookies along side of the pan. Drizzle lines with chocolate syrup on top and more chopped cookies. Refreeze.
Pumpkin Pie
Pumpkin Ice Cream Pie

How to Make an Ice Cream Cake
Try making an ice cream cake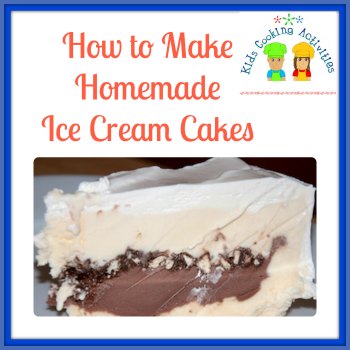 Recipes for Toppings
Peanut Butter Sauce for Ice Cream Toppings
Ingredients
½ Cup light brown sugar
3 Tablespoons milk
2 Tablespoons light corn syrup
2 teaspoons butter or margarine
2 Tablespoons creamy peanut butter
Vanilla ice cream
¼ Cup peanuts
Directions:
In a saucepan, combine the first four ingredients. Cook and stir until sugar is dissolved and smooth, about 4 minutes. Remove from heat and stir in peanut butter until smooth. Cool and serve on top ice cream and sprinkle peanuts on top.
Ice Cream Fudge Sauce
Ingredients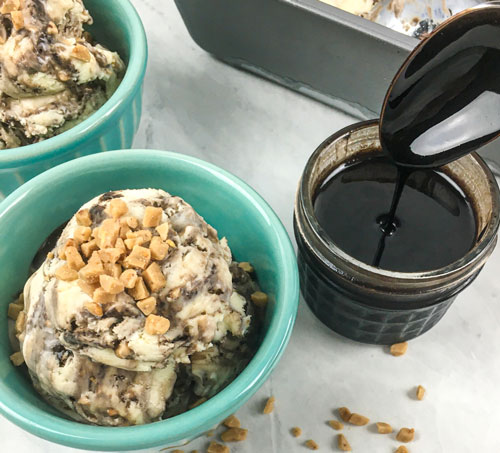 1/2 cup sugar
2 tablespoons cocoa
Pinch of salt
2 tablespoons butter
1/4 cup water
1/4 teaspoon vanilla
In saucepan add sugar, cocoa, salt, butter and water together. Stir constantly on medium heat until mixture comes to a boil. Continue to cook and stir about 1 minute. Set aside and add ¼ teaspoon vanilla. Cool off slightly and serve warm with ice cream.
What is your Favorite Recipe?
Submit your favorite kids recipe
Do you have a favorite recipe your kids love to make? Or a recipe your kids ask you to make again and again? Share it with us!
Reader's Submitted Recipes
Click below to see contributions from other visitors to this page...

---
Related Seasonal Recipe Pages:
~
School Lunches
, ~
Apples
, ~
Autumn Activities
, ~
Pumpkins
, ~
Kids Halloween Recipes
, ~
Halloween Recipe Ideas
, ~
Thanksgiving
, ~
Hanukkah Recipes
, ~
Kids Christmas cooking
, ~
Christmas Candy Recipes
, ~
Reindeer
, ~
Make Homemade Chocolates
, ~
Jar Mixes
, ~
Gift Basket Ideas
, ~
Homemade Fudge Recipes
, ~
Homemade Suckers
, ~
Christmas Cookie Recipes
, ~
Gingerbread House Recipes
, ~
Food Gift Ideas
, ~
Dough Ornament Recipes
, ~
Hot Cocoa
, ~
Happy New Year
, ~
Snowman Theme Recipes
, ~
Valentine's Day
, ~
Valentine Dessert Recipes
, ~
St. Patrick's Day
, ~
April Fool's Day Recipes
, ~
Passover Recipes
, ~
Kids Easter Recipes
, ~
Sugar Eggs Recipe
, ~
Resurrection Cookies Recipe
, ~
Italian Easter Bread
, ~
Russian Easter Bread Recipe
, ~
Earth Day
, ~
Cinco de Mayo, May 5
, ~
Mother's Day Recipes
, ~
Father's Day Recipes
, ~
Summer Cooking
, ~
Kid's Campfire Cooking Recipes
, ~
Dutch Oven Cooking for Kids
, ~
4th of July Recipes
, ~
Ice Cream Recipes
, ~
Popsicle Recipes
, ~
Simple Smoothie Recipes
, ~
Picnic Ideas and Recipes
, ~
Easy Grilling Recipes
, ~
Grow your own Garden
---
Follow Kids Cooking Activities