Basic Beef Stroganoff
Basic beef stroganoff consists of steak or beef cubes in a tomato based sauce and usually served with noodles. We have some of our favorite stroganoff recipes here as well as a fun variation for a stroganoff like soup from one of our readers.
Kids Cooking Activities Teaching Materials
Make teaching easier with our activities and recipes compiled in theme sets and books with an easy to read format
Perfect for teaching!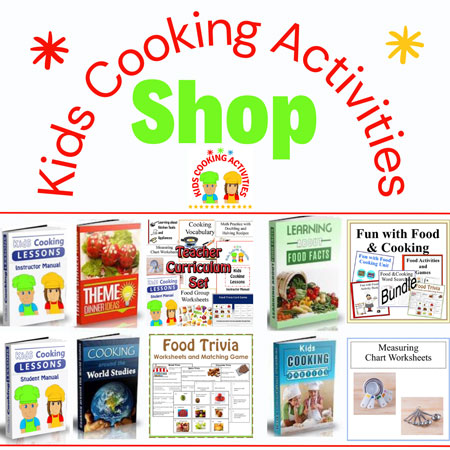 ~This post may contain affiliate links and I'll earn a small commission if you shop through them. There is no extra cost to you. This is how we help support our family and continue to bring you amazing content. To learn more see the
affiliates disclosure here.
~
Basic Beef Stroganoff Recipe
Our family loves this basic beef stroganoff and I really love it because it is easy and tastes delicious. Boil water for noodles while you are cooking the stroganoff.
Ingredients:
1 lb. steak, cut in small chunks
1/4 cup flour
1- 8 oz. tomato sauce
1 8 oz. can sliced mushrooms
1 Cup beef broth or 2 beef bouillon cubes dissolved in 1 Cup water
8 oz. or less as desired, sour cream
Directions:
In a bowl, toss steak and 1/4 cup flour until well coated. Brown in oil in a skillet. Add 1-2 Tablespoons tomato sauce and add mushrooms. Cook several minutes. Add beef broth and heat until bubbly. Allow to cook 5-10 minutes until sauce thickens. Add sour cream. Serve with warm egg noodles or rice.
~Want to prepare this in the crockpot? Stir the beef and flour together in the crockpot. Stir in tomato sauce, mushrooms and beef broth. Cook on low 6-8 hours.
Right before serving stir in sour cream. Serve over noodles.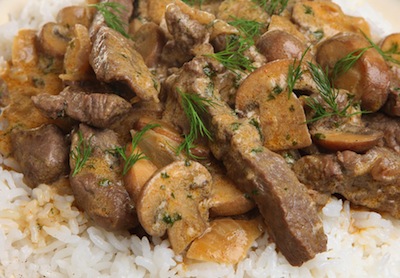 Crockpot Mushroom Basic Beef Stroganoff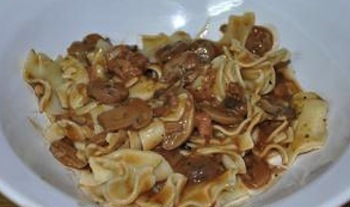 A quick crockpot version of stroganoff using canned golden mushroom soup.
Ingredients:
1 lb beef stew meat, cut in small pieces
1 can (10 oz) golden cream of mushroom soup
1 can (4 oz) sliced mushrooms, drained
1 cup water
1/2 tsp onion flakes
1 teaspoon parsley
pepper to taste
Directions:
Place beef, mushrooms and canned soup in crockpot. Stir in water, onion and pepper. Cook for 6-8 hours on low. Serve with 6 cups hot cooked egg noodles.
Hungarian Steak Soup
A fun variation on a basic beef stroganoff recipe
by Kate Kerska (Grand Rapids, Michigan, Usa)

Ok My favorite soup is.... Hungarian Steak Soup.
Me and my dad made it. My dad helped me make the steak. But other than that I mostly did everything. It is so good that you won't want to stop eating it. So here is the recipe.
Important note: Toast the caraway seeds in a small skillet over medium low heat tossing often until aromatic, about 5 minutes
Ingredients:
1 1/2 pounds boneless round steak, cut into 3/4 inch thick
1 medium onion preferably a sweet onion such as Vidalia
1 medium green bell pepper
1 medium red bell pepper
2 Tablespoons vegetable oil
1 teaspoon sweet paprika preferably Hungarian ( its ok if you don't use some of the spices because some are hard to find)
1/2 teaspoon hot paprika preferably Hungarian
1/4 teaspoon freshly ground black pepper
1/2 teaspoon caraway seeds, toasted
6 cups of beef broth ( use bouillon cubes to make it easier on yourself)
2 bay leaves
1 tablespoons chopped garlic
2 teaspoons tomato paste
1 tablespoon salt
6 ounces wide egg noodles
Top off with sour cream and cheese to add extra flavor and goodness
Directions:
1. Pat the meat dry. Trim away and excess fat and cut the meat into 3/4 cubes.
2. Cut onion in half and coarsely chop one half. Thinly slice other half. SET ASIDE! Core,seed, and cut each bell pepper in half. Cut one half of each pepper into chunks and the other half into 1/4 inch strips. SET ASIDE!
3. Heat oil in a pressure cooker or large or heavy saucepan over medium high heat until it shimmers, about 3 minutes. Add half the meat and brown on all sides, about 4 minutes. Transfer to a bowl with a slotted spoon. Add the remaining meat and repeat.
4. Add the chopped onions and bell pepper chunks to the pot. Stir frequently until the vegetables soften 4, to 5 minutes. Add the sweet and hot paprika,black pepper, and caraway seed and stir for one minute. Pour in the beef broth. Add the bay leaves, garlic, and tomato paste. Return the meat to the pot and accumulated juices to the pot.
5. Cover and seal the pressure cooker if using ( you could use a pot...i did) and bring to full pressure/heat cook for 20 minutes...if using a saucepan, cook 1-1 1/2 hours. Release pressure and uncover the cooker. Meat should be cooked through and tender. If not recover pot bring back to full pressure and cook for 5 minutes more.
6. Pour soup through a colander into a bowl, leaving as much as the meat as possible in the pot. Pick out the meat cubes in the colander and return to the pot. Discard the bay leaves and the vegetables in the colander as well as in the remaining pot.
7. Add the onion and the peppers from the colander back into the pot and pour the broth right back into the pot. Bring to a boil. over high heat reduce heat to low, and simmer uncovered until veggies are tender, 7-8 minutes.
8. Meanwhile bring water to a boil in a large sauce pan. Add salt and noodles cook until the noodles are just tender. Drain noodles.
9. Spoon 1/2 cup of noodles into each of 6 soup plates. Ladle the hot soup over the noodles and serve at once. Pass the sour cream and cheese at the table.
How to Make Beef Stroganoff Video
Do you have a basic beef stroganoff recipe to share?
Submit your favorite kids recipe
Do you have a favorite recipe your kids love to make? Or a recipe your kids ask you to make again and again? Share it with us!
Follow Kids Cooking Activities