Easy Pasta Recipes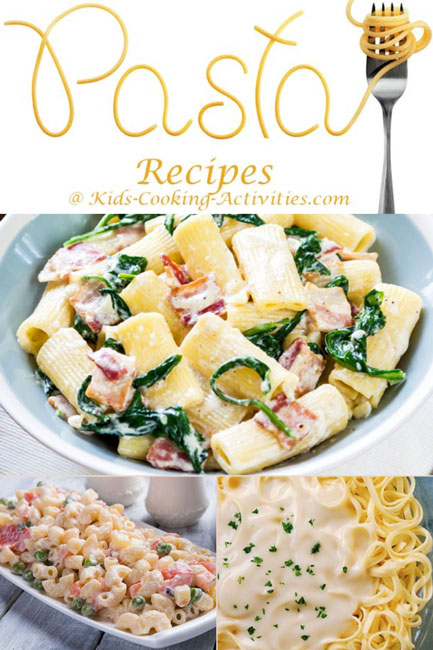 Every home has a few staple dishes, and easy pasta recipes are some of the most popular. Pasta is quick, easy, kids love it, and it goes with almost anything. You can make it healthy, hearty, on the side, or as the main course; any way is easy and everyone enjoys it.
Kids Cooking Activities Teaching Materials
Make teaching easier with our activities and recipes compiled in theme sets and books with an easy to read format
Perfect for teaching!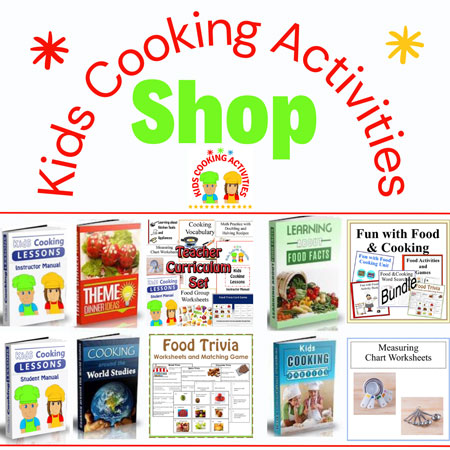 ~This post may contain affiliate links and I'll earn a small commission if you shop through them. There is no extra cost to you. This is how we help support our family and continue to bring you amazing content. To learn more see the
affiliates disclosure here.
~
Pasta Ideas
Some of the easiest pasta dishes to make are
macaroni and cheese
, pasta with
tomato sauce
or
white sauce
, though there are other dishes that are less common but just as tasty, like mixing sauce with ricotta. One possibility, and a kid-favorite, is macaroni with peas, carrots, or both.
Angel hair, linguine, or spaghetti with olive oil and garlic or
pesto sauce
is another option as well as fettuccine or tortellini with
Alfredo sauce
.
Whole grain, vegetable, quick cook, fresh, frozen, or refrigerated pastas taste great with any of these sauces so you can have the pasta you want with a flavor that you enjoy.
Creating Easy Pasta Recipes
The first step in making any pasta recipe is to cook the pasta; the dish you make determines when to cook it. For instance, if you are using a jar sauce instead of fresh sauce, heat up the sauce after the water for the pasta is already boiling, this way both items finish cooking at the same time. If you are making pasta with steamed broccoli, boil both pots of water simultaneously.
Baked Ziti
Among the easy pasta recipes to make is baked ziti, which starts with cooking the pasta while the oven is preheating. Next, put a thin layer of sauce in a large glass casserole pan, add the pasta, mix in the sauce, sprinkle mozzarella on top, and bake covered for about 20 minutes or until the cheese melts. For a little more flavor, add in some black or white pepper, garlic powder, Parmesan cheese, or brown some chopped meat and mix it in before baking.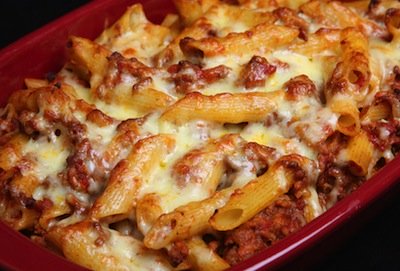 Traditional, tasty, and simple, you could make pasta with fresh chopped tomatoes and basil leaves like they do in Italy or try it with some broccoli, broccoli and peppers, or steamed zucchini. Orecchiette with mixed greens and goat cheese is another healthy option. If you prefer meat to vegetables, cut up and grill some chicken to add to your pasta dish or try some Italian sausage, hot or sweet.
Tetrazzini
One of the best easy pasta recipes to create is chicken tetrazzini; it's tender, rich, filling, and packed with flavor. To make this delicious dish all you need is:
Ingredients:
Spaghetti
Rotisserie chicken, cubed
2 Cups frozen peas
1/4 Cup flour
1/4 Cup butter
1 Cup chicken broth
1 Cup whipping cream
1/2 Cup parmesan cheese
1/2-1 Cup cheddar cheese, as much as desired
Preheat the oven to 350, cook the pasta with the frozen peas and in another saucepan, melt the butter over a low flame. Mix in the flour, stir constantly until the mixture is smooth. Add the broth, whipping cream and Parmesan cheese. Bring to a boil, and stir constantly for one minute. Toss the mixture with the chicken, spaghetti, and peas, pour it into a glass baking dish, sprinkle with cheddar cheese, and bake for 30 minutes.
Fun Pasta and Hot Dogs
This fun idea can get kids involved with cooking and they love to see the outcome. Slice a package of hot dogs into 1 inch pieces. Poke several pieces of uncooked spaghetti noodles through the hot dog pieces. Place a large pot of water on the stove. Bring to a boil. Add in hot dogs with spaghetti noodles in the pot. Cook until pasta is tender. Drain and sprinkle with Parmesan cheese and parsley if desired.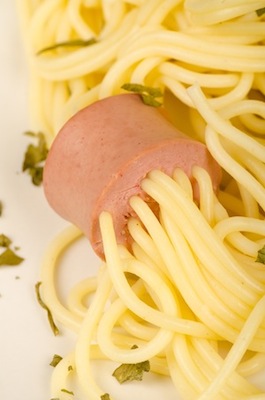 Kid-Friendly Easy Pasta Recipes
As simple and popular as pasta is, some kids just won't eat it. Most adults like a lot of flavor but kids sometimes like plain or bland dishes, such as pasta with butter or a favorite vegetable.
Maybe your child prefers pasta with ketchup instead of sauce or beans as opposed to meat. To help you feed your fussy eater, try easy pasta recipes such as
fried raviolis
,
macaroni and cheese
with ground beef, spaghetti with
meatballs
, or tortellini with kielbasa.
Pasta is a versatile food item that you can cook in a variety of ways to meet your health preferences and your personal taste. Many easy pasta recipes are available here on our site.
Our Reader's Favorite Easy Pasta Recipes
Healthy Pasta Dish
by caprice (Las Vegas NV)
Here is my healthy, original recipe. It begins with Piccolini pasta topped with a delicious sauce and has lots of other nutritious ingredients. It's good for you because zucchini is rich in Vitamin C, which is great for your hair, skin, teeth, and fighting off infection.
Ingredients:
1 Box Mini Farfalle or other pasta shape
4 tbsp. olive oil
1 clove fresh garlic, minced
3/4 cup Bacon,
3/4 cups Zucchini, diced
3/2 oz Baby Spinach
Salt and Black Pepper to taste
1/2 cup Parmigiano Reggiano, grated
1 Tbsp. fresh Basil, torn
Cooking Procedure
1. Bring a large pot of water to a boil. Season water with salt to taste (optional).
2. Heat olive oil in same sauté pan with garlic and cook until slightly yellow in color.
3. Pan-fry Bacon in a large sauté pan until crisp. Drain on paper towels.
4. Add Zucchini, Baby Spinach to pan and season with salt and black pepper to taste. Cook over medium heat to desired doneness.
Pasta with Spinach and Chickpeas
Vegetable Alfredo
Ingredients: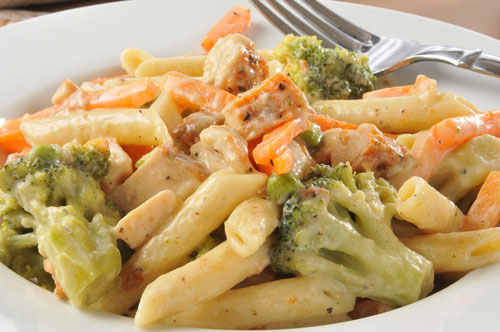 8 oz. fettuccine noodles
1 small package frozen broccoli
2 chopped carrots
1 (10 oz.) prepared Alfredo sauce or homemade Alfredo sauce
1/8 teaspoon pepper
Parmesan cheese for topping
chopped diced chicken, optional
Prepare pasta according to package directions. Add broccoli and carrots the last few minutes of the pasta cooking. Meanwhile, prepare Alfredo sauce. Stir Alfredo sauce into cooked and drained noodles and vegetables. Warm slightly and serve with additional Parmesan cheese if desired.
*You can substitute vegetables you may have on hand.
Pecan Pasta Sauce
by Heather, Florida
Ingredients:
1 Cup pecans
4 oz. cream cheese
1/2 Cup shredded Parmesan cheese
1/2 Cup olive oil
2 garlic cloves
3/4 Cup milk
Blend all ingredients in food processor until smooth (if consistency is too thick, add a little more milk). Toss with favorite cooked pasta (homemade or store bought). Heat on low/medium for a few minutes until warm. Serve.
Makes 4-6 servings.
How to Make Manicotti Video
More Easy Pasta Recipes

Fettuccine Alfredo
Ravioli with Sauce

Best Lasagna Recipes
Beef Stroganoff

Tuna Casserole

Noodle Casseroles

Manicotti Recipe

Pasta Salad

Homemade pasta party
Spaghetti Pie
Share your Easy Pasta Recipes
Submit your favorite kids recipe
Do you have a favorite recipe your kids love to make? Or a recipe your kids ask you to make again and again? Share it with us!
Reader's Submitted Recipes
Click below to see contributions from other visitors to this page...

Shrimp Broccoli Penne Pasta
Prep time: 15 minutes Cook time: 25 minutes Serves: 4-6 Ingredients: 3 T. extra virgin olive oil ¼ c. fresh lemon juice, divided 2 T. honey 1 t. …
Pumpkin Alfredo Sauce
Ingreidents 1 small onion, grated olive oil 1 Cup pumpkin puree 1/2 Cup milk 1/3 cup chicken broth salt and pepper dash of nutmeg 1/2-1 lb. pasta …
Follow Kids Cooking Activities