Best Chicken Tortilla Soup
Some of our best chicken tortilla soup recipes. This soup is great served with tortilla chips, chopped avocado, sour cream and shredded cheese. It also freezes well.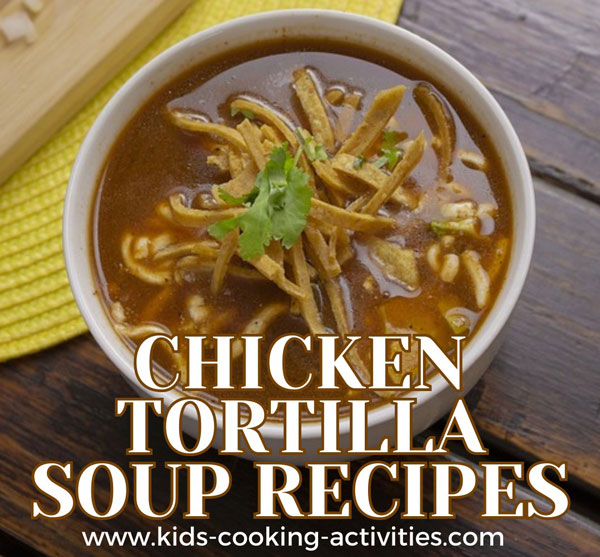 Share your tortilla soup recipe here.
Kids Cooking Activities Teaching Materials
Make teaching easier with our activities and recipes compiled in theme sets and books with an easy to read format
Perfect for teaching!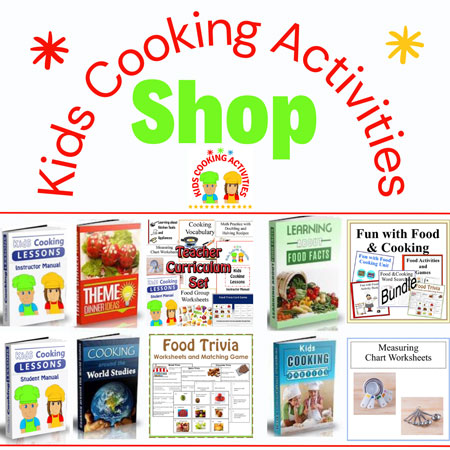 ~This post may contain affiliate links and I'll earn a small commission if you shop through them. There is no extra cost to you. This is how we help support our family and continue to bring you amazing content. To learn more see the
affiliates disclosure here.
~
Chicken Tortilla Soup Recipe
8 Cups water
28 oz can or 2 small cans of tomatoes, pureed or leave chunky as your family prefers
1 can corn
squeeze half of a lime or lemon
3-4 chicken breasts, cut in cubes
1/4 Cup salsa
Add chicken and water to soup pot. Bring to a boil. Then simmer 15-20 minutes until chicken is tender. Stir in chopped tomatoes, corn, salsa and lemon juice. Top with avocado, if desired.
~You can saute your chicken in a pan and then add all ingredients together in the soup pot. This will enhance the flavor of your chicken.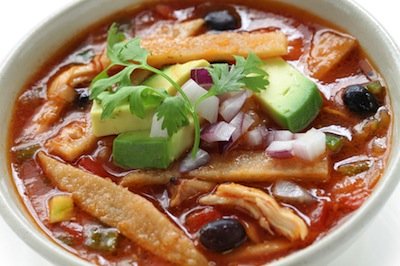 Another Best Chicken Tortilla Soup Recipe
by Joann E. Janson
(Saint Augustine, Florida, USA)
This soup is a hearty, filling, and flavorful; perfect for a winter evening!
Ingredients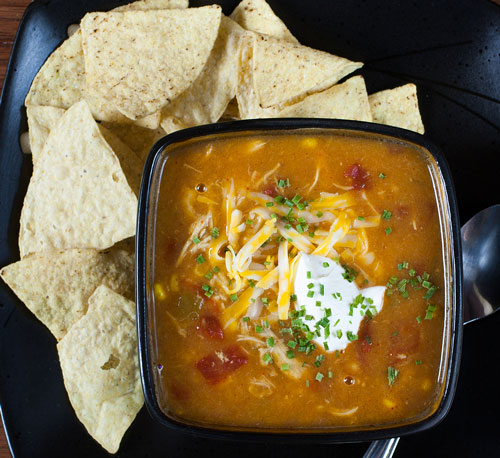 3 boneless skinless chicken breasts cut into small-ish cubes
1 medium clove of garlic, minced
1 cup onion
2 tbsp. olive oil
1 tsp. ground cumin
1 tbsp. dried oregano
1 tsp. paprika
1/2 tsp. chili powder
1 tsp. salt
1 lime, cut in half
1 cup frozen corn kernels
1 can black beans
48 oz. chicken broth or stock
6 small corn tortillas, torn or cut into small pieces (1/2"-ish)
1/4 cup fresh cilantro, finely chopped, divided
Garnish:
salsa
Mexican shredded cheese
green onion, finely chopped
sour cream
In a good sized soup pot, sauté chicken, onions & garlic in olive oil until chicken is just cooked. Add cumin, oregano, paprika, chili powder & salt. Cook a few minutes before adding juice of 1/2 a lime, corn, beans & 32 oz. of the stock. Bring everything to a boil then lower heat to simmer. Add the tortillas and half of the cilantro.
Stir everything together well then leave it alone. Let it simmer about 45 minutes, giving it only a few stirs as it simmers. Don't worry if it simmers longer, it's just getting better. If it starts to thicken too much just add a little more stock (or water) to thin it back to desired consistency.
Top the bowl of soup with cheese, a little cilantro, salsa, green onion, a squeeze of lime juice, and a dollop of sour cream. Very hearty and filling!
Best Chicken Tortilla Soup- Tomatillo soup
by Kathleen O (Bloomington, MN)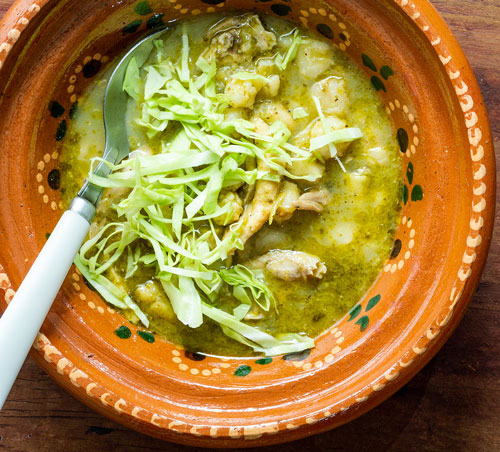 Tomatillo soup with our without Chicken
This is one of the best chicken tortilla soup recipes that can be altered to fit any taste buds.
4 Cups of Vegetable stock
2 Cups of water
4 Cups of Tomatillos, loosely chopped
1 1/2 Cups of green bell peppers, loosely chopped
1 Cup yellow onion, diced
2 Tablespoons fresh garlic chopped
2 Tablespoons oregano
1 teaspoon garlic powder
salt and pepper to taste
2-4 Jalapeños or spicy hot peppers with seeds (depending on tolerance)
1 Cup prepared black beans (optional)
1 Cup of sweet corn (optional)
12-15 oz Chicken breast, cooked and shredded (leave out for a vegetarian option)
Start with a pot that holds at least 8 cups
Turn the heat on med high, and sauté the onions until translucent and caramel color has begun, 1/2 way through them cooking, add the chopped garlic, cook until roasted and caramel color. Add the Veggie stock and water. I start my soups with my homemade vegetable stock. This recipe calls for 4 cups of stock, so if you don't have your own, store bought, low sodium, would be preferred.
Add tomatillos, green bell peppers and hot peppers into the pot and bring to a boil. Let simmer until all the veggies are cooked through, prob about 20-25 min, and at any time add oregano and garlic powder.
Take the contents, and service trough a food processor, or a blender if you don't have one. Blend until smooth, and you can't see any of the pepper seeds.
Then I add in what I want for this soup, my chicken, beans and/or corn.
I wait to salt and pepper to taste until I have all my wanted ingredients in the pot. Some of the canned beans, the veggie stock or the chicken could be already really salty, so I don't season until I have it all ready to go.
SO salt and pepper to taste, then serve!
You can freeze this, boil out more of the water and use it for an enchilada sauce, but my favorite is to add a dab of Greek yogurt (my trick for sour cream), tortilla chips/strips, cheese, and/or some homemade salsa!
Serves 4-6 people
Best Chicken Tortilla Soup in Crockpot

by Katherine (USA)
Ingredients: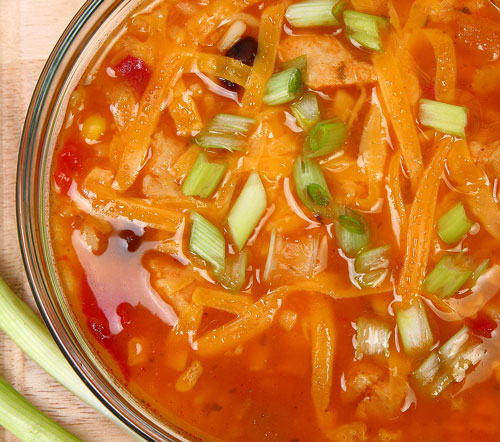 4-5 Chicken Breasts (Cut into small pieces) *Ground beef with also work, as well.
2 Cans Black Beans with juice
3 Garlic cloves
2 Tablespoons butter
1 cup finely chopped onion (or more)
Two 14 and 1/2 oz. cans of chicken broth
1 large can of tomato sauce
1 large can of minced or diced or crushed tomatoes
1 cup salsa (your choice of "hotness")
1/2 cup fresh cilantro
1 Tablespoon cumin
TOPPINGS:
Monterey Jack Cheese
Sour Cream
Tortilla Cheese
1. Saute' chicken with onion and butter and garlic
2. Combine all other ingredients except toppings in crock pot
3. Cover and cook on low for 6-8 hours
4. Serve topped with cheese, crumbled chips, and sour cream

ENJOY!
Classic Tortilla Soup
Share your Best Chicken Tortilla Soup Recipe?
Submit your favorite kids recipe
Do you have a favorite recipe your kids love to make? Or a recipe your kids ask you to make again and again? Share it with us!
Follow Kids Cooking Activities