How to Make Soup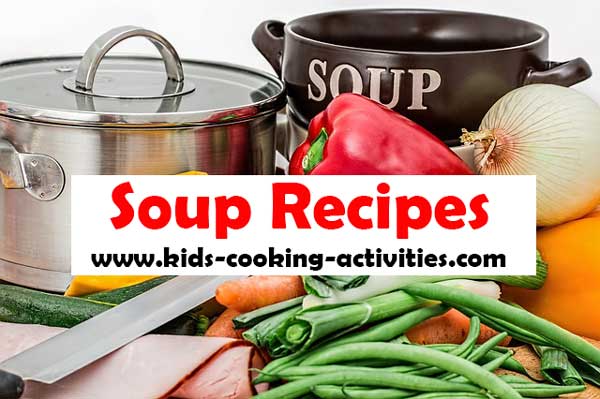 Before we learn how to make soup, let's talk about the difference between soups and stocks. Although many times people think that soup and stock is the same thing they are in fact different. You will need to make your stock before hand, to go into your soup.
Stocks are very important and are a key ingredient in soups and sauces. A stock is a liquid, which has been simmered down often with bones, meat and vegetables in it; you can have many different types of stocks. These include beef, fish, chicken and vegetable stock all of which are easy to make.
Kids Cooking Activities Teaching Materials
Make teaching easier with our activities and recipes compiled in theme sets and books with an easy to read format
Perfect for teaching!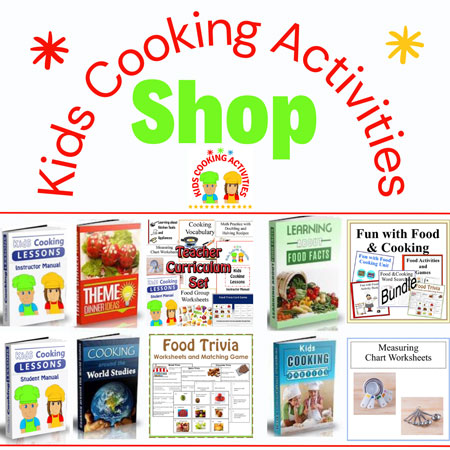 ~This post may contain affiliate links and I'll earn a small commission if you shop through them. There is no extra cost to you. This is how we help support our family and continue to bring you amazing content. To learn more see the
affiliates disclosure here.
~
Making Stocks
Stocks work well with tougher cuts of meat as tender meat will break down too easily. When making chicken stock it is best to use the whole chicken to get the best flavor. Many people advise browning the bones before adding them to the stock, this is ideal if you want a dark rich color and is great for brown sauce. Simply roast the bones and vegetables, until they turn brown then add them to the liquid.
Herbs can be added to the stock and they are usually added an hour before the end of the cooking time. Salt should be avoided as the meat and bones will naturally have salt in them. Taste the stock once it is cooked and then season according to your taste. Once your stock has been brought to a boil, then it should be left to simmer for at least an hour.
During the simmering process a great deal of impurities will float to the top, you will need to ensure that you skim these off. Once the stock is cooked you will need to strain it to ensure all of the bones and cooked vegetables are removed.
You can then add other ingredients to make a soup, or freeze and use another time. The stock is ideal for helping your soup taste amazing and once you have stock on hand and frozen you will be able to make soup whenever you want it.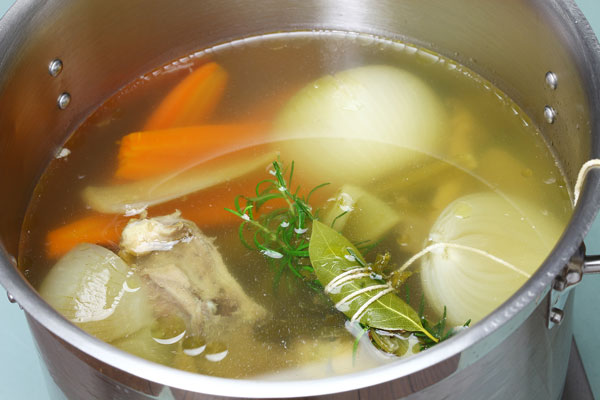 How to Make Stock
How to Make Chicken Stock
Follow the directions above and use these ingredients to make your stock:
4 lbs. chicken bones
2 quartered onions
2 chopped, peeled carrots
2 bay leaves
2 ribs celery, cut in pieces
2 garlic cloves, peeled
fresh herbs such as parsley, basil or oregano
How to Make Vegetable Stock
Follow the directions above and use any of these ingredients you have to make your stock. Cut vegetables in pieces, quartered or cubed.
onions, green onions
garlic
potatoes, sweet potatoes
squash, pumpkin
carrots
celery
mushrooms
corn
green beans
beets
bell peppers
asparagus
fresh herbs such as parsley or basil
How to Make Turkey Stock
To make turkey stock, use the directions above on making stocks. Use any of the vegetables you like from the list of vegetable stock and add turkey bones. I like making a turkey stock after Thanksgiving with all the leftover turkey bones including the neck.
How to Make Beef Stock
Follow the directions above and use any of these ingredients you have to make your beef stock. You can add more vegetables to the stock if you'd like.
4 lbs meat bones
2 quartered onions
2 chopped, peeled carrots
2 bay leaves
2 ribs celery, cut in pieces
2 tomatoes, quartered
2 garlic cloves, peeled
fresh herbs such as parsley, basil or oregano
How to Make Soup
Every culture has their own version of soup and there are a wide variety of recipes to try. Soups are very popular because they are a cheap easy meal alternative and are packed full of vitamins and nutrients. It is a great way to use cheaper produce and even leftovers, which will save you money.
Remember that a good soup can't be rushed, although many people think you simply boil vegetables and that gives you soup. There is slightly more to it. You have to ensure that all of the vegetables are evenly chopped and that you allow enough time to slowly cook. Soup should cook on a low heat for a good amount of time.
How to
Thicken Soup
Use cream, evaporated milk or milk for added thickness and amazing taste
Puree some of your vegetables in your soup and add them back in to thicken.

Add 1 Tablespoon cornstarch to 2 Tablespoons liquid and then add to your soup to thicken your soup.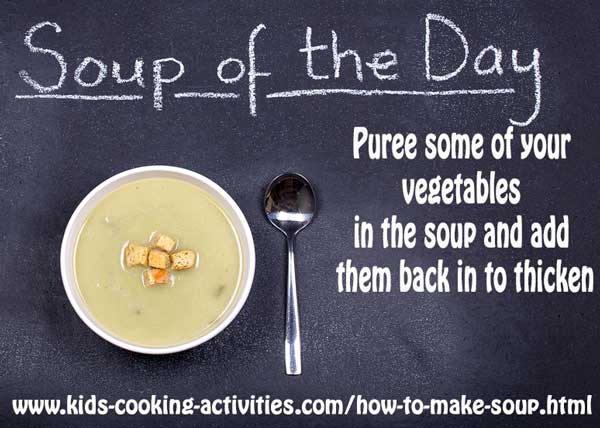 How to Make Cream Soups
It is easy to make cream soups by blending your cooked soup with an immersion blender or pouring soup in the blender to puree. Then add back to your pan. You can puree the whole soup for a pure cream soup or puree half the soup and add back to the rest of the soup.
Cream Of Broccoli Soup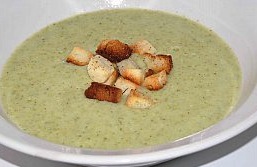 You'll love this homemade cream of broccoli soup recipe. My kids prefer it chunky whereas I like it creamy so I usually split the recipe in half when it is done and blend half and leave the rest as is for the kids.
1 Tablespoon olive oil
1 onion, grated
1-2 bunches of fresh broccoli cut or one bag frozen broccoli
4 Cups chicken broth
2 potatoes, cubed
2 Cups milk
1 Cup cheddar cheese, shredded
salt and pepper to taste
Heat oil in soup pan and cook onion and potato cubes. Saute. Season with salt and pepper. Add chicken broth and cook until potatoes are slightly tender.
Add broccoli to soup pan. Cook until broccoli and potatoes are tender. Add milk and cheese and stir until cheese is melted. Add to blender and puree into cream soup or use an immersion blender.
Cream of Potato Soup
2 Cups potatoes, cubed
1 small onion, optional
1 carrot
1 celery stalk
1 cup cauliflower pieces
Water to cover
2 teaspoons chicken bouillon or 2 cubes
1/4 Cup milk
Cut vegetables into slices or cubes. In soup pan place potatoes, onion,carrot, celery and cauliflower. Add water to cover up vegetables. Cook and simmer on medium until vegetables are tender. Add half of soup mixture into blender. Add bouillon and milk to blender also. Puree several seconds. Add back to saucepan and stir together. Allow to cool and then freeze in smaller containers.
~~Normally potatoes don't freeze well but since you are running the soup through the blender it will work well for the freezer.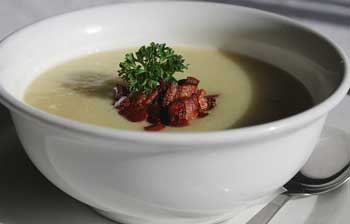 Cream of Cauliflower Soup
2 tbsp of olive oil
2 onions, chopped
3 garlic cloves, minced
4 celery ribs, chopped fine
2 bay leaves
1 -1/2 lbs. potatoes cut in cubes
1/2 teaspoon salt
1/2 teaspoon pepper
15 Cups of vegetable broth
2 heads of cauliflower, trimmed and cut into florets
Heavy cream, milk or evaporated milk
In a soup pan, saute onions, garlic and celery in oil several minutes. Add bay leaves. Add potatoes, salt and pepper. Stir and continue 5 minutes saute all vegetables. Add in broth and cook 15 minutes. Stir in cauliflower and cook an additional 15 minutes until cauliflower and potatoes are tender. Take out bay leaves and blend until smooth.
*My kids prefer their soup chunky so I usually split the soup in half and have half cream soup and half chunky soup.
Try these cream soup recipes too:
Tomato Soup
Cream of Mushroom soup
Cream of Pumpkin

These cream vegetable soups are great for learning how to make soup, you can try other variations like cream of pumpkin or squash.
---
Make teaching easier with our activities and recipes compiled in one easy to read format.
---
How to Make Broth Based Soup

Learning how to make soup from broth is different than creamed soups. The key ingredient in broth soups is the stock or broth. Then other ingredients are added to finish the soup.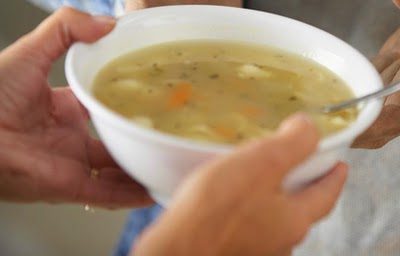 Try these broth-based recipes on how to make soup:
Chicken noodle soups
Ham and Vegetable soup
Egg Drop Soup
Couscous and Chickpea Soup
by Kaustubh (India)
2 tbsp olive oil
1 onion, chopped
2 cloves garlic, minced
1 tsp coriander
1/2 tsp cumin
1/2 tsp chili powder
dash cayenne (optional)
dash salt, to taste
5 cups vegetable broth
1/3 cup couscous, uncooked
1/2 cup chickpeas
1 tbsp fresh mint, chopped
1 tbsp fresh parsley, chopped (optional)
Saute the onions and garlic in olive oil until soft, about 3 to 5 minutes.
Add the spices and cook for one more minute.
Add the vegetable broth, chickpeas and couscous. Bring to a slow simmer and cook for 3 to 5 minutes. Stir to fluff the couscous. Allow to sit for a few more minutes, if needed, to allow couscous to finish cooking.
Garnish with mint and parsley and serve hot.
How to Make Soup- Hearty Stews
Hearty stews make great warm meals that will fill you up. Beef stews, chowders or soups with lots of filling ingredients are included in this category.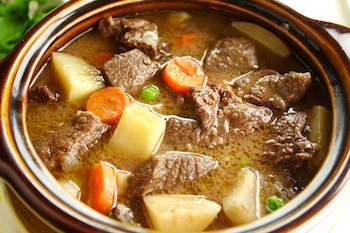 Try these recipes on how to make soup:
Chili Recipes
Chicken Tortilla Soup
Bean Soups
Minestrone Soup

Pasta Fagioli Soup

Potato Soup Recipes

Easy Hamburger Soups
Beef Stew
Crockpot Corn and Sausage Chowder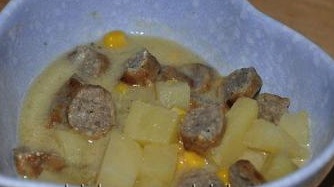 1 lb breakfast sausage links, cut into bite size pieces,optional
3 cups frozen hash brown potatoes or use 3 potatoes peeled and cubed
1 can (15 oz) creamed corn, undrained
1 can (10 oz) cream celery soup
1 can whole corn undrained
4 cups water
pinch of salt and pepper
Add potatoes, corn and soup to your crock pot. Stir in water and mix until well blended. Season with salt and pepper. If using sausage add to the soup and cook 6 hours on low.
Black Bean Soup Recipe Video
Soups Recipe Index
Apple Cheese Soup
Beef Barley Soup
Beef Bourguignon
Beef Cabbage Soup
Beef Stew
Beef or Chicken Chili
Black Bean Soup
Borscht
Broccoli Cheese Soup
Carrot Soup
Cauliflower Soup
Chicken Ham Tomato Soup
Chicken Soup
Chicken Tortilla Soup
Corn Chowder
Cream of Broccoli Soup

Cream of Cauliflower
Cream of Chicken Soup
Cream of Mushroom Soup
Cream of Potato Soup
Egg Drop Soup
Green Pepper Soup
Gumbo Seafood Stew
Ham and Bean Soup
Ham, Bean and Veggie Soup
Ham Corn Chowder
Ham Macaroni Chowder
Ham and Vegetable Soup
Hamburger Soup
Homemade Cream Soup Mix
Homemade Onion Soup Mix
Hungarian Steak Soup
Lasagna Soup
Lentil Soup
Meatball Soup

Mexican Refried Bean Soup
Minestrone Soup
Pasta Fagioli Soup
Pasta Vegetable Soup
Pizza Soup
Potato Soup
Pumpkin Soup
Split Pea and Barley Soup
Stock or Broth-how to make
Taco Chili
Tomato Soup
White Bean Soup
White Chicken Chili
Share a how to make soup recipe?
Submit your favorite kids recipe
Do you have a favorite recipe your kids love to make? Or a recipe your kids ask you to make again and again? Share it with us!
Reader's Submitted Recipes
Click below to see contributions from other visitors to this page...

Sea Weed Soup - Chicorina Soup
The recipe is really Chicorina Soup but my grandchildren call it Sea Weed Soup.Probably because they thought it was the stuff they saw on the beach! They …
Thai Peanut Sauce Ramen Soup
4 cups cilantro 4 Tbsp canola oil 1 cup roasted peanuts, unsalted 1 pkg Ramen noodles (omit seasoning pkg) 2 green onions, cut into 2 inch pieces then …
---
Related Basic Cooking Lesson Pages:
~
Basic Cooking Lessons
, ~
Stock and soups
, ~
5 mother sauces
, ~
Yeast and baking breads
, ~
Herbs and spices
, ~
Vegetables
, ~
Dry beans
, ~
Grains
, ~
Eggs
, ~
Different cooking methods
, ~
Growing an herb garden
,
How to Cook Q&A
---
Follow Kids Cooking Activities