Cooking on Shrove Tuesday
by Ewan MacDougal
(Catering Equipment UK)

Pancake Day
In many Christian countries around the world people eat special food on Shrove Tuesday the day before lent, after which they traditionally stop eating luxury foods for 40 days and 40 nights. In Britain it is traditional to eat Pancakes on this day, and many people often call the day Pancake Day.

Pancakes in Britain are normally very large and thin like crepes, traditionally on Shrove Tuesday people fill the pancakes with all the sweet foods they will not be able to eat during lent.

Pancakes can be great fun to make:

Recipe:
Ingredients:
2 Eggs
2 Cups Plain Flour
½ Pint Milk

Method:
Batter Mix
Mix the eggs and milk
Slowly add the flour and mix into a batter
Put the batter into a fridge and wait 30 minutes

Cooking the Pancakes
Lightly grease a frying pan with oil
Put the frying pan on a high heat and warm the frying pan until you can see heat radiating from it
Hold frying pan at an angle and pour just enough batter into the pan to form a thin pancake. As your pour in the batter tip the frying pan in a circular motion to ensure it spreads around the whole pan evenly.
Reduce the heat to medium
The pancake should cook almost immediately, loosen the pancake from the pan with a spatula
If your feeling daring, you can flip the pancake by flicking the pan (see how high you can get it!), if not just flip it with the spatula.
Once the pancake is golden brown on both sides it?s ready
Whilst the frying pan is still hot you can make another.

Once the pancakes are cooked you can put almost anything inside them, (savoury or sweet) then roll them up to eat.
Why not try these traditional combinations:

Lemon and Sugar
Cooked fruit
Chocolate
Ice cream
Bacon and cheese

About the Author
Ewan MacDougal taught previously taught students in Thailand about English language and culture for a year. On Shrove Tuesday that year he made (and helped eat) over 500 Pancakes with all his students. He now works for an Internet marketing company.

Join in and write your own page! It's easy to do. How? Simply click here to return to International Recipes.
Kids Cooking Activities Teaching Materials
Make teaching easier with our activities and recipes compiled in theme sets and books with an easy to read format
Perfect for teaching!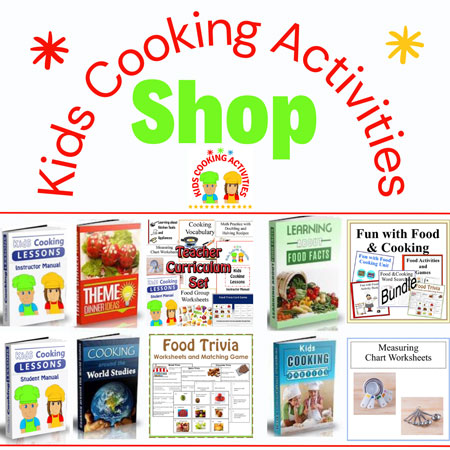 ~This post may contain affiliate links and I'll earn a small commission if you shop through them. There is no extra cost to you. This is how we help support our family and continue to bring you amazing content. To learn more see the
affiliates disclosure here.
~
Follow Kids Cooking Activities