British Cooking
British Cooking covers the countries of England, Scotland and Wales. For this British cooking page we will just be covering England.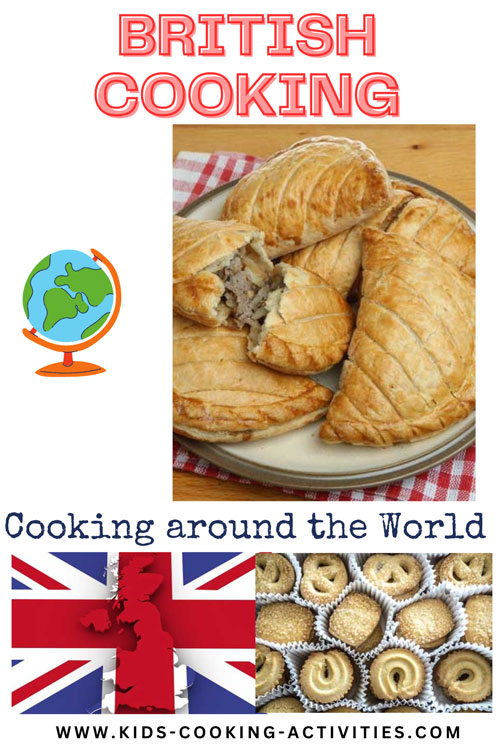 ---
Get all of our International Cooking Section plus more in
one ebook
, free of ads and easier to use in cooking activities. Included in the ebook:
20+ countries information and recipes
Dinner menu invitations to print off to create your own international night
International quizzes
World maps
Geography activities
---
Food Facts about United Kingdom
A full English breakfast includes at least eggs, sausages, toast and potatoes.
Tea time is traditionally British and can include biscuits, scones or little sandwiches.
The United Kingdom is famous for their fish and chips.
Fish and chips are a favorite when going to the United Kingdom. These are simply fried fish and French fries.
UK is also Known for Several Famous Things: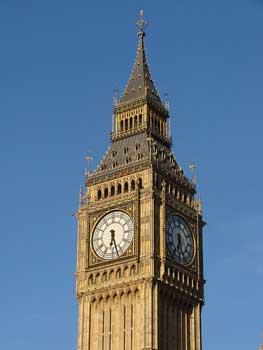 Big Ben (clock on the right)
Beautiful scenery
Old traditional castles some still open for tourists
Red double decker buses
Learn a Little Language
British of course speak English but here are a few British phrases
Blimey-expresses surprise
Grub- means food
Easy Peasy- Something is easy or simple to do
British Cooking
Shepherd's Pie
1 lb. ground beef
1 onion grated or finely chopped
Vegetables sliced thin
Shredded cheese
Mashed potatoes, already prepared
Saute ground beef with chopped onions. Add vegetables desired, such as sliced carrots, peppers, or celery. Place in a casserole dish. Top with shredded cheese and spread mashed potatoes over the top. Bake at 350 degrees for 30-40 minutes until browned.
See more
shepherd pie recipes.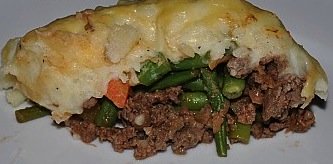 Cinnamon Scones
This British cooking recipe is great for tea time.
1 Cup sour cream
1 teaspoon baking soda
4 Cups flour
1 Cup sugar
2 teaspoons baking powder
¼ teaspoon cream of tartar
1 teaspoon salt
1 Cup butter
1 egg
4 teaspoons cinnamon
In mixing bowl combine flour, sugar, baking powder, cream of tartar and salt together. Add in butter and blend together until mixture resembles fine crumbs. In separate bowl add sour cream, baking soda, egg and cinnamon. Stir together then add to flour mixture. Stir just until mixture is moistened. Knead dough 5-10 times but not more then that as you want to not handle the dough too much. Pat dough into a rectangle shape on a cookie sheet. Cut dough into wedges. Dust each wedge with a cinnamon and sugar mixture. Bake at 375 degrees for 15-20 minutes until golden. Serve with jam, butter or fresh berries.
Shortbread
1 cup sugar
1 cup shortening
3 eggs
2 teaspoons cream of tartar
2 teaspoons baking soda
3 cups all-purpose flour
1 1/2 teaspoon vanilla extract
In a mixing bowl combine shortening and eggs together. Mix in cream of tartar, flour, vanilla and baking soda. Knead dough several minutes. Roll dough out with a rolling pin. Cut out with a rectangle or other cookie cutter. Place on a cookie sheet and bake at 350 degrees for 10-12 minutes.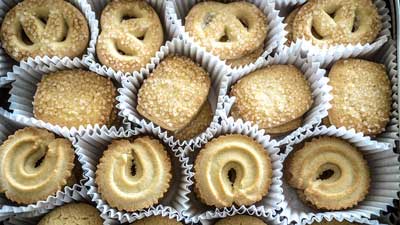 Trifle Pudding
This British cooking recipe is kid friendly and one that kids can put together simply.
Sponge cake, angel food cake or other ready made or homemade cake
Can of fruit, whatever desired, save the juice
2 Cups custard or pudding
Whipped cream
Chocolate bar
Cut cake in pieces or slices. In a glass bowl, so you can see the layers of the trifle, lay cake pieces on bottom of dish. Pour the fruit, including the juice in the can, over the top of the cake allowing the cake to soak in the juice. Spread custard or pudding (either homemade or store bought) over the top of the fruit. Spread whipped cream over the custard layer. With a vegetable peeler peel pieces off the chocolate bar. Sprinkle chocolate flakes over top of whip cream.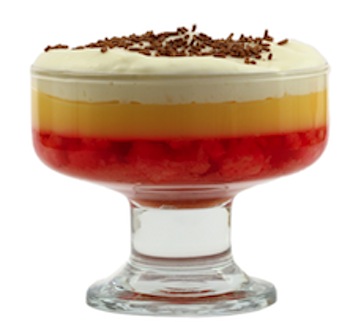 Roast Dinner
This is often a British Sunday dinner served with roasted vegetables and a homemade gravy. The leftovers can be used for shepherd's pie. You can use the recipe above for Shepherd's pie. Just substitute roast meat for the ground beef.
1 beef roast
Potatoes, cut in cubes
Carrots, sliced
1 onion, quartered
1 cup water
Add all ingredients in a crock pot or roasting pan and bake in the oven. You can add as many carrots and potatoes as desired and different vegetables such as green beans or parsnips can be added. Serve with a homemade gravy if desired.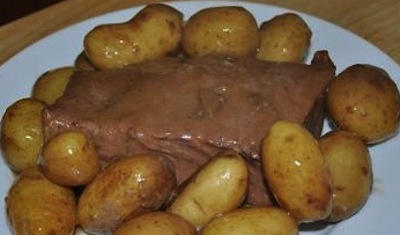 Recipe for Cornish Pasties
By IRENE M THOMAS
I was born in Cheltenham Glos, England. Married an American at 16, he was 19 US army. Killed in Normandy 1944 had our daughter born June '45 still in Chelt. I have grand children & great & great great from her children.

Married an English sailor 1948 had 5 more children. He died at age 33. Met another GI & married him in 57. I was a riveter on our fighter plane the spitfire & welder at 15 done my 12 years school.

We now live in Ohio where I came in 1961 we were in Germany for 3yrs, had our 1 son & daughter there then we had a son here in Elyria, Ohio. I had 9 children 4 USA 5 British but went home every year till 1988 year after my mother died but on pc to ALL over there & my mother was GOOD COOK and she taught us. We also learned in school.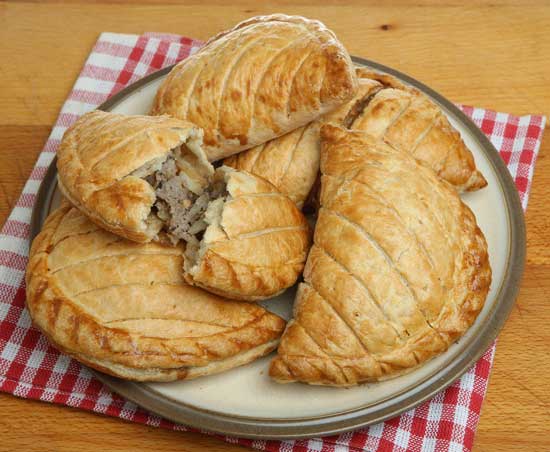 Lucky for me my whole family loves English cooking. Made cottage pie just last week. I use bisto & get it from English shop here.
RECIPE FOR 4.
12oz. short crust pastry
12oz. lean steak cut into small pieces
1 finely chopped onion
Salt & pepper
Carrot or turnip optional
Roll pastry into 8 rounds add meat & vegetables to each. Damp edges of pastry. Fold over to make semicircle crimp edges with fingers. Cut a small slit in each for steam to escape. Bake in hot oven for 20 minutes. Reduce heat, bake for further 40 minutes.
Delicious served hot or cold!
Bubble and Squeak Recipe- British Cooking Recipe Video

Eton Mess Recipe
by Julie (Norfolk, UK)
Eton Mess is a lovely British dessert that is really quick and easy to make. It is named after Eton Collage - a school for boys near Windsor, in England. Eton Mess was traditionally served at the school's annual cricket game against Winchester Collage. It was made with strawberries, but you can also use mixed berries.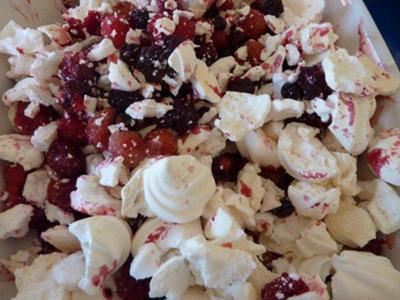 Ingredients

1 cup Strawberries or mixed Berries per person.
1 cup Meringue per person
Double Cream
How to Make Eton Mess
Wash the berries and place in a bowl (it looks great in a glass salad bowl.) If any of the strawberries are large, then cut into bite sized pieces. You can also substitute frozen berries in this recipe - just make sure they have defrosted before you eat them!

Break the Meringue into pieces (not too small). Add to the bowl and mix.

Tip: Look out for broken boxes of meringue in your store and see if they will give you some money off. You are going to break up the meringue anyway, so it is ok if they are not whole when you buy them.

Pour double cream over and stir. The berries and meringue should be well coated in cream.

Serve and enjoy. Easy-peasy!!

Recipe contributed by Julie of www.homeschooling-ideas.com. If you are thinking you may like to start homeschooling, then do visit her website for advice and support.
Cooking Around the World Studies
Do you have an International Recipe or World Studies Fact?
Do you have an International recipe or know a lot about a country we could add to our world studies section? You can create your own page.
Reader's Submitted Recipes
Click below to see contributions from other visitors to this page...

Cooking on Shrove Tuesday Not rated yet
Pancake Day In many Christian countries around the world people eat special food on Shrove Tuesday the day before lent, after which they traditionally …
---
Related Cooking around World Pages:
~
International Cooking for Kids
, ~
American
, ~
Asian
, ~
British
, ~
Eastern Europe
, ~
French
, ~
Greece
, ~
India
, ~
Irish
, ~
Italy
, ~
Mexico
, ~
Middle East
, ~
South Africa
, ~
Southern USA
~
World Studies Unit
---
Follow Kids Cooking Activities