Cooking spinach
by Lynn Brooks
(USA)
Begin learning how to cook spinach by rinsing fresh spinach in cold water to remove any dirt clinging to the leaves. To saute spinach, pour about 1/2 teaspoon of olive oil in a frying pan and warm the oil over medium heat. Finely chop half a small red onion and place the onion pieces in the pan, adding a little salt.

Saute until the onion is translucent. Add a little garlic if desired. After putting two cups of spinach leaves into the skillet, stir the mixture for about three minutes then remove from heat. Remember to purchase additional spinach if you are making a recipe. Sixteen ounces of spinach will result in only one cup of spinach after cooking.

You can also boil spinach by simply placing fresh spinach leaves in a pot of boiling water and cooking for ten minutes. In addition, spinach is steamable and can be microwaved or eaten raw, which is my favorite way to eat spinach.

Cooked Spinach and Cranberry Salad

Mix fresh, chopped spinach, a couple of boiled eggs chopped, a handful of cranberries and sliced almond in a wok or skillet, in which you've melted a some butter. Stir until the spinach is beginning to wilt. Remove from the pan, season with garlic, pepper and favorite ranch dressing. Top with a bit of Parmesan cheese.

Tortellini and Spinach Salad

An easy recipe to try after you have learned how to cook spinach is a tortellini and spinach salad. For this meal, you will need a nine-ounce package of cheese tortellini, ten ounces of freshly boiled spinach (chopped), 1/3 cup of Parmesan cheese, two cups of halved cherry tomatoes, a two ounce can of black olives (sliced) and Italian dressing (optional). Mix all ingredients in one bowl and toss. If desired, season with pepper, salt or garlic salt and choice of dressing.
Join in and write your own page! It's easy to do. How? Simply click here to return to Food Facts.
Kids Cooking Activities Teaching Materials
Make teaching easier with our activities and recipes compiled in theme sets and books with an easy to read format
Perfect for teaching!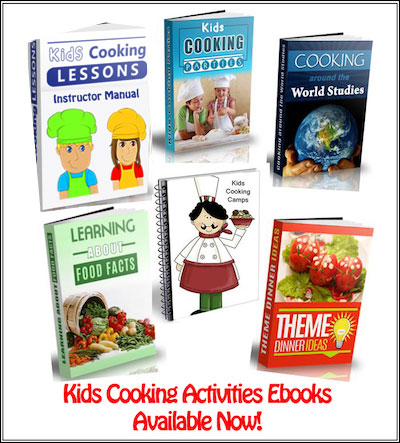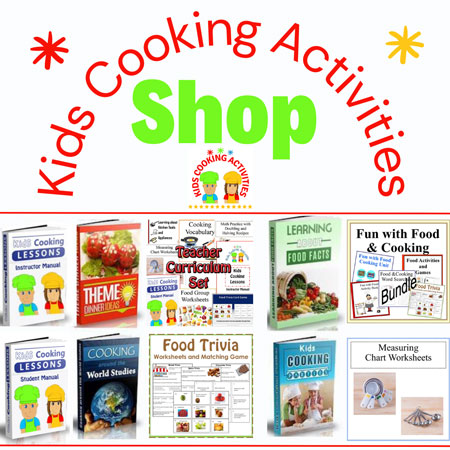 ~This post may contain affiliate links and I'll earn a small commission if you shop through them. There is no extra cost to you. This is how we help support our family and continue to bring you amazing content. To learn more see the
affiliates disclosure here.
~
Follow Kids Cooking Activities