Spinach Facts
Spinach facts and general information about spinach.
Kids Cooking Activities Teaching Materials
Make teaching easier with our activities and recipes compiled in theme sets and books with an easy to read format
Perfect for teaching!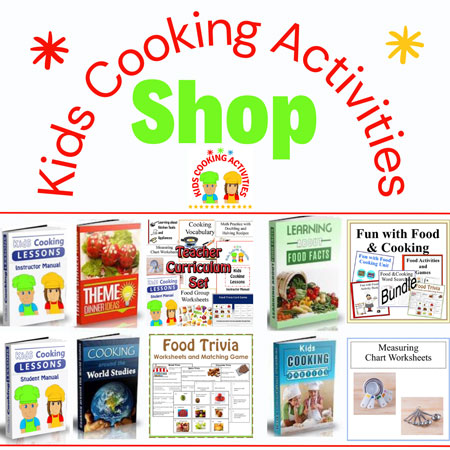 ~This post may contain affiliate links and I'll earn a small commission if you shop through them. There is no extra cost to you. This is how we help support our family and continue to bring you amazing content. To learn more see the
affiliates disclosure here.
~
Spinach is Available:
Peak season is in the spring. Bagged variety available year round.
How Does Spinach Grow:
Spinach grows like lettuce.
What to Look for When Buying Spinach:
Most spinach is prepackaged. Otherwise look for crisp leaves as you would lettuce.
Storage Tips:
Store in fridge crisper section.
How to Cook Spinach:
Wash spinach and trim off ends. Add washed leaves to a hot pan and stir around. When spinach leaves are wilted and bright green remove from skillet. This will only take a few minutes.
You can also use spinach fresh in salads or side dishes. If using frozen spinach, let unthaw and squeeze excess water out of spinach before adding to recipe.
You can also buy
dried spinach.
Nutrition Facts:
Spinach contributes to healthy bones, eyes and teeth. It is high in iron, Vitamin K and Vitamin C.
Recipes:
Fresh Spinach Salad
Fresh spinach
Fruit of choice: sliced strawberries, sliced kiwi, grapefruit sections, etc.
Dressing:
1 Cup oil
4 Tablespoons sour cream
5 Tablespoons vinegar
½ teaspoon mustard
2 garlic cloves
1/2 teaspoon salt
2 Tablespoons sugar
2 teaspoons parsley
Blend oil and sour cream. Then mix in vinegar and other ingredients. Shake well before using.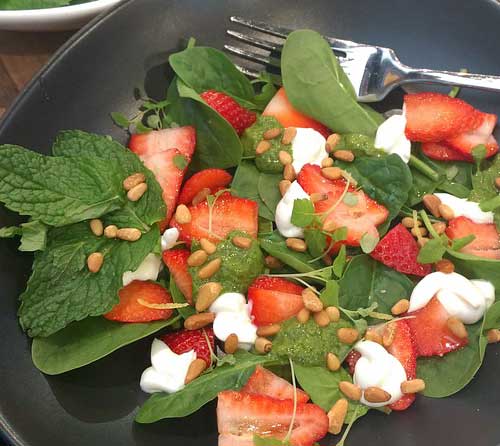 Spinach Sausage Soup
by Karen
My favorite recipe using spinach is a sausage and pasta soup I make with browned Italian sausage, chicken broth, sautéed sliced carrots, rotini pasta or orzo. There are no exact measurements. After the sausage is browned and the carrots are slightly softened, add all ingredients together and simmer for 20 min. Salt and pepper to taste.
I then stir in fresh spinach leaves I have sliced into ribbons. Serve when spinach is wilted. If using frozen, I guess you could put it in at any time, just chop it small first. Serve with freshly grated Parmesan if desired. I also often add fresh spinach to chicken noddle soup in the same way.
Creamed Spinach
2 T. Olive oil
1- Cups baby spinach, chopped
1/4 Cup heavy cream
4 oz. cream cheese, softened and cut in cubes
1/2 tsp garlic powder salt and pepper to taste
Heat the olive oil in a large skillet over medium heat. Gradually add the spinach and sauté briefly just until it wilts. Continue until all the spinach has been added and wilted down. Do not overcook.
Add the heavy cream, cream cheese, and garlic powder. Season with salt and black pepper, to taste, and stir to combine. Heat, stirring frequently, until the cream cheese melts completely and the mixture is heated through.
Remove from heat and serve immediately with your choice of main dishes.
Spinach Balls
3 eggs
1 Cup Parmesan Cheese
4 green onions, chopped
1/2 cup butter, melted
2 Cups stuffing mix
2-10 oz. pkgs frozen spinach
Unthaw spinach and squeeze excess water out. Chop. Set aside.
Place eggs in bowl and beat. Add cheese, onions, butter and stuffing. Stir together. Add in spinach and continue to stir.
Roll a small amount of mixture into a ball and place on a cookie sheet or baking pan. Continue roll all of spinach mixture into balls. Bake for 25 minutes at 350 degrees.
These freeze well and can be reheated in the microwave or oven.
Spanakopitas

Spinach Cooking Video
Share your food facts and recipes
Do you have a food facts or recipe to share?
Reader's Submitted Recipes
Click below to see contributions from other visitors to this page...

Healthy Green smoothie Not rated yet
1- Blend 2 cups of spinach, 1 cup kale, and 1/2 cup milk into a blender 2- Blend 3- Add in 1/2 cup Greek yogurt, 2 tablespoons honey, 1 carrot, and …
Cooking spinach Not rated yet
Begin learning how to cook spinach by rinsing fresh spinach in cold water to remove any dirt clinging to the leaves. To saute spinach, pour about 1/2 teaspoon …
Spinach Casserole- Spaetzle Not rated yet
Ingredients: 1 large package frozen chopped spinach - cook with onion and drained well 1 Tablespoon minced onion - add to spinach 2 eggs- beaten …
---
Related Food Facts Pages:
~
Apple
, ~
Apricot
, ~
Avocado
, ~
Banana
, ~
Berry
, ~
Cherry
, ~
Coconut
, ~
Cranberry
, ~
Dates
, ~
Figs
, ~
Grapefruit
, ~
Grapes
, ~
Kiwi
, ~
Lemon and Limes
, ~
Mango
, ~
Melon
, ~
Orange
, ~
Papaya
, ~
Peach
, ~
Pear
, ~
Pineapple
, ~
Plums
, ~
Tomato
, ~
Artichoke
, ~
Asparagus
, ~
Beets
, ~
Broccoli
, ~
Brussels Sprouts
, ~
Cabbage
, ~
Carrot
, ~
Cauliflower
, ~
Celery
, ~
Corn,
~
Cucumber
, ~
Eggplant
, ~
Garlic
, ~
Green Beans
, ~
Kale
, ~
Lettuce/Salad Greens,
~
Mushrooms,
~
Okra
, ~
Onion
, ~
Parsnip,
~
Peas,green
, ~
Peppers,
~
Potato
, ~
Radish
, ~
Rhubarb
, ~
Spinach
, ~
Summer Squash and Zucchini
, ~
Sweet Potato
, ~
Turnip
, ~
Winter Squash, including Pumpkins
, ~
Beans
, ~
Eggs
, ~
Nuts
, ~
Seeds
, ~
Meat
, ~
Dairy
, ~
Grains
---
Follow Kids Cooking Activities