Spinach Facts
Spinach facts and general information about spinach.
Planned Kids Cooking Curriculum
~This post may contain affiliate links and I'll earn a small commission if you shop through them. There is no extra cost to you. This is how we help support our family and continue to bring you amazing content. To learn more see the
affiliates disclosure here.
~
Spinach is Available:
Peak season is in the spring. Bagged variety available year round.
How Does Spinach Grow:
Spinach grows like lettuce.
What to Look for When Buying Spinach:
Most spinach is prepackaged. Otherwise look for crisp leaves as you would lettuce.
Spinach Storage Tips:
Store in fridge crisper section.
How to Cook Spinach:
Wash spinach and trim off ends. Add washed leaves to a hot pan and stir around. When spinach leaves are wilted and bright green remove from skillet. This will only take a few minutes.
You can also use spinach fresh in salads or side dishes. If using frozen spinach, let unthaw and squeeze excess water out of spinach before adding to recipe.
You can also buy
dried spinach.
Spinach Nutrition Facts:
Spinach contributes to healthy bones, eyes and teeth. Spinach is high in iron, Vitamin K and Vitamin C.
---
---
Spinach Recipes:
Fresh Spinach Salad
Fresh spinach
Fruit of choice: sliced strawberries, sliced kiwi, grapefruit sections, etc.
Dressing:
1 Cup oil
4 Tablespoons sour cream
5 Tablespoons vinegar
½ teaspoon mustard
2 garlic cloves
1/2 teaspoon salt
2 Tablespoons sugar
2 teaspoons parsley
Blend oil and sour cream. Then mix in vinegar and other ingredients. Shake well before using.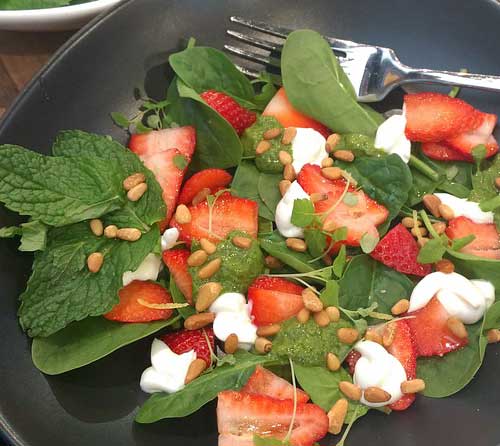 Healthy Noodles
1 Cup noodles
2 Cups water
4 leaves of spinach coarsely ground
pinch salt
1 teaspoon soy sauce
2 teaspoons tomato ketchup

Boil water for 1 minute, add noodles then spinach paste and all other ingredients. Cook well. Cover with a lid and let it simmer for a few seconds. Healthy noodles are ready to serve.
More recipe ideas to get your kids to eat spinach!

Spinach Balls
3 eggs
1 Cup Parmesan Cheese
4 green onions, chopped
1/2 cup butter, melted
2 Cups stuffing mix
2-10 oz. pkgs frozen spinach.

Unthaw spinach and squeeze excess water out. Chop. Set aside.

Place eggs in bowl and beat. Add cheese, onions, butter and stuffing. Stir together. Add in spinach and continue to stir.

Roll a small amount of mixture into a ball and place on a cookie sheet or baking pan. Continue roll all of spinach mixture into balls. Bake for 25 minutes at 350 degrees.

These freeze well and can be reheated in the microwave or oven.
Spinach Spanakopitas