Cooking with the Kids for New Year's Eve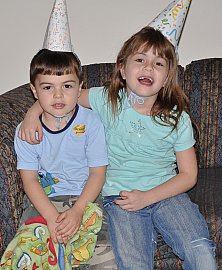 What will you do on the last day of the year? If you plan to spend at least part of it at home with your family, prepare dinner as a family. Here are some ideas for cooking with the kids.


Menu
Some people choose to have a special dinner on New Year's Eve. Sit down with your kids and decide what you will make. One idea is allowing everyone to come up with their most favorite dish and include it in the menu. You could end up with pizza and teriyaki chicken. Try to make as much food as you can in the kitchen. Avoid using box mixes for anything if you can on this occasion.
The important thing here is that you do it together. Families that aren't used to doing a lot of activities together will find this to be a new and interesting activity. Your kids have a lot of good ideas that you may have been missing out on. Hopefully this will be the start of a great new tradition.
See menu ideas on our
New Year's Page.

Preparation
Undoubtedly, you'll have to shop for some ingredients. Make a list of what everyone needs for their dish. Check your cabinets to be sure you don't already have something. That will save you money.
Just one or two family members need to shop. The others can be preparing the kitchen for the upcoming cooking fest. It'll be dividing and conquer here so that everything gets done.
Decide what equipment and utensils you have available. There may be a lot of dish washing going on if everyone needs to use a giant mixing bowl. You can purchase another or stagger your meal prep so that you can share.
Do as much pre-cooking work as you can. For instance, pork chops can be marinated early and placed in the refrigerator. Pizza dough can be created and rolled out well in advance of making the pizza.

Dressing the Part
How about family aprons and hats? Give each family member their own apron (with their name on it) before they get cooking. It keeps your clothes from getting messed up and you get to look stylish at the same time.
As chefs, everyone needs to know the rules of the kitchen:
Wash hands after handling meat
Use soap and water on the counter to clean when you are done at a work station
Kids, ask parents for help when it comes to using the stove
If you get everything in the oven or cooker around the same time, take a load off. Cooking with the family can be fun. On New Year's Eve it is a spectacular way to ring out the old and ring in the new.
Make teaching easier with our activities and recipes compiled in theme sets and books with an easy to read format
~This post may contain affiliate links and I'll earn a small commission if you shop through them. There is no extra cost to you. This is how we help support our family and continue to bring you amazing content. To learn more see the