New Year's Eve Recipes
Ring in the New year with these recipes for the whole family to enjoy. This is a holiday that kids don't often get involved in but we have some ideas to help you and your kids have some fun and still get to bed on time.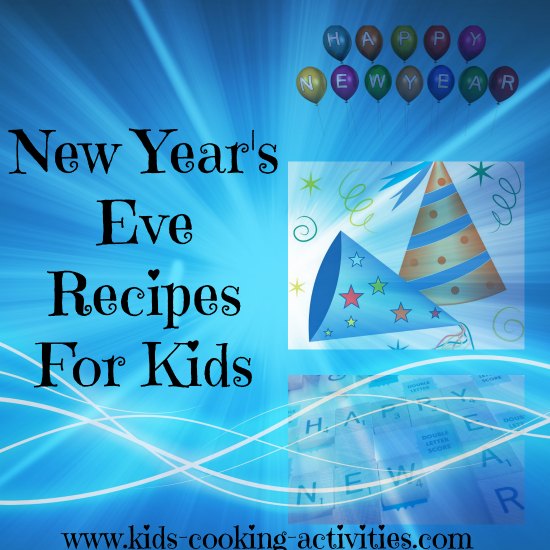 Planned Kids Cooking Curriculum
~This post may contain affiliate links and I'll earn a small commission if you shop through them. There is no extra cost to you. This is how we help support our family and continue to bring you amazing content. To learn more see the
affiliates disclosure here.
~
Kids New Years Eve Recipes: Simple Appetizers
Mozzarella Sticks
1 pkg. Mozzarella cheese
egg roll wrappers
salsa or ranch dressing for dipping
Cut mozzarella into 2 inch strips and wrap in egg roll wrappers. Deep fry until brown.
Oriental Chicken Wings
1/2 Cup brown sugar
1/4 Cup soy sauce
1/4 Cup water
1 Tablespoon
Worcestershire sauce
1 teaspoon lemon juice
1 teaspoon ginger
garlic to taste
Mix all ingredients together and marinate chicken wings for several hours. Bake in 350 degree oven for 1 hour turning chicken wings halfway through cooking time.

Try our cheese ball recipe.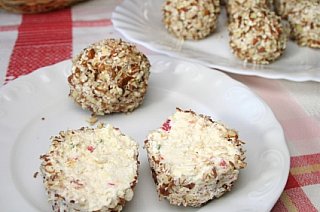 Spinach and Artichoke Dip
8 oz. Pkg. Cream cheese
1 can 14 oz. Artichoke hearts, drained or 3 fresh artichoke hearts cooked and prepared
½ Cup spinach frozen, chopped then steamed
¼ Cup mayonnaise Do not use miracle whip
¼ Cup Parmesan cheese
¼ Cup Romano cheese (you can use all Parmesan also)
1 clove garlic, finely minced
½ teaspoon basil or 1 Tablespoon Basil fresh
Salt and pepper to taste
Allow cream cheese to come to room temperature. Cream together mayo, cheeses, garlic, and basil. Mix well. Add artichoke hearts and spinach. (Squeeze all excess water out of spinach before combining) Mix until well blended. Spray pie pan with Pam and pour in dip. Bake at 350 for 25 minutes. Can also top with ¼ C. mozzarella cheese, grated.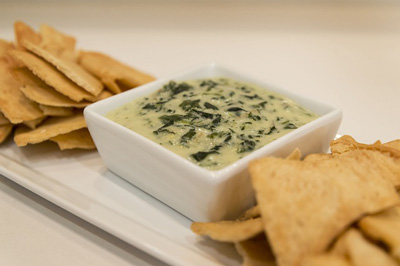 Fancy New Years Eve Strawberries
If you can get a hold of some fresh strawberries I love this recipe.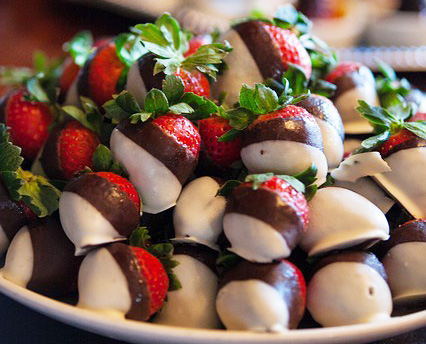 1 qt. fresh whole strawberries
1 Cup of vanilla or chocolate ready to spread frosting
Miniature semisweet chocolate chips
Chopped nuts
Colored sugars
Candy
sprinkles
Grated chocolate
Shredded coconut
How to Make It:
Rinse the strawberries under cold water and place on paper towel to dry.
Place the frosting into a microwave safe bowl. Heat on high for 15 seconds or until the frosting is melted and smooth. Place the chips, nuts, sugars, sprinkles, chocolate and coconut into separate shallow bowls. Cover a cookie sheet with wax paper.
Dip the bottom of each strawberry about 1/3 up into the frosting. Quickly dip the frosted strawberry into one of the toppings. Place the strawberry on the wax paper. Continue until all of the strawberries have been dipped.
Place the strawberries into the refrigerator for 5 minutes or until the frosting has hardened.
Pizza Rolls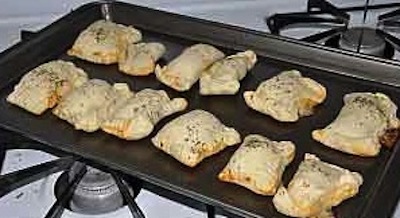 Another fun New Years eve recipe
- Guacamole and Chips

.




Organizing a New Years Eve party? Your guests will love this
Printable New Years Party Games bargain bundle!
FIVE great games, including gift exchange, mad libs and trivia. Try printable games for your party!
Taco Mexican Mix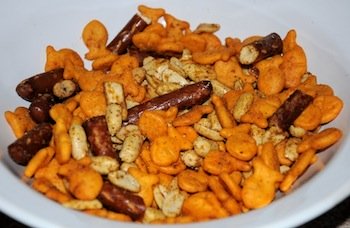 Ham Roll Ups
These roll ups can be made the night before the big party. Cover them tightly with plastic wrap and refrigerate until ready to serve. Any type of thin sliced meat can be used such as turkey, chicken or roast beef.
8 slices of sandwich bread
slices of cooked deli ham or other meat
8 (1 oz.) sticks of string cheese
1 Cup of honey mustard salad dressing
Cut crusts off bread and roll flat with a small rolling pin. Layer a slice of deli meat and then string cheese on top. Roll up. Slice into bite size pieces and serve with honey mustard for dipping.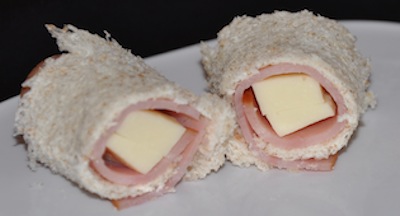 Cottage Cheese Tots
Happy New Year Pretzels
This is a fun way to liven up simple breadsticks. Form the letters Happy New Year with breadsticks and serve with a dip.:
1 (11 oz.) can refrigerated breadsticks or
homemade dough
Preheat oven to 375 degrees. Shape dough into letters spelling Happy New Year. Place the letters on the prepared cookie sheet. Bake 15 minutes or until the dough is a golden brown. Allow to cool slightly before removing from the cookie sheet.
Ideas for serving these could be:
Serve with a fruit dip.

Brush the tops of each letter with melted butter and sprinkle with Parmesan cheese then serve with a pizza sauce.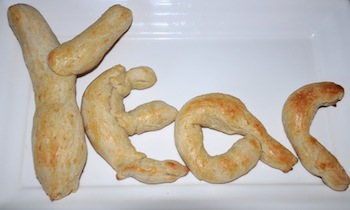 Fruit Dip
14 ounces sweetened condensed milk
1 cup butterscotch chips
¼- ½ teaspoon cinnamon
Apple wedges
Over low heat melt butterscotch chips in condensed milk. Remove from heat and add cinnamon. Serve warm with apple or other fruit slices for dipping.
---
Make teaching easier with our activities and recipes compiled in one easy to read format.
---
Kids New Years Eve Recipes: Drinks
Serve these new years eve recipes for drinks in fun plastic cups or glasses for your kids to join in the New Year's fun.
Punched Up Juice Recipe
4 cups cranberry juice
2 cups orange juice
1 cup pineapple juice
1/2 cup lemon juice
1/2 cup water
1/3 cup sugar
1 teaspoon almond extract
Mix ingredients together in large container and serve with ice. Makes about 8 cups.
Slushies
1 can frozen orange juice concentrate
1 pint pineapple juice
3 ripe bananas or other fruit
Add ingredients together in pitcher. Then freeze until mixture is slushy. Spoon 2- 3 Tablespoons or more into a party glass and add ginger ale.
Try a
simple smoothie recipe
served in a fun glass.
Kids New Year Traditions
Confetti Tubes
If your kids are too young to stay up late don't let that stop you from celebrating. Make confetti tubes by placing confetti, either store bought or make your own with a hole puncher and paper, inside a toilet paper tube and wrap it up with decorative paper. Tie the ends with ribbon and place these on your holiday table. Before going to bed go outside and yell Happy New Year. Tear the ribbon of the confetti favors and let your kids have a ball throwing the confetti. (even if it isn't midnight kids will love this activity.)
See more details on making homemade crackers here.
Kids New Year's Goals
List one thing you'd like to do this year or a habit you'd like to overcome. Even young kids can think of at least one idea. Place everyone's goals in your Christmas boxes when you are packing up that way you will find it next year and see how you did.
A Start to the New Year
Give your kids a little more bonding time with you this year. Start the new year off by setting a time each week to have a
kids cooking lesson
or a cooking project with your kids.
Share your Favorite New Year's Recipe
Submit your favorite kids recipe
Do you have a favorite recipe your kids love to make? Or a recipe your kids ask you to make again and again? Share it with us!
---
Related Seasonal Recipe Pages:
~
School Lunches
, ~
Apples
, ~
Pumpkins
, ~
Kids Halloween Recipes
, ~
Halloween Recipe Ideas
, ~
Thanksgiving
, ~
Hanukkah Recipes
, ~
Kids Christmas cooking
, ~
Christmas Candy Recipes
, ~
Reindeer
, ~
Make Homemade Chocolates
, ~
Jar Mixes
, ~
Gift Basket Ideas
, ~
Homemade Fudge Recipes
, ~
Homemade Suckers
, ~
Christmas Cookie Recipes
, ~
Gingerbread House Recipes
, ~
Food Gift Ideas
, ~
Dough Ornament Recipes
, ~
Hot Cocoa
, ~
Happy New Year
, ~
Snowman Theme Recipes
, ~
Valentine's Day
, ~
Valentine Dessert Recipes
, ~
St. Patrick's Day
, ~
April Fool's Day Recipes
, ~
Passover Recipes
, ~
Kids Easter Recipes
, ~
Sugar Eggs Recipe
, ~
Resurrection Cookies Recipe
, ~
Italian Easter Bread
, ~
Russian Easter Bread Recipe
, ~
Cinco de Mayo, May 5
, ~
Mother's Day Recipes
, ~
Father's Day Recipes
, ~
Kid's Campfire Cooking Recipes
, ~
Dutch Oven Cooking for Kids
, ~
4th of July Recipes
, ~
Ice Cream Recipes
, ~
Popsicle Recipes
, ~
Simple Smoothie Recipes
, ~
Picnic Ideas and Recipes
, ~
Easy Grilling Recipes
, ~
Grow your own Italian Pizza Garden
---
Follow Kids Cooking Activities