Easy Potato Soup Recipes
These easy potato soup recipes are great served with cheese bread or garlic bread. Another fun idea is to serve soup in bread bowls. These recipes will teach you how to make potato soup.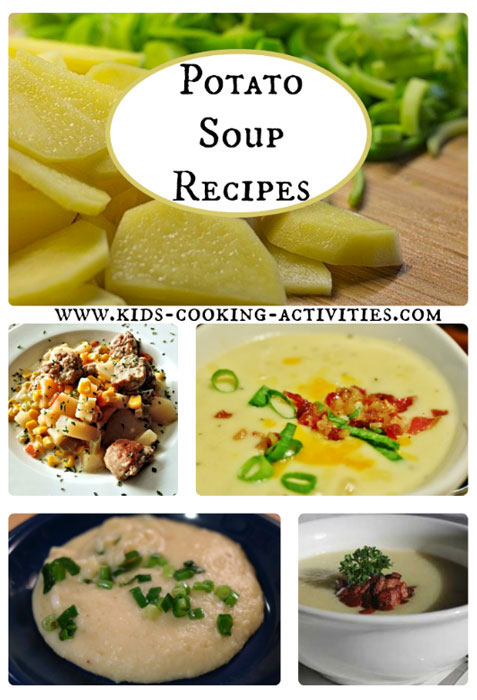 Kids Cooking Activities Teaching Materials
Make teaching easier with our activities and recipes compiled in theme sets and books with an easy to read format
Perfect for teaching!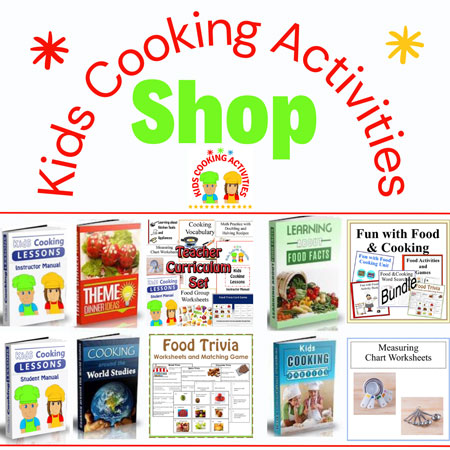 ~This post may contain affiliate links and I'll earn a small commission if you shop through them. There is no extra cost to you. This is how we help support our family and continue to bring you amazing content. To learn more see the
affiliates disclosure here.
~
Cream of Potato Soup Recipe
Ingredients
2 Cups potatoes, cubed
1 small onion, optional
1 carrot
1 celery stalk
1 cup cauliflower pieces
Water to cover
2 teaspoons chicken bouillon or 2 cubes
1/4 Cup milk
Cut vegetables into slices or cubes. In soup pan, place potatoes, onion, carrot, celery and cauliflower. Add water to cover up vegetables. Cook and simmer on medium until vegetables are tender. Add half of soup mixture into blender. Add bouillon and milk to blender also. Puree several seconds. Add back to saucepan and stir together.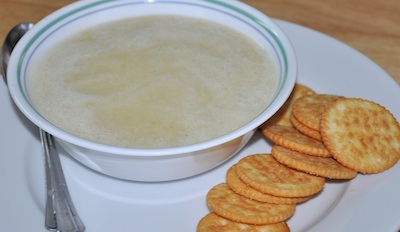 Potato Chowder
Ingredients
8 Cups peeled, diced potatoes
1/3 Cup onion, grated or chopped
3- 14 1/2 oz. chicken broth
1 can of cream chicken soup
8 oz. cream cheese
pepper
In crock pot add potatoes, onion, chicken broth and cream chicken soup. Stir together until well blended. Season with pepper. Cook 6-8 hours on low. Before serving stir in cream cheese. Garnish with chopped bacon or shredded cheese.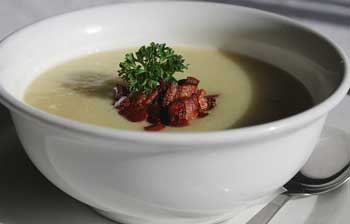 Chicken Potato Corn Chowder
Adding a little chicken to this or any easy potato soup recipes changes it up a bit.
Ingredients
1 Tablespoon oil
1 onion, grated or chopped small
2 potatoes, peeled and cut in cubes
2 Tablespoons flour
1 chicken bouillon cube
1 1/2 Cup milk
1 1/2 Cup water
1 can corn, drained
1-2 cups chicken, cooked, shredded or cut in cubes or chicken meatballs
pepper
In a soup pan, saute onion in the oil. Then add potatoes. Saute several minutes until potatoes brown. In a measuring cup add flour, bouillon and milk. Blend together. Stir into potato mixture. Add water, chicken and corn. Stir together. Season with pepper, as desired. Bake about 10 minutes until thickens and potatoes are tender.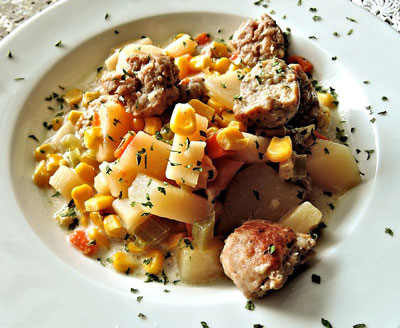 Simple Potato Soup
Ingredients
2 medium potatoes, peeled and diced
2 onions, grated
1/2 cup chopped celery
bay leaf
salt and pepper
1/4 Cup butter
1/2 Cup milk or less
In a large soup pot, melt butter and add diced potatoes, grated onions and chopped celery. Saute until potatoes are browned. Season with salt and pepper. Add water to cover potatoes and add bay leaf. Simmer until potatoes are tender. Add milk and serve. Sprinkle with shredded cheese, chopped bacon and/or onions.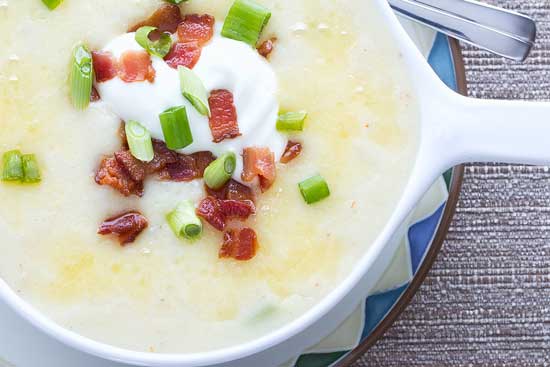 Loaded Potato Soup Recipes
Vichyssoise
Ingredients: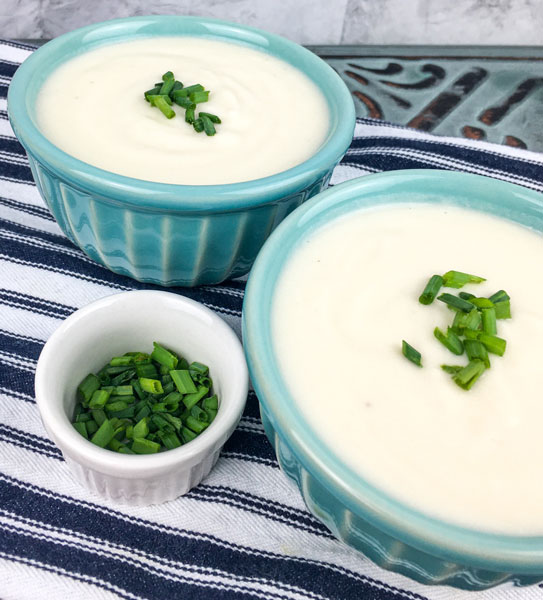 3 T. unsalted butter
3 T. extra virgin olive oil
1-2 large cloves garlic, finely minced
3 large leeks, white and very light green parts only
Sea salt and black pepper, to taste
4 c. Yukon Gold potatoes, peeled and diced (approximately 4-5 medium potatoes)
2 c. chicken broth, preferably organic
2/3 c. sour cream
1/3 c. heavy cream
3 T. fresh chives, finely chopped
Directions:
1. Add butter, olive oil, garlic, and leeks to a large, high-sided skillet set over medium heat. Cook, stirring occasionally, just until the leeks are tender, approximately 4-5 minutes. Do not allow to brown.
2. Add potatoes and chicken broth. Increase heat to high and bring to a rapid boil. Immediately reduce heat to just below medium and cover skillet loosely with a lid. Simmer for 25-30 minutes or until potatoes are fork tender.
3. While the potatoes are simmering, combine the sour cream and heavy cream in a medium-sized bowl. Season with salt and black pepper, to taste, and stir to combine. Set aside.
4. Remove skillet from heat and cool for several minutes. Working in batches, if necessary, carefully transfer the contents of the skillet to a high-powered blender. Cover and blend on high until completely smooth, approximately 1-2 minutes.
5. Remove lid and transfer the purée into a large bowl. Repeat process with remaining contents of the skillet.
6. Temper the sour cream mixture by adding 2 or 3 tablespoons of the soup to the bowl. Stir to combine.
7. Add the tempered sour cream mixture to the skillet. Season with additional salt and black pepper, as desired, and stir to combine.
8. Allow soup to cool completely, then transfer to an airtight container. Refrigerate until chilled, approximately 3 hours to overnight.
9. To serve, divide the chilled soup between four bowls and garnish with fresh chives. Enjoy!
Share your Easy Potato Soup Recipes
Submit your favorite kids recipe
Do you have a favorite recipe your kids love to make? Or a recipe your kids ask you to make again and again? Share it with us!
Follow Kids Cooking Activities