Homemade Potato Bird's Nest
by Stella Dias
(Sri Lanka)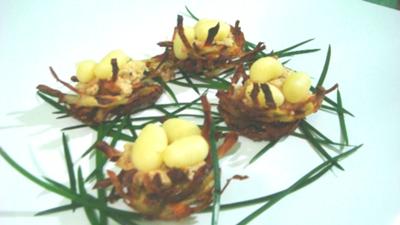 One of the most elegant and easy appetizer, Kids friendly recipe. Try this creative recipe.

* FOR THE NESTS:
* 300 grams Large Potatoes
* 1 whole Egg
* ¼ teaspoons Salt To Taste
* 1/4 teaspoons White Pepper
* 1-½ teaspoon Butter, Melted
* _____
* FOR THE FILLING:
* 6 teaspoons Toasted Bread Crumbs
* 2 Tablespoons Hot Milk
* ¼ teaspoons Salt
* 1/4 teaspoons White Pepper
* _____
* FOR THE DECORATION:
* 50 grams Potatoes, Peeled And Boiled
* ¼ teaspoons Salt
* ½ teaspoons Butter
* 1/4 teaspoons White Pepper

Preparation Instructions

Wash the potatoes. Now peel the potatoes and shred them (like a long matchstick). Squeeze any excess water from potatoes.

After that into a medium bowl. Stir together egg, salt and 1/8 teaspoon pepper using a fork. Next combine the egg mixture with the shredded potatoes. Mix well.

Next take a muffin tray and grease it with butter. Place one and half tablespoons of shredded potatoes mixture into each muffin tray, and arrange them like a bird's nest.

Drizzle a small amount – 1/4 teaspoon – of melted butter into each nest.

Preheat oven to 200 c degrees and bake the potato nest about 30 minutes or until golden brown. If edges begin browning too quickly cover top of muffin pan with foil loosely.

Remove from oven and let cool. Next in a small bowl stir together toasted bread crumbs, hot milk, pepper and salt. Mix well.Now place this mixture into to the nests (one teaspoon or so per nest).

After that decorate with mashed potatoes. Just take a potato. Peel and boil it, covered with water, until potatoes are fork tender. Drain the water. Squash the potato with a potato masher or mixer. Add butter, salt, and white pepper. Mix well.

Next make small balls of the mashed potato mixture. Shape the ball into an oval shape. Like an egg. I've done in the photo above. Place in the nest. And Enjoy.
Join in and write your own page! It's easy to do. How? Simply click here to return to Submit your kids recipe.
Kids Cooking Activities Teaching Materials
Make teaching easier with our activities and recipes compiled in theme sets and books with an easy to read format
Perfect for teaching!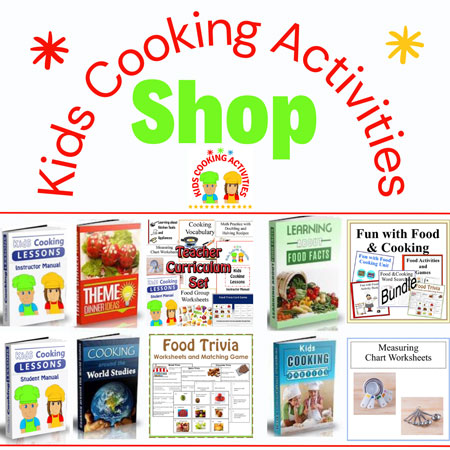 ~This post may contain affiliate links and I'll earn a small commission if you shop through them. There is no extra cost to you. This is how we help support our family and continue to bring you amazing content. To learn more see the
affiliates disclosure here.
~
Follow Kids Cooking Activities