Kids Easter recipes
Kids Easter recipes abound at this time of year. Not only can kids celebrate the season dying Easter eggs, there are many fun Easter recipes kids can make with an adult's help or if they are old enough by themselves. There are the usual Easter traditions of eggs, birds, bunnies but don't forget to get your kids involved in Easter dinner too. When creating these kids Easter recipes remind them that all these fun Easter decorations are symbols of rebirth, starting anew and celebrating Spring.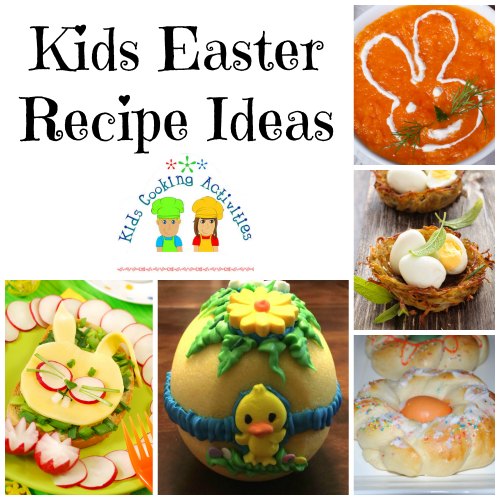 Kids Cooking Activities Teaching Materials
Make teaching easier with our activities and recipes compiled in theme sets and books with an easy to read format
Perfect for teaching!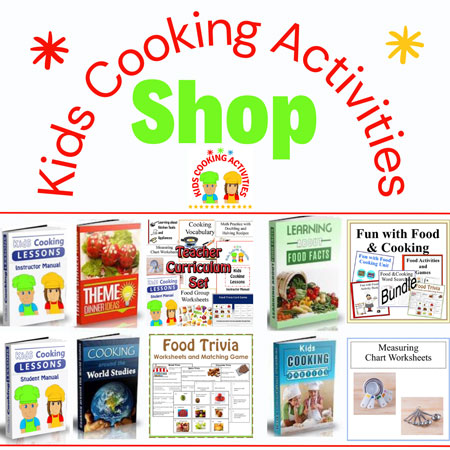 ~This post may contain affiliate links and I'll earn a small commission if you shop through them. There is no extra cost to you. This is how we help support our family and continue to bring you amazing content. To learn more see the
affiliates disclosure here.
~
Theme Recipes on this page:

Kids Easter Recipes: Baskets
Easter Cookie Baskets
Ingredients: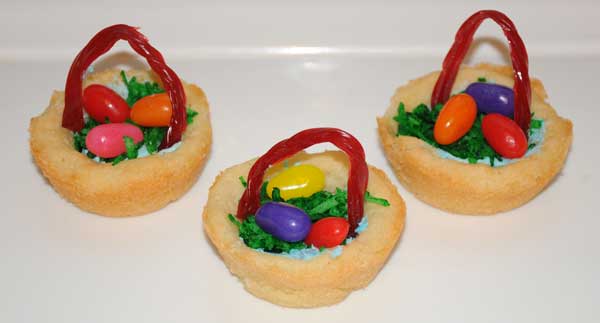 Sugar cookie dough
Frosting
Jelly beans or other small candies
Directions:
Prepare a sugar cookie dough either homemade or store bought dough. Spray a muffin pan with cooking spray or grease each muffin tin. Press a small ball of dough into each hole pressing up along the sides to make a well in the middle. Allow to cook at 375 degrees about 8 minutes until golden. Press down the center of each cookie. Let cool and pop out of muffin tins. To decorate, fill a small amount of frosting in each hole. Attach a licorice string into each frosting. This will be your basket handle. Sprinkle with coconut tinted green and add jelly beans or small chocolate pieces to resemble eggs.

You can also do this Kids Easter recipe with cupcakes. Frost cupcakes, insert a licorice handle and add jelly beans on top.
How to Tint Coconut Green
An easy way to decorate with coconut for Easter is to add your shredded coconut in a bowl or Ziploc bag. Add a few drops of green food coloring and stir together, or if using a bag squeeze color into coconut.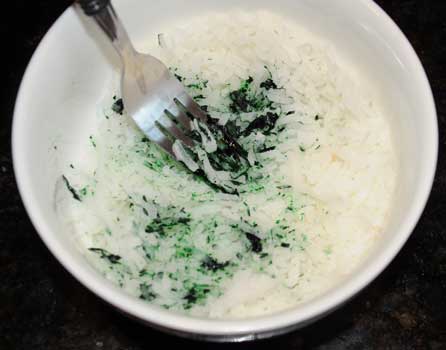 See more
visitor Easter basket recipes
Kids Easter Recipes- Bird Easter Nests
Coconut Nests
Ingredients:
1- 1/3 Cup flaked coconut
1/3 Cup sugar
2 Tablespoons flour
1/8 teaspoon salt
2 egg whites
½ teaspoon vanilla
Directions:
In mixing bowl, combine coconut, sugar, flour and salt. Stir in egg whites and vanilla; mix well. Drop by spoonfuls onto greased baking sheet. Press thumb into each cookie to make an indention. Bake at 325 degrees for 18-20 minutes. Let cool add a drop of frosting and add jelly beans or chocolate mini eggs in center.
Chick in the Hole
Make this breakfast idea into an Easter tradition. Add piece of toast in a skillet cut out the middle with a oval cutter or other shape cutter. Crack an egg in the hole. Cook both sides until golden brown or however you like your eggs cooked. Decorate to make a chick using olives for eyes and cut pepper for beak, feet and wings.
Zoodles Egg Nests
Ingredients:
Zucchini cut in noodles (zoodles)
1 T. butter
salt and pepper
garlic, minced
eggs
Directions:
Prepare your zucchini into zoodles with a
spiralizer.
Melt 1 tablespoon butter in a skillet. Add in garlic and cook several minutes. Add in zucchini zoodles. Cook several minutes until tender. Make a nest with your zoodles and crack in egg into the middle. Cook until egg is set. Season with salt and pepper.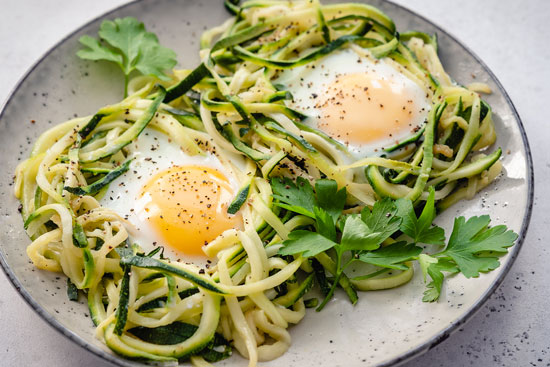 Jelly Bean Nests Cookies
Ingredients:
4 Cups Chow mein noodles or thin noodles
½ Cup light corn syrup
½ Cup sugar
¾ Cup peanut butter
Jelly beans
Directions:
Have kids break chow mein noodles in small pieces. Put in a large bowl and set aside. In a saucepan add corn syrup and sugar on medium-low heat. Stir until sugar dissolves. Add peanut butter. Stir until melted. Pour peanut butter mixture over chow mein noodles. Stir to cover noodles. Lay out a sheet of wax paper. With a spoon, drop tablespoon of noodles on waxed paper. Flatten the middle with the back of a spoon to make a nest shape. Have kids add jelly beans. If the mixture has cooled and jelly beans aren't sticking to noodles, add a dot of frosting inside the nest and then add the eggs.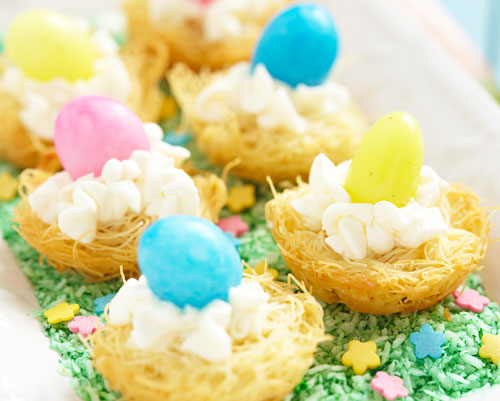 Egg Grass Centerpiece
This is an easy fun Kids Easter recipe they will enjoy watching. Start this a few weeks before Easter.
Using a medium size Easter basket, line the bottom with thick heavy plastic. Add potting soil. Add seeds to the soil either radish, wheat, watercress or grass seeds. These grow quickly and will look good poking out of the soil.
Spray with water and cover with plastic wrap for several days. Then uncover and continue to spray with water each day. (a water spray bottle works well.) In about 1 to 2 weeks you will have a basket that has real looking grass in it. You can use this as a centerpiece for Easter by adding colored Easter eggs or other decorations.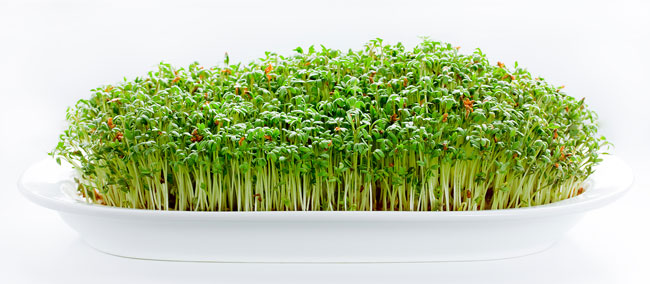 Italian Easter Wreath
Make an
Italian Easter bread wreath.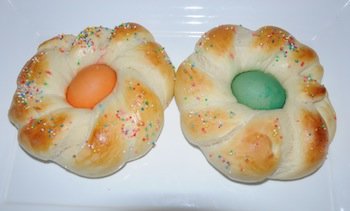 Edible Potato Nests
See more
Easter nest recipes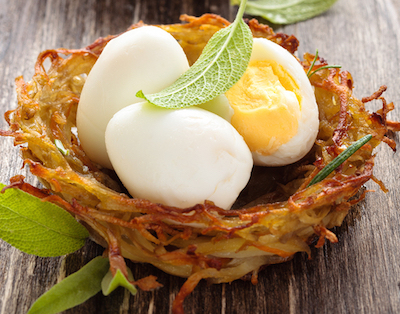 Here is another
potato nest recipe here.
Or try a
Noodle Nest
Birds Nest Cupcakes
These colorful birds nest cupcakes are sure to keep your little birdies tweeting.
Simply make a regular batch of cupcakes and frost in a dark brown. Once cooled, use a piping round tip to stack strands of frosting around the edges of the cupcakes to create the nest.
Add two or three colorful chocolate Easter egg candies to the center to finish it off.
---
Make teaching easier with our activities and recipes compiled in one easy to read format.
---
Kids Easter Recipes -Eggs
Easter Egg Cookie Fruit Pizza
Create a fruit pizza and shape your cookie dough into an oval shape.
See recipe and how to make fruit cookie pizza here.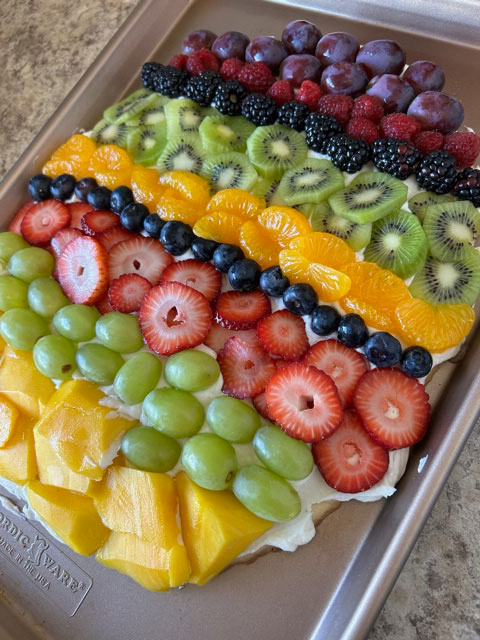 Coconut Cream Eggs
A fun Easter kid recipe is to create chocolate Easter eggs. Ingredients:
8 ounces cream cheese, softened
1 tablespoon butter, softened
4 cups powdered sugar
1 cup flaked or grated coconut
2 cups semi-sweet chocolate chips
1 tablespoon shortening
Directions:
In a medium bowl add soft cream cheese, soft butter, powdered sugar and coconut. Stir together until well combined. If dough is hard to work with, chill in the fridge. Form into egg shapes and place on a cookie sheet that is lined with wax paper. Place in the freezer until it is hard for about 1 hour. When you are ready for dipping melt chocolate chips and shortening in a microwave safe dish until melted. Dip each coconut egg into chocolate to coat. Place back on wax paper and chill.
Sugar Eggs
Check out how to make
sugar eggs here.

Chocolate Molds
Use Easter molds and
learn how to make homemade chocolates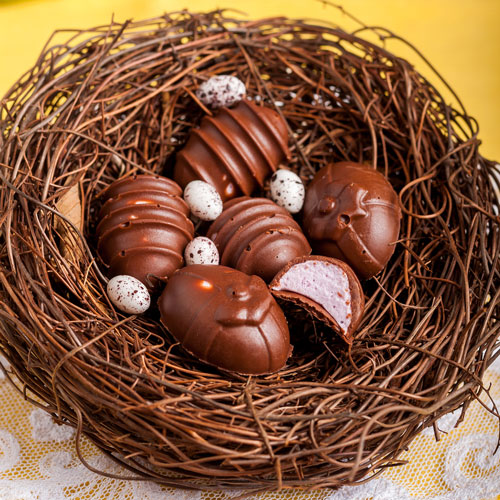 Egg Dyeing Ideas
Try these ideas for decorating and dyeing Easter eggs.
Striped and Checked Eggs. Before dipping boiled egg in dye, add rubber bands or masking tape around egg making patterns. Dip egg into dye and allow to dry. When completely dry, take off rubber bands or tape and see your striped or checkered egg.


Marbled eggs. Dab different colors of dye with cotton balls onto boiled eggs. Let dry.


Use natural dyes such as onion skins or beet juice. Try these natural egg dying ideas.


Make egg heads with your boiled eggs. Decorate with yarn for hair by gluing in place. Draw a face with markers or crayons.


Using finger paint dip your finger in paint and thumbprint or fingerprint the egg.
Egg Shell Mosaic
If you dye eggs at your house for Easter, save the shells after peeling them. The younger kids will enjoy making beautiful egg shell mosaics with them. Draw a shape, design or animal on a white sheet of heavy paper. Let them glue egg shells on their picture, creating a artistic mosaic.
Tie Dye Eggs
Make Tie Dye Easter Egg Cookies.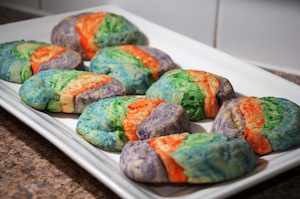 Easter Fun Printables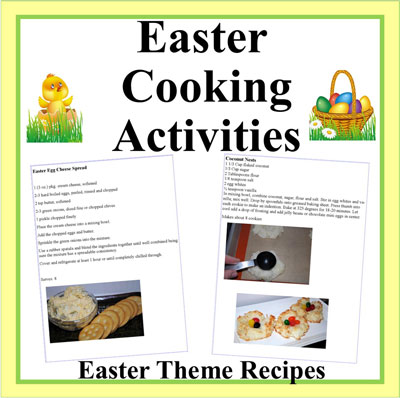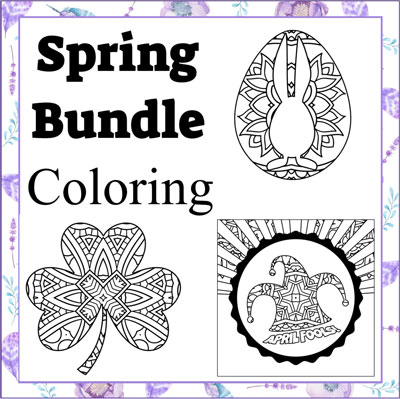 Kids Easter Recipes- Easter Bunny Recipes
Bunny Bread
This Kids Easter recipe is all in the shaping of the bread rolls.
Bread dough
Raisins for eyes
Directions:
Make a large roll for the bunny tummy. Place on a greased cookie sheet. Make a smaller ball for the head and place above the tummy section. Roll two balls into ropes and loop ropes over to make bunny ears. Lay on top of bunny head. For arms and legs use smaller balls and lay next to appropriate part of body. Give the bunny two raisin eyes and two very small balls for a nose. Cover with a cloth or plastic wrap and let rise for 30 minutes. Remove towel or plastic wrap and brush beaten egg white over the top. Bake at 350 degrees for 25-30 minutes. This kids Easter recipe is great fun to put together. They will really enjoy experimenting on their own as to what size dough balls to use and create their own bunny body.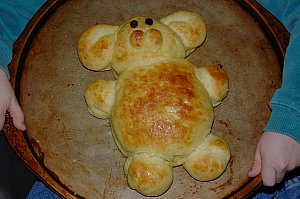 Try this
Russian Easter Bread recipe
for your bunny bread.
Hot Cross Buns
Carrot Veggie Toasts
Cut a slice of bread into a carrot shape or use a
cookie cutter.
Spread cream cheese or other spread on top. Sprinkle shredded carrots on the bottom half of your carrot, to resemble the orange carrot part and add chopped broccoli to the tops for the stems.
Bunny Sandwich
Here is a healthy bunny theme lunch idea.
Use a bagel for the base or cut out a circle from a slice of bread. Slice your vegetables to prepare the face including:
2 cucumber slices, cut crosswise on an angle, so they look like ears
4 thin celery slices to form the whiskers
1 cherry tomato, cut in half for the nose
Radish and olive slices for the eyes
Peel thin strings off a parsley stem to form the mouth
Directions:
Once your ingredients are ready, you can fry your egg. Heat a lightly oiled frying pan over medium heat. Place a metal circle cookie cutter on the frying pan to make the round egg shape and crack an egg in. Cover with a lid until yolk is cooked to desired doneness and season with salt and pepper. Place the egg on the bread and assemble the other ingredients to form the face.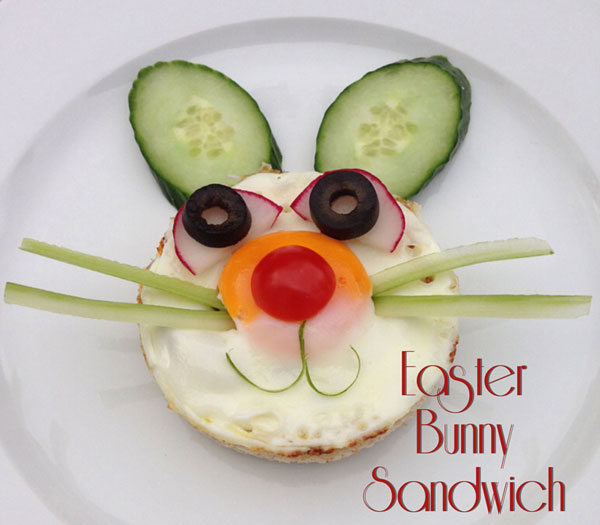 Bunny Pancakes
Using different shaped pancakes and bananas you can create a fun bunny pancake. Add teeth and eyes out of bananas and blueberries. A strawberry nose and sliced cheese for whiskers.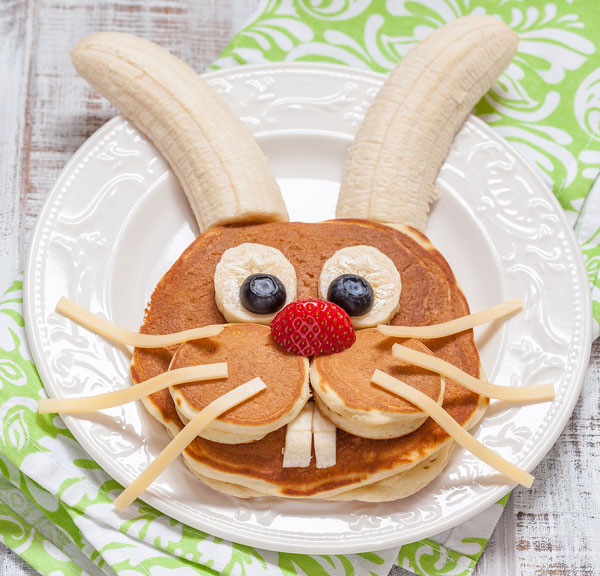 Bunny Pears
Ingredients:
One pear half
2 raisins for eyes
1 red candy
2 almonds
Cottage cheese
Directions:
To make one bunny place a pear on a plate with the narrow end at the top. Press two raisins into pear for eyes and a red candy for a nose. Press almonds for ears into top. Add cottage cheese for the tail.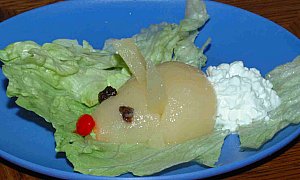 Bunny's Favorite Carrot Cake
Ingredients:
3 cups flour
2 teaspoons cinnamon
1 teaspoon baking soda
1 teaspoon ginger
1 teaspoon nutmeg
1/2 teaspoon cloves
1/2 teaspoon salt
1 1/2 cups sugar
1/2 cup brown sugar packed
½ cup vegetable oil
½ Cup applesauce
3 eggs
3/4 cup milk
2 teaspoons vanilla extract
2 1/2 cups carrots coarsely shredded
1 Cup raisins
½ Cup chopped pecans, optional
Cream cheese frosting
Directions:
In mixing bowl add all dry ingredients including flour, cinnamon, baking soda, ginger, nutmeg, cloves, salt, brown sugar and white sugar. Stir together and set aside. In smaller bowl add wet ingredients including oil, applesauce, eggs, milk, and vanilla. Blend into dry ingredients with mixer. Stir in carrots, raisins, and nuts. Pour into a greased cake pan or 13 x9 inch pan. (**or use the bunny cake idea below.) Bake at 350 degrees for 50 minutes or until toothpick inserted in middle comes out clean.
Try a fun variation with this
carrot cake smoothie recipe.
Easy Easter Bunny Cake Recipe
For this Kids Easter recipe use your favorite cake mix or the carrot cake recipe above. Bake mix in two 8 or 9 inch
round cake pans.
. Allow to cool and assemble as follows. One round cake will be the bunnies head. The other cut two oval shapes off the ends of the cake leaving a small portion in the middle that will resemble a bow tie. These two oval shapes will be the bunny ears. Place them above the other round cake pan. Decorate with white frosting, shredded white coconut, candies for eyes, nose, mouth and whiskers.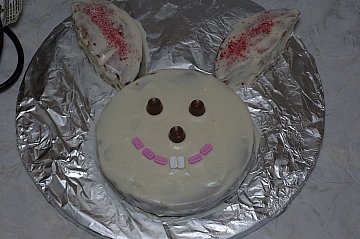 Easter Cupcake Recipe Video
Easter Easy Dinner Ideas
Baked Ham recipes
There isn't much to baking a ham, but kids can get involved by stirring a sauce to pour over the top before baking.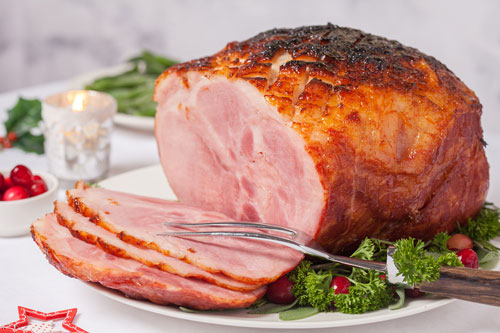 Sweet and Sour Baked Ham Sauce
Ingredients:
1 cup pineapple tidbits
2 Tablespoons brown sugar
1 Tablespoon cornstarch
dash salt
3 teaspoons vinegar
2 teaspoons mustard
3/4 Cup water
Directions:
Drain pineapple saving juice. Use pineapple for a different recipe or eat. In bowl whisk together pineapple juice, brown sugar, cornstarch, vinegar, mustard and water. Pour into skillet. Cook and stir until mixture thickens. Pour over baked ham slice.
Honey Glazed Carrots
Ingredients:
3 Tablespoons butter
1 Tablespoon brown sugar
2 Tablespoons honey
16 oz. package of baby carrots
salt and pepper to taste
chopped fresh rosemary or other herbs, if desired
Directions:
Add carrots to a casserole dish. In a microwave safe dish, melt butter. Stir in brown sugar and honey. Pour over carrots and season with salt and pepper. Toss to coat. Bake in oven at 350 degrees until carrots are tender or cook in microwave until tender. Add chopped rosemary or other herbs, if desired.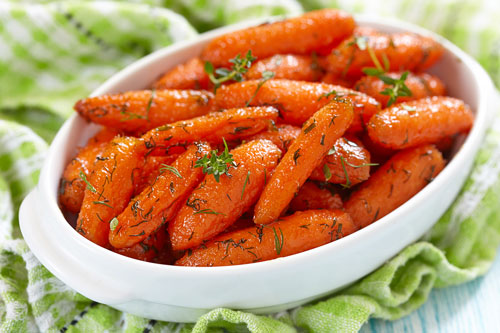 Leftover Ham Recipes
Ham and Bean Soup
Ingredients: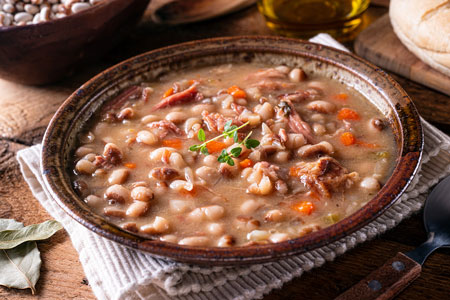 2 Cups dried beans
8 Cups water
1 onion, chopped
1 teaspoon chili powder
Ham bone
Chopped ham, as much as desired
1 garlic clove
28 oz. can tomatoes
Bay leaf
½ teaspoon salt
¼ teaspoon pepper
2 Tablespoons lemon juice
Directions:
Wash and sort beans. Cover with water and soak overnight. Drain. Cover with water again and bring to a boil. Remove from heat and cover with lid. Let stand 1 hour. Rinse. Add 8 cups water, chopped onion, chili powder, ham bone, chopped ham, garlic clove, chopped tomatoes, bay leaf, salt, pepper and lemon juice. Simmer for an additional hour to 2 hours on medium-low until beans are tender. Remove ham bone and bay leaf before serving.
Ham and Broccoli Casserole
Ingredients:
Frozen pkg. Broccoli
Fun shaped noodles or spaghetti noodles, cooked
Diced ham, as much as desired
½ Cup butter
¼ Cup flour
1-1/2 Cup milk
Bread crumbs
Parmesan cheese
Salt and pepper to taste
Directions:
Cook noodles and add broccoli within the last few minutes of cooking. Drain and add diced ham pieces to the mixture. Pour into a casserole dish. In a saucepan, mix butter and flour together. Add milk gradually and stir getting rid of any lumps. Add milk until the sauce is as thick as you want. Season with salt and pepper. Pour sauce over mixture in casserole dish. Top with bread crumbs and Parmesan cheese. Bake at 350 degrees for 20 minutes until thickens. See more
broccoli casserole recipes.
What to do with leftover Easter eggs? Use this idea for a kids Easter recipe to make sailboats.
Create your own Fun Easter Recipe Page.
Submit your favorite kids recipe
Do you have a favorite recipe your kids love to make? Or a recipe your kids ask you to make again and again? Share it with us!
Reader's Submitted Recipes
Click below to see contributions from other visitors to this page...

---
Related Seasonal Recipe Pages:
~
School Lunches
, ~
Apples
, ~
Autumn Activities
, ~
Pumpkins
, ~
Kids Halloween Recipes
, ~
Halloween Recipe Ideas
, ~
Thanksgiving
, ~
Hanukkah Recipes
, ~
Kids Christmas cooking
, ~
Christmas Candy Recipes
, ~
Reindeer
, ~
Make Homemade Chocolates
, ~
Jar Mixes
, ~
Gift Basket Ideas
, ~
Homemade Fudge Recipes
, ~
Homemade Suckers
, ~
Christmas Cookie Recipes
, ~
Gingerbread House Recipes
, ~
Food Gift Ideas
, ~
Dough Ornament Recipes
, ~
Hot Cocoa
, ~
Happy New Year
, ~
Snowman Theme Recipes
, ~
Valentine's Day
, ~
Valentine Dessert Recipes
, ~
St. Patrick's Day
, ~
April Fool's Day Recipes
, ~
Passover Recipes
, ~
Kids Easter Recipes
, ~
Sugar Eggs Recipe
, ~
Resurrection Cookies Recipe
, ~
Italian Easter Bread
, ~
Russian Easter Bread Recipe
, ~
Earth Day
, ~
Cinco de Mayo, May 5
, ~
Mother's Day Recipes
, ~
Father's Day Recipes
, ~
Summer Cooking
, ~
Kid's Campfire Cooking Recipes
, ~
Dutch Oven Cooking for Kids
, ~
4th of July Recipes
, ~
Ice Cream Recipes
, ~
Popsicle Recipes
, ~
Simple Smoothie Recipes
, ~
Picnic Ideas and Recipes
, ~
Easy Grilling Recipes
, ~
Grow your own Garden
---
Follow Kids Cooking Activities