Hot Cocoa Recipes
Create your own cup of hot cocoa and you'll be sure to have no preservatives and a fresh delicious recipe.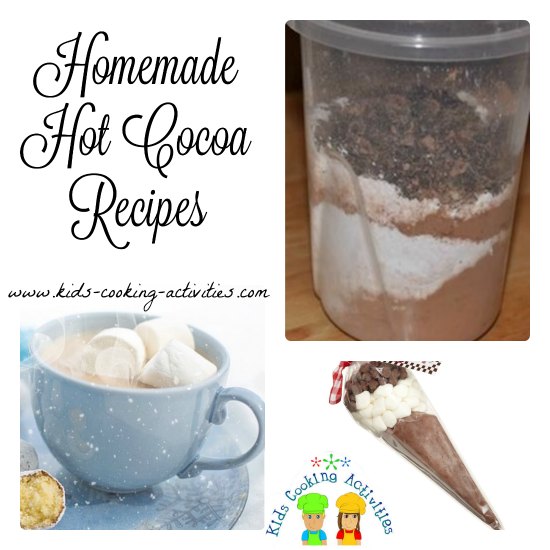 Planned Kids Cooking Curriculum
~This post may contain affiliate links and I'll earn a small commission if you shop through them. There is no extra cost to you. This is how we help support our family and continue to bring you amazing content. To learn more see the
affiliates disclosure here.
~
Hot Cocoa Mix with Real Chocolate
4 squares (1 ounce each) semisweet baking chocolate, grated
1/2 Cup baking cocoa
1/2 Cup
confectioners' sugar
Pinch of salt
Grate chocolate into bowl and add other ingredients. Stir together and store in plastic container.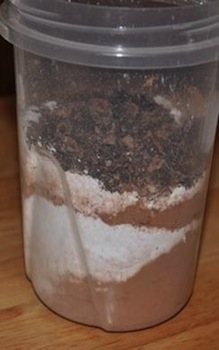 To make a cup of hot cocoa add 2 Tablespoons of cocoa mix to ¾ Cup hot milk or water.
Hot Cocoa Mix with Mini Marshmallows
1 Cup
powdered sugar
1/2 Cup unsweetened cocoa powder
1/2 Cup powdered non-dairy
coffee creamer
1/4 teaspoon salt
2 3/4 Cups nonfat milk powder
1 cup miniature marshmallows
Mix all ingredients together in a large bowl. Stir together and store in a plastic container. To make a cup of hot cocoa stir 3-4 Tablespoons of the mix into one cup hot water or milk. This makes about 4-5 cups of mix.
Fresh Cocoa
1/2 Cup sugar
1/4 Cup cocoa
Dash salt
1/3 Cup hot water
4 Cups (1 qt.) milk
3/4 teaspoon vanilla extract
In a saucepan add sugar cocoa and salt together. Stir in hot water and bring to a boil. Add milk and vanilla. Cook several minutes until cocoa is warm.
White Hot Chocolate
1 Cup milk
2 Tablespoons
white chocolate instant pudding mix
Crushed peppermint candy, optional
Warm milk in saucepan or in microwave safe dish. When hot whisk pudding mix into milk. Top with peppermint candy if desired.
---
Make teaching easier with our activities and recipes compiled in one easy to read format.
---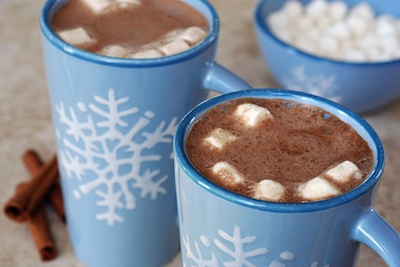 Hot Cocoa from the Inside Out
by Rikki (United States)
1 Cup of milk
4 teaspoons of cocoa mix per person
Cinnamon (optional)
Add 1 cup of milk and the cocoa mix in tea pot. Place on stove (high temperature). When it looks complete, add 1 teaspoon of cinnamon, if you desire and mix. Serve soon after.


Homemade Hot Cocoa
by Brandy (Florida)
yum! yum! homemade hot cocoa!!!
1/2 Cup of
Nesquick
2 tbs. of powdered sugar
3/4 Cup
coffee creamer
2 Cup powdered milk
1 quart of hot water
Stir and serve.
(provides about 10 servings of hot cocoa)
Printable Fun Chocolate Quiz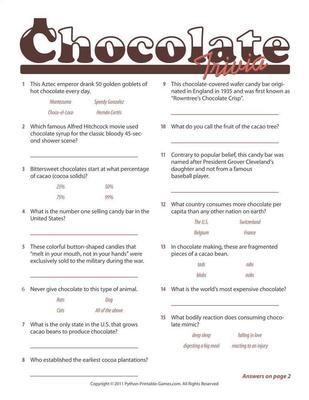 Follow Kids Cooking Activities