List of Healthy Snacks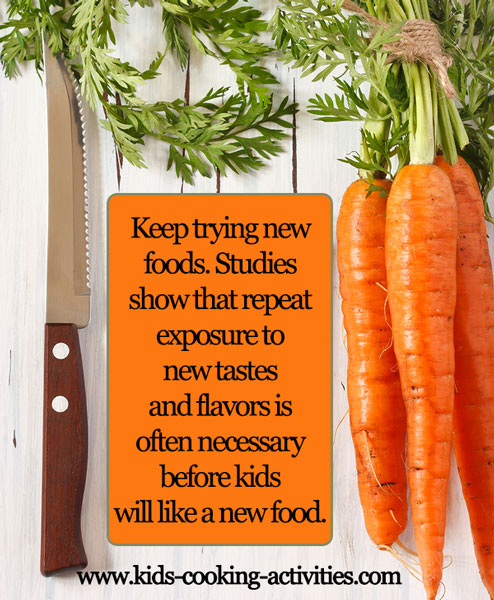 Here is a compiled list of snack ideas. To be considered healthy make sure you pay attention to portion size. Read the labels of packaged food. Don't buy items with high sugar high sodium content.
Sometimes changing the shape or look of food helps kids be more interested in eating a healthy snack. Sometimes I core an apple and cut it into rings instead of slices or instead of round carrot circles I'll cut them in sticks or leave whole and I'm amazed how much they enjoy this little change.
Check out some
fun with food ideas
to make eating more enjoyable for kids.
See these pages for more snack ideas
Healthy snack recipes for children to prepare.
Snack Recipes
Check out some
recipes for kids healthy snacks
Don't forget to print the list of snack ideas below.
Kids Cooking Activities Teaching Materials
Make teaching easier with our activities and recipes compiled in theme sets and books with an easy to read format
Perfect for teaching!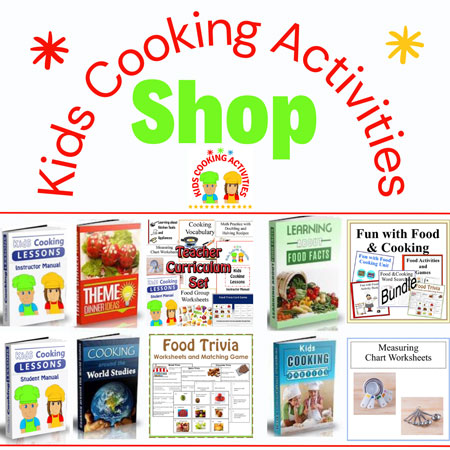 ~This post may contain affiliate links and I'll earn a small commission if you shop through them. There is no extra cost to you. This is how we help support our family and continue to bring you amazing content. To learn more see the
affiliates disclosure here.
~
50 Kids Snack Ideas
carrots, cut in different shapes- cubes, circles, sticks, etc.
cucumber coins, sticks or boats
cauliflower or broccoli florets
lettuce wrapped with cottage cheese or other favorite filling
cherry tomatoes
baby pickles
orange, peeled and sectioned
apples cut in circles, rings or slices
kiwi cut in cubes or in half
pomegranate seeds
peach slices
pear slices
berries
melon or cantaloupe balls, cubes, wedges
mandarin oranges
pineapple chunks or rings
fruit leather-made with 100% fruit
banana left in the peel and cut in sections-dip ends in lemon juice
raisins
Craisins
smoothies
applesauce
dried apricots
dried fruit mix
pumpkin seeds
cashews
peanuts
pistachios
sunflower seeds
trail mix with nuts and dried fruit
jerky
yogurt
yogurt drink
juice popsicles
slushies
granola bars
cheese cubes
cheese sticks
pretzels
whole grain crackers
homemade quick breads-pumpkin, banana, apple, carrot or pineapple
hard boiled eggs
whole grain toast
cottage cheese
whole grain cereal
popcorn
multi grain or/and baked tortilla chips
tuna fish
homemade pudding
Popcorn with or without a sprinkle of popcorn cheese
Homemade granola
Would you like a
printable list of these healthy snack ideas?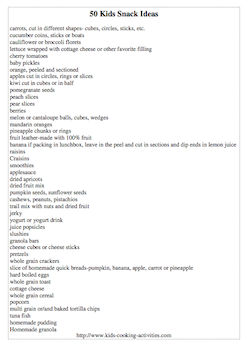 Do you Have an Easy Snack for Kids Idea?
Submit your favorite kids recipe
Do you have a favorite recipe your kids love to make? Or a recipe your kids ask you to make again and again? Share it with us!
Follow Kids Cooking Activities