Kids Healthy Snacks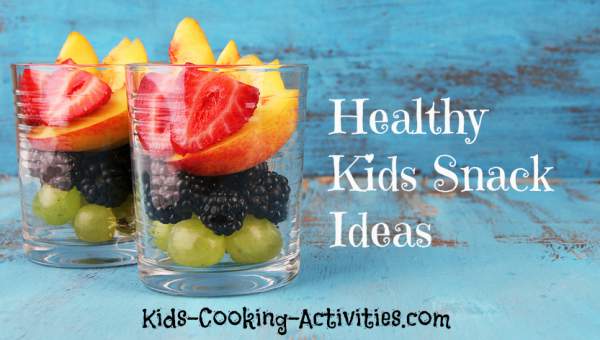 Kids snacks don't have to be boring. Providing a variety of options kids can choose from is a great start. Regardless of how old your kids are, they are going to eat and need 2-3 snacks a day so make them healthy choices.
Keeping a snack list on the fridge or having a special spot in the kitchen for kids healthy snacks is another step to healthier eating. By doing this it will be easier for kids to grab something when they want or need it. Purge your kitchen of the unhealthy snacks such as chips, cookies or soda so these poor choices won't even be a temptation.
Planned Kids Cooking Curriculum
~This post may contain affiliate links and I'll earn a small commission if you shop through them. There is no extra cost to you. This is how we help support our family and continue to bring you amazing content. To learn more see the
affiliates disclosure here.
~
Kids Healthy Snacks and Ideas
The best snacking tips for kids are those that include recipes for healthy snacks but also suggest ways in which to encourage kids to eat these healthy snacks. It doesn't take a rocket scientist to know which snack a kid will grab after school if he opens the cupboard and finds an apple and a bag of sour cream and onion flavored potato chips. However, kids can be easily fooled when they are craving a snack and recipes are plentiful which artfully hide healthy things in foods that don't appear healthy on the outside.
Some kids healthy snacks and ideas include:
Baking muffins, cookies and cakes using applesauce in place of fat-laden ingredients (butter, oil)
Use oats, nuts, whole wheat flour and dried fruit in bread desserts (they'll never know)
Substitute low fat frozen yogurt or skim-milk pudding for ice cream bars
Cut angel food cake into cubes to be dipped into fruity yogurt
Make your own trail mix snack using 1/4 cup of whole-grain cereal; 1/4 cup of raisin; two tablespoons of sunflower seeds and two tablespoon of chopped almonds
Use milk to make instant oatmeal, stir in one teaspoon cocoa powder, top with strawberries or raspberries
Mini-pizzas made from one tube of refrigerator biscuits, canned pizza sauce and shredded cheese
Peanut butter and jelly mini-sandwiches on multigrain waffles, cut into fours
Inventing successful snacking for kids can involve a little psychology as well. For smaller children who tend to be pickier about their snacks, offer them another utensil to use instead of the standard spoon or fork. Let them use toothpicks, tweezers, pretzel sticks or chopsticks to pick up food like cheese cubes, small deviled eggs or fruit wedges. Make a game out of who can get the food into their mouth without dropping it first.
Check out our
list of kids healthy snacks here,
print it off (we've included a printable list) and keep it in your kitchen for a quick grocery list or ideas for school lunches or on the go kids healthy snacks.
Kids Healthy Snacks Recipes
Granola Bars
3 cups oats (not quick cooking)
1 -1/2 cups mixed or whatever nuts you like(cashews, peanuts, almonds, pecans)
1 cup raisins
1/2 cup coconut
1 cup craisins or other dried fruits
1/2 cup sunflower or pumpkin seeds
1 cup honey
Mix ingredients together and stir until honey coats everything. Pour into a flat cookie sheet and bake at 250 degrees stirring every 15 minutes. Continue baking for 1 hour or until golden brown.
To make into granola bars add:
3 cups granola mix
3 eggs
1 cup shredded carrots
Beat eggs and carrots together. Add in granola. Place in greased 8x8 pan and bake at 350 degrees for 15 minutes or until golden brown. Cool and cut into bars.
More granola bar recipes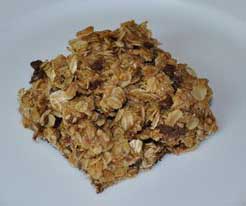 Carrot Pineapple Muffins
3 eggs
1 cup vegetable oil
1 1/2 cups sugar
2 cups white flour
1 cup wheat flour
1 teaspoon baking soda
1 teaspoon salt
1 teaspoon ginger ground
1/2 teaspoon baking powder
2 cups carrots shredded
8-ounce can crushed pineapple, drained
1 cup pecans chopped
In mixing bowl add eggs, oil and sugar. Blend. Stir in flours, baking soda, salt, ginger and baking powder. Blend together. Stir in shredded carrots, pineapple and pecans. Place muffin cups in muffin tin. Bake at 350 degrees 10-15 minutes until toothpick inserted into muffins comes out clean. You can freeze these and have some on hand for school lunches as well.
Grape Ball Bites
Homemade Apple Leather
Learn how to make
homemade apple fruit leather.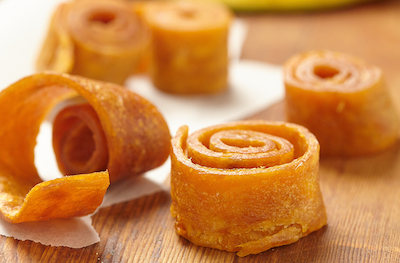 Crock Pot Applesauce
6 apples, peeled and cut in chunks
1/3 cup water
1/2 cup sugar
3/4 teaspoon cinnamon
1/4 teaspoon nutmeg, optional
Place in crock pot and cook on low for 8 hours. Allow to cool and serve for snacks. Freeze in small containers and take out for school lunches and snacks.
Tropical Smoothie Surprise
1/2 cup orange juice
1/2 cup pineapple, crushed with juice
1/4 cup coconut or cream of coconut
1 small container orange, pineapple, coconut or other yogurt
1/2 cup milk
Blend together in blender. Serve with an umbrella toothpick for fun. If your kids have a thermos trying putting this in a cold thermos for their morning snack.
---
Make teaching easier with our activities and recipes compiled in one easy to read format.
---
Yogurt Fruit Dip
3 Tablespoons Vanilla yogurt
2 teaspoons honey
1/4 teaspoon cinnamon
Mix ingredients together and place in a small plastic container. Dip graham crackers or sliced apples.
Lunchbox Fruit Dip
8 oz. pkg cream cheese
3 tablespoons sugar
1 cup sour cream
1 teaspoon vanilla
Sliced fruit
Mix cream cheese, sugar, sour cream and vanilla together. Store in the fridge overnight. The next day place in a thermos or small plastic container. (make sure you use a ice pack in the lunch box.) Include fresh sliced fruit for dipping.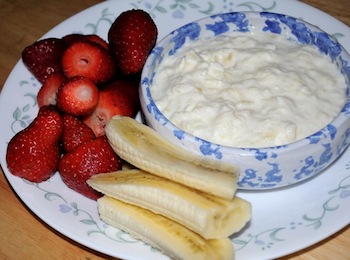 Angel Food Cake
Angel food cake is a healthy snack that satisfies that sweet craving but contains very little fat. Cupcakes covered in strawberries or blueberries offer a snack rich in protein and vitamin C.
1 cup cake flour
1- 1/2 cups white sugar
12 egg whites
1- 1/2 teaspoons vanilla extract
1- 1/2 teaspoons cream of tartar
1/2 teaspoon salt
Sift the flour and 3/4 cup of sugar in one bowl and whip egg whites, cream of tartar, vanilla and salt in a separate bowl until peaks form. Slowly add the rest of the sugar to this mixture while still whipping, then combine the egg white mixture with the dry ingredients. Don't over mix or the cake may not be as fluffy as it should be. Bake 45 minutes at 375 degrees in a clean tube pan.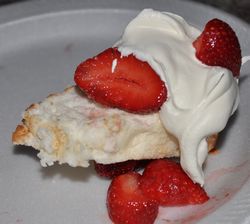 Cinnamon Sugar Pretzels
3/4 cup raisins
3-3/4 cup all purpose flour
1/4 cup brown sugar
1-1/2 tablespoons baking powder
1/2 teaspoon of baking soda
1/2 teaspoon of salt
2 cups plain yogurt
1 egg
1/4 cup granulated sugar
1 teaspoon of cinnamon
2 tablespoons of butter
Place raisins into a bowl and pour boiling water over them. Cover and let them soak while you prepare the pretzels. Whisk yogurt and egg together, then add dry ingredients to this mixture and stir until thoroughly blended. Drain raisins and then add to dough, which should be soft. Knead dough several times before cutting into even ropes. Twist into pretzel shapes and brush pretzels with the sugar, cinnamon and butter mixture. Bake until tops are light brown.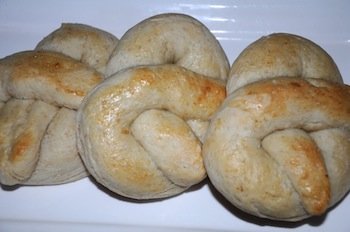 Frozen Banana Nut Pops
3 bananas, cut in half
1/4 cup peanut butter
1/4 cup chopped nuts
6 popsicle sticks
Take one half of a banana and insert a popsicle stick. Spread banana with peanut butter. Place nuts on a sheet of waxed paper and roll banana until covered with nuts. Freeze several hours.
Frozen Yogurt Cups
Frozen Yogurt Fruit Cups

Frozen Yogurt Bites
1 Cup yogurt, whatever flavor you choose
1 Cup frozen berries or any type of frozen fruit
Line a small cookie sheet or casserole dish with wax paper. Blend yogurt and berries in a blender until smooth. Pour mixture onto your waxed paper. Place in freezer until frozen. Take out of freezer and using cookie cutters cut out shapes. Store in the freezer in a sealed container.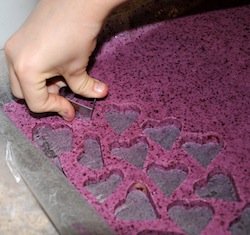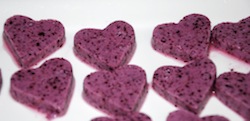 You may need to stop halfway and place back in the freezer if mixture starts to get too soft.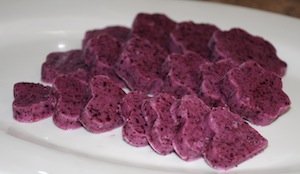 Healthy Snacks For Busy Nights
What are some easy kids healthy snacks we can make and bring with us to ballet or sports practice? I see a lot of moms and kids head for the vending machines and I'd like to avoid doing that!
Some great ideas your kids can put together is a cream cheese or peanut butter wrap. It is simple for them to spread cream cheese or peanut butter on a tortilla and roll it up. They can cover it with plastic wrap for a later snack or eat it on their way out.
Another idea could be a nuts and cereal mix. You can make this over the weekend (and snack on it throughout the week) or just before leaving the house for practice.
Have different nuts available such as peanuts, sunflower seeds, cashews or almonds are all good choices. Mix them up with dry cereal, not the sugary kind, such as Cheerios, Corn flakes or Kix. Add in some dry fruit for a sweet flavor.
One more idea is to buy yogurt drinks that will be something they can take with them and doesn't require any preparation time. Just double check your yogurt drink isn't high in sugar.
More Snack Recipes
See more
snack recipes with 6 or fewer ingredients.
Need preschool snacks?
Snacks For Kids Video
Share your Kids Healthy Snacks or Healthy Meal Recipes
Submit your favorite kids recipe
Do you have a favorite recipe your kids love to make? Or a recipe your kids ask you to make again and again? Share it with us!
Reader's Submitted Recipes
Click below to see contributions from other visitors to this page...

Homemade Energy Bars
1 1/2 cup oats ½ cup peanut butter 1/3 cup honey 1/2 cup chopped dates (or shredded coconut) ½ cup sunflower seeds (or ground flax seed) ½ cup …
Follow Kids Cooking Activities