Meat Pie Boat
by stella
(srilanka)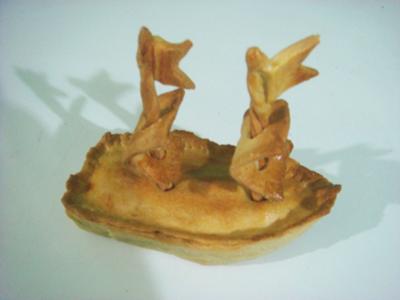 homemade gift is very special.It is tasty and nutritious gift for a kids.

* FOR THE DOUGH:
* 100 grams Flour, All Purpose
* ¼ teaspoons Salt To Taste
* 50 grams Butter, Chilled
* ½ whole Egg Yolk, Beaten
* 50 milliliters Water Cooled
* _____
* FOR THE FILLING:
* ½ Tablespoons Olive Oil -Filling
* ½ teaspoons Garlic Chopped
* 1 Tablespoon Red Onion, Chopped
* 50 grams Smoked Salmon, Crumbled
* 25 grams Mashed Potatoes
* ¼ teaspoons Black Pepper
* ½ teaspoons Salt To Taste
* ½ whole Whole Egg, Beaten

Preparation Instructions
Sift the flour. Place the flour and salt in a large bowl. Mix. Rub the butter into the flour with your fingertips until the mixture resembles breadcrumbs.

Next add approximately 1/2 of the egg yolk and the water. Mix well your hands. Try to work quickly.

Wrap the dough in plastic wrap and chill for 10 -15 minutes.

Now take the chilled dough and roll out into a 12 inch square that is about 1/8 inch thick, using a rolling pin.

Put the greased mold onto a 12inch square pastry sheet. (I made the boat mold out of thick paper.

I covered the paper with aluminum foil. Before using a boat mold brush it with butter or coking spray.) Break off pieces of dough and press them into the mold – make sure the dough goes up the sides as well.Then trim off the excess pastry. Prick the base with a fork to prevent air bubbles.
In a pan heat 1/2 table spoon olive oil over medium high heat, add garlic and mix until slightly softened.

Next add onion, salmon, and prepared (or leftover) mashed potatoes. Mix until onion is softened and everything is heated through. Add pepper and salt. Mix well.

Place your prepared filling in the pastry 'boat'. Brush the edges of the pastry with some egg wash then place additional pastry over the top and press down to seal. Now make two holes on the top. Brush the egg on top of the pastry.

Bake about 20 minutes at 200 c degrees or until the crust is golden brown.

Remove from oven and let cool.
After that decorate with flags and masts. I've done in the photo above.

The flags and masts were made out of pastry dough. You can do this with the extra scraps of dough if you want.
Serve and enjoy.
Kids Cooking Activities Teaching Materials
Make teaching easier with our activities and recipes compiled in theme sets and books with an easy to read format
Perfect for teaching!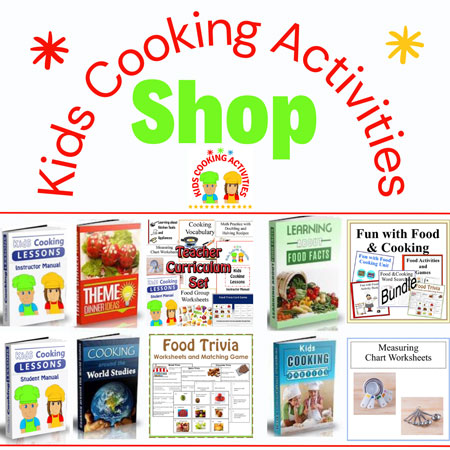 ~This post may contain affiliate links and I'll earn a small commission if you shop through them. There is no extra cost to you. This is how we help support our family and continue to bring you amazing content. To learn more see the
affiliates disclosure here.
~
Follow Kids Cooking Activities