Transportation Theme Party
For a transportation theme dinner put together a race track with cars in the middle of your table for your party centerpiece.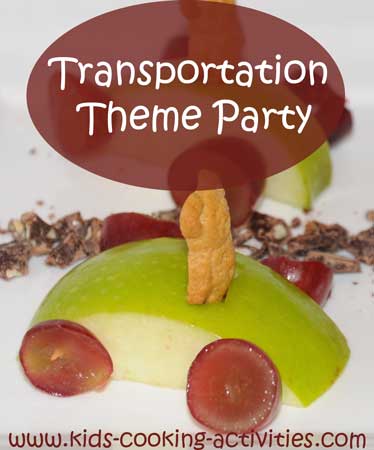 Kids Cooking Activities Teaching Materials
Make teaching easier with our activities and recipes compiled in theme sets and books with an easy to read format
Perfect for teaching!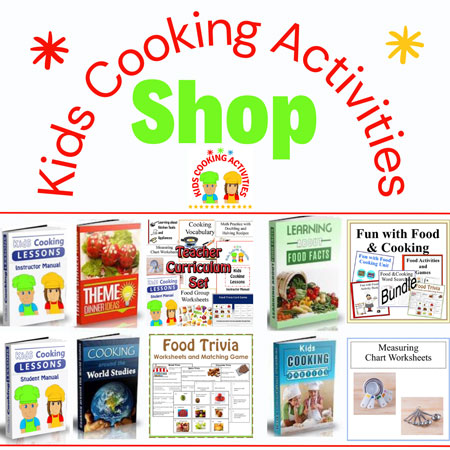 ~This post may contain affiliate links and I'll earn a small commission if you shop through them. There is no extra cost to you. This is how we help support our family and continue to bring you amazing content. To learn more see the
affiliates disclosure here.
~
Transportation Dinner Menu
A great appetizer to start your Transportation kids dinner party, make sailboat eggs out of
deviled eggs
and a red pepper sail.
Fruit Boats
Create a fruit boat with banana and kiwi slices for the boat and pineapple rings cut in half for the sail. Hold together with large plastic toothpicks.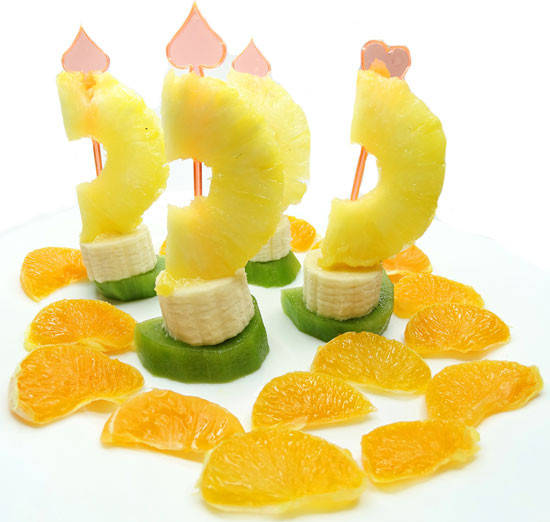 Car Sandwich
Hoagie rolls
Sandwich fillings
Cucumber cut in circles
Pretzel sticks
Prepare hoagie sandwiches with desired meat and cheese fillings. Place two cucumber circles on the end of a pretzel stick. Make another for the back wheels of the car. Place hoagie "car" on top of its wheels and watch it get eaten up.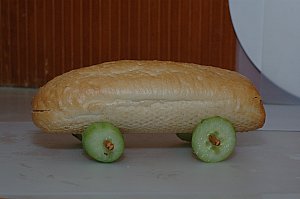 Cucumber Boats
Cut a large cucumber in half and scoop out insides. Fill with tuna salad, chicken salad, whatever you'd like. We filled ours with a Greek salad and added flags for fun. Perhaps we should have added a
Greek flag
but didn't have one!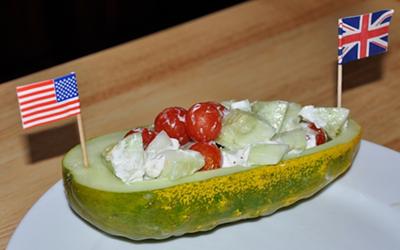 Apple Cars
Use apple slices and grapes cut in half to create cars. You'll need to use toothpicks inserted into the apple slice to keep your wheels in place. Add little drivers, if desired.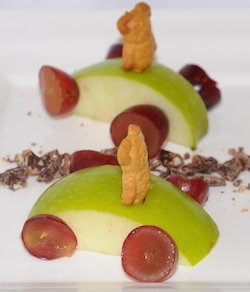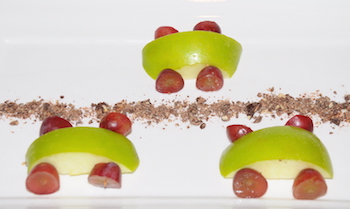 Transportation Party Dessert
Edible Stoplight
Graham cracker or other rectangle crackers
White frosting or cream cheese if using a salty cracker
M&M's or other candies red, yellow and green colors
Break a graham cracker into rectangles. Spread frosting over each graham cracker rectangle. Place a red, yellow and green candy on top of the frosting to resemble a stop light.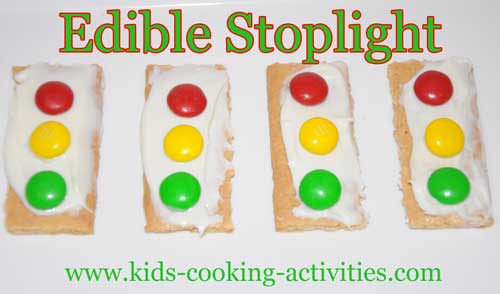 Candy Race Cars
Mini size candy bars
Teddy Grahams
M&M's or other round candies
Chocolate frosting
Cut a small hole out of the top of the candy bar for the driver. Add a dot of frosting and add a teddy graham. Add a dot of frosting in spots for the candy wheels and steering wheel. Add M&M's on top of the frosting.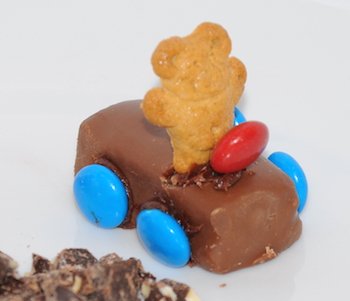 Dump Truck Cake
Clean dump truck toy
Chocolate cake or brownies cut in squares
Crushed chocolate and vanilla cookies
Add crushed cookies to clean dump truck. ( cookies will look like dirt and sand) Add the chocolate cake squares to the cookie crumbs. Sprinkle more cookie crumbs over the cake.
Photo courtesy of Janet
How to Make a Sail Boat Cake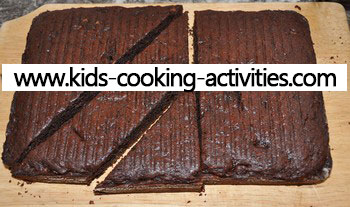 A simple method for making a sailboat begins with a 13 x 9. Follow the recipe and after it is baked:
Allow it to cool
Cut into a square, leaving a rectangle on the end
On the square, make a diagonally cut to form two triangles
Cut one triangle in half for the sail and the bottom of your boat.

The other rectangle will be used to make small boats.
Rearrange your pieces to have a bottom and the sails as shown below. Set aside your extra rectangle and frost and decorate the arranged pieces.
To make the small boats, divide the rectangle in three smaller rectangles. Frost and add paper sails, or additional details to personalize the sailboat for the guest of honor or to match the event's theme.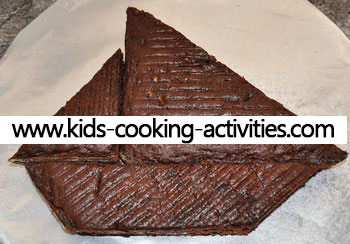 Frost and decorate how you would like. To make the small boats. Cut your rectangle in three smaller rectangles. Frost and add paper sails or whatever details you'd like.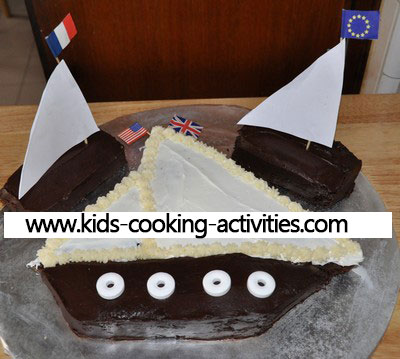 ---
Get all of our Theme Dinner Ideas in
one ebook
, free of ads and easier to use at parties and cooking activities with kids.
30 theme dinner ideas with recipe menu plans, decorating ideas and printable invitations all included in this 83 paged electronic book.
Theme Dinner Ideas
---
Make your own Theme Dinner Party page.
Have you put together your own Theme Dinner Party? Do you have a theme menu or theme dinner idea to share? Tell us about it and we will create your own theme dinner party page.
Reader's Submitted Recipes and Ideas
Click below to see contributions from other visitors to this page...

Meat Pie Boat

homemade gift is very special.It is tasty and nutritious gift for a kids. * FOR THE DOUGH: * 100 grams Flour, All Purpose * ¼ teaspoons …
Car Cake Ideas Not rated yet
Make a 3D cake shaped like a car by using these decorating instructions. Bake a 13x9 pan. Allow to cool overnight. On a sheet of paper cut out a car shape, …
Racetrack Cake Not rated yet
Prepare two round cakes. If you are feeding a lot you can do two layered cakes as I did in the picture. If so fill your cakes. Otherwise 2 round cakes …
---
Related Theme Dinner Ideas:
~Theme Dinner Ideas, ~ A-Z, ~ Animals, ~ Backwards, ~ Dinosaur, ~ Disney, ~ Farms, ~Fiesta, ~ Flowers,~Fondue, ~Frogs, ~ Hawaiian Luau, ~Homes, ~Insects,~Italian, ~Mother Nature, ~Movie Theme, ~Mystery Party, ~ Owls, ~Paris, ~ Penguins, ~~Princess and Prince Dinner, ~ Princess Tea Party, ~Rainbow, ~Reindeer, ~Sleepover Party, ~Snakes, ~Snowman, ~ Space, ~Sports, ~Sunflowers, ~Teddy Bear Tea Party, ~Transportation, ~Under the Sea, ~Western Cowboy
---
Follow Kids Cooking Activities