Microwavable Chocolate Cake
by Cassandra Aprille
(Las Vegas)
INGREDIENTS
2 tbsp of Bisquick Baking Mix
1/2 tbsp of Cocoa Powder
1 tbsp of Sugar
1 pinch of Salt
2 tbsp of Oil
1-2 tbsp of Milk or Water
1 microwave save mug
optional:
sifter
ice cream of your choice
whipped cream
chocolate chips
powdered sugar
extra cocoa powder
chocolate syrup
Procedures:

1. Mix the Bisquick Baking Mix, cocoa powder, sugar, and salt in a bowl.
*optional* sift the dry ingredients to make sure that there are no lumps.

2. After mixing the dry ingredients together, make a hole in the powder mixture.

3. Put your oil in your mug and coat it to prevent sticking.

4. After coating your mug with oil, put the oil in the hole you made for the wet ingredients.

5. Place the rest of the wet ingredients to the hole.

6. Mix thoroughly.
*tips* make sure that your batter is a little bit liquidy/ drizzly consistency
too much liquid will make the chocolate flavor fade

7. After mixing all the ingredients together, pour the batter in you mug. It should be only half-way because the cake will rise in the process.

8. Place your mug in the microwave for 1 min. and 40-50 seconds.
*tips* place a plate underneath the mug in case of spillage

9. Let it cool for a few seconds.

10. Enjoy

optional:
* you can top it with ice cream and chocolate syrup, whipped cream, powdered sugar of a little bit of cocoa powder.
* mix in 1/2 tbsp of chocolate chips into the batter for an extra chocolatey taste.
Join in and write your own page! It's easy to do. How? Simply click here to return to Submit your kids recipe.
Kids Cooking Activities Teaching Materials
Make teaching easier with our activities and recipes compiled in theme sets and books with an easy to read format
Perfect for teaching!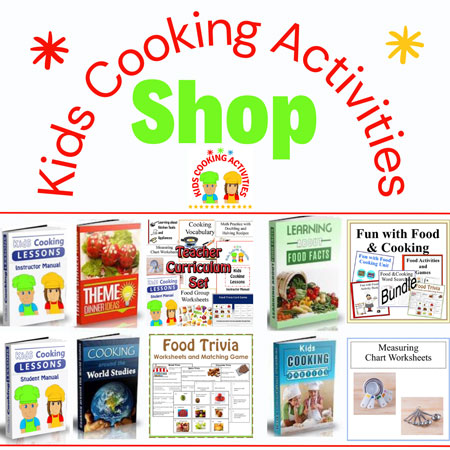 ~This post may contain affiliate links and I'll earn a small commission if you shop through them. There is no extra cost to you. This is how we help support our family and continue to bring you amazing content. To learn more see the
affiliates disclosure here.
~
Follow Kids Cooking Activities