Puffy Pancake Recipe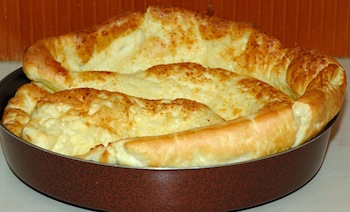 Does breakfast get a little monotonous at your house? It sure does at my house. This recipe is good for a weekend meal as it bakes for about 20-25 minutes. I usually double the recipe to feed my family and use a large round cake pan.

It is fun to watch the pancake get large and puffy. As it cools off it will deflate. One time I had the pancake come out looking like an octopus. Super fun right, I used a flower cake pan maybe that was the secret?!

Oven Puffy Pancake
In 13x9 dish melt 4 Tablespoons butter by placing in a preheating oven.
In a bowl, beat together 4 eggs, 1 Cup flour, 1 Cup milk and ¼ teaspoon salt.
Pour mixture into baking dish over the melted butter.
Bake in the oven at 400 degrees for 25 minutes until puffy and golden brown.
Sprinkle with powdered sugar and top with sliced or cut up fruit.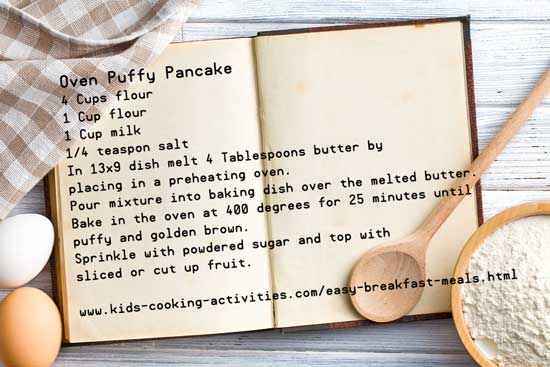 Join in and write your own page! It's easy to do. How? Simply click here to return to Submit your kids recipe.
Kids Cooking Activities Teaching Materials
Make teaching easier with our activities and recipes compiled in theme sets and books with an easy to read format
Perfect for teaching!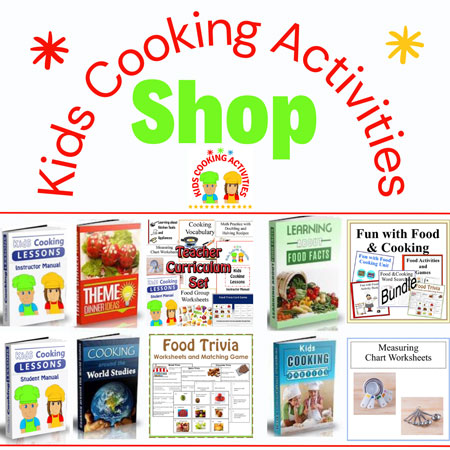 ~This post may contain affiliate links and I'll earn a small commission if you shop through them. There is no extra cost to you. This is how we help support our family and continue to bring you amazing content. To learn more see the
affiliates disclosure here.
~
Follow Kids Cooking Activities