Easy Breakfast Meals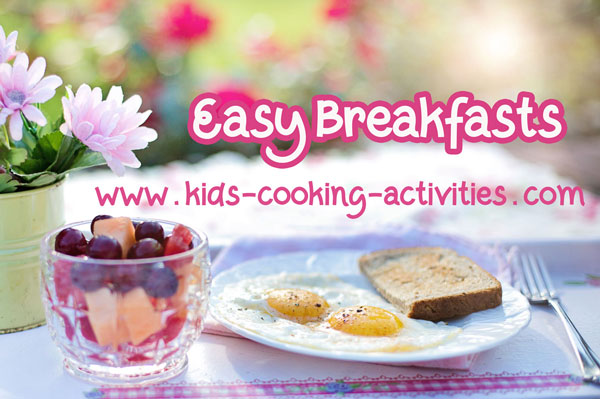 Quick and easy breakfast meals are something you need, if your morning is a crazy time and you want to feed your family the most important meal of the day.
Kids Cooking Activities Teaching Materials
Make teaching easier with our activities and recipes compiled in theme sets and books with an easy to read format
Perfect for teaching!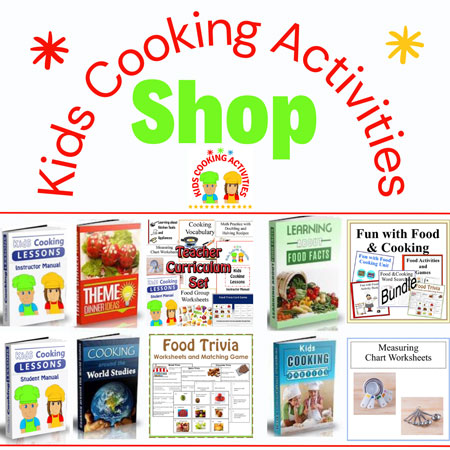 ~This post may contain affiliate links and I'll earn a small commission if you shop through them. There is no extra cost to you. This is how we help support our family and continue to bring you amazing content. To learn more see the
affiliates disclosure here.
~
Breakfast Ideas
Morning at our house always involves me trying to wake up and get everyone ready for the day. I'm not a morning person so a lot of times we would end up having cereal or instant oatmeal. I jotted these ideas and easy breakfast meals and recipes down for my own quick reference to make breakfast easier.
Ideas for Easy Breakfast Meals
This school year I've tried to have a more healthy breakfast and I've implemented the following tips. It really has helped our breakfast time go smoother.
Think and plan what's for breakfast before you go to bed at night.


Even something simple like putting out the pan you are going to use and laying out a recipe, will help ease your morning.


Even if you are doing something quick, like cereal, set out bowls and cereal boxes on the table before you go to bed.


Think of 5 quick or simple breakfast meals that you can rotate through the week. Keep the longer, or recipes with more prep work, for the weekend. Write these 5 meals out on an index card and rotate as you go through them each day. (our 5 are included below.)


Over the weekend or during a non busy day make a large batch of muffins and freeze. Pull out and warm up at breakfast time. Serve with a fruit smoothie.


Try some freezer breakfast meals. Eggs freeze well so you can make mini egg sandwiches with mini bagels, cooked eggs and a slice of ham. Wrap up and take out of the freezer in the morning and heat.


Scrambled eggs always work well in the morning and you can add vegetables easily.


Serve smoothies with your breakfast. It is a good way to start your day with fruit. Or create a smoothie bowl.
Easy Breakfast Meals and Recipes
Whole Wheat Waffles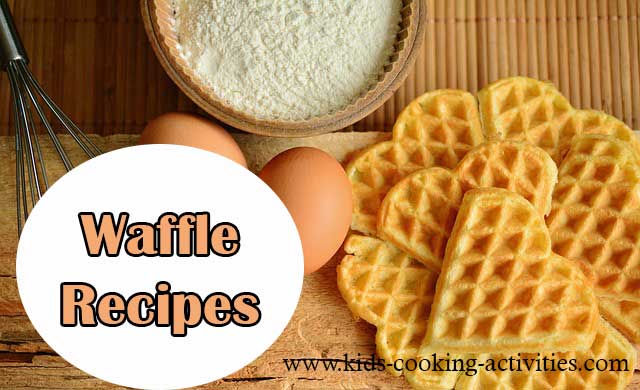 Ingredients:
2 eggs
2 cups whole wheat flour
1 3/4 cups milk
1/2 cup oil or applesauce
4 teaspoons baking powder
pinch of salt
Directions:
Heat waffle iron. Add all ingredients in mixing bowl. When waffle iron is heated add a scoop of batter into waffle iron and cook until brown. Serve with peanut butter, maple syrup or fresh fruit.
Here are more
waffle recipes such as Buttermilk, blueberry, gingerbread and more.
Crepes
Learn how to make Crepes!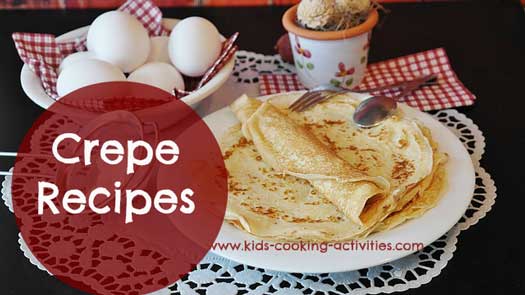 How to Make French Toast
loaf sliced bread
3 eggs
1/2 cup milk
sprinkle cinnamon
Blend eggs, milk and cinnamon in flat dish. Heat griddle. Soak both sides bread in egg mixture and fry on griddle.
See a baked French Toast Recipes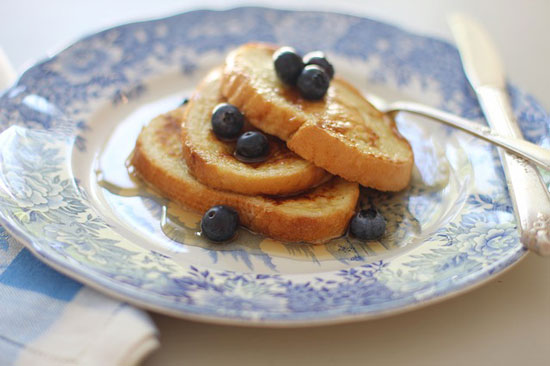 Microwave Eggs
In a small glass or microwave safe bowl, crack open 1 or 2 eggs inside. Cook in the microwave 1 minute. Sprinkle with cheese and chopped ham or vegetables. Continue to cook until egg is set about 30 seconds or less. Serve with toast and fruit.
Eggs for Breakfast
Visit the
Omelet Recipes Page
to learn how to make omelets or try an
egg casserole recipe
for easy breakfast meals.
Breakfast Sandwich Video
Homemade Oatmeal
Try these
easy homemade oatmeal recipes.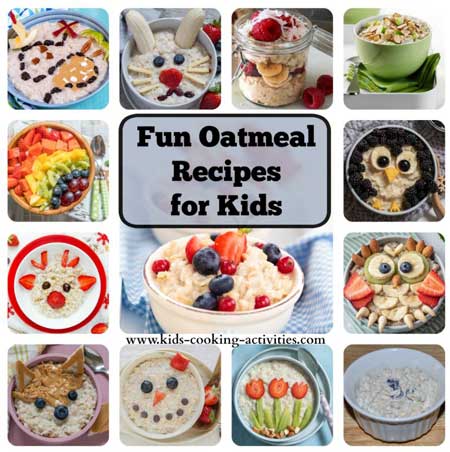 It is easy to make something like oatmeal fun!
Quiche Cups
This are great to make ahead and freeze. Pull out of the freezer in the morning and heat in the microwave 30 seconds -1 minute.
In a mixing bowl, blend eggs (depending on how many you are making ahead of time) Add in any of the following ingredients you like.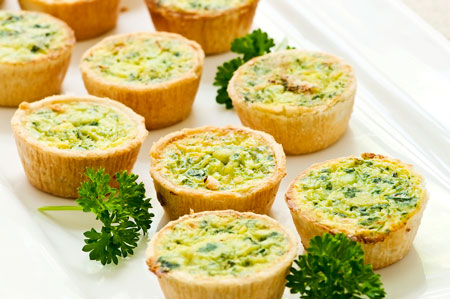 Shredded cheese
Chopped onion
Chopped, cooked spinach
Mushrooms
Diced ham
Crumbled sausage
Bacon, chopped
Chopped green peppers

Blend together and pour into a muffin pan lined with muffin cups. Bake at 350 degrees for 20 minutes. Cool and place in baggies. Freeze for breakfast or snacks. More
Cooking in a Cup Ideas.
Homemade Granola
Make a
batch of granola
for an easy breakfast morning. Or turn that homemade granola into
homemade granola bars.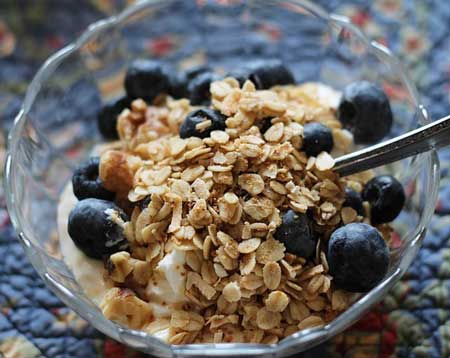 Pancake Recipes and Spreads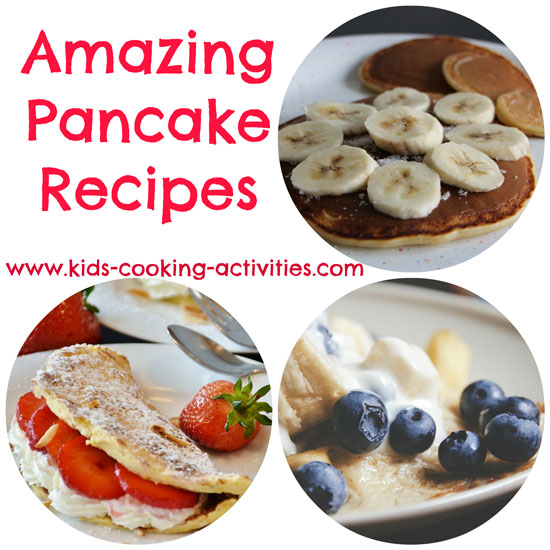 See our pancakes recipes and pancake spreads and syrups
here.
More Easy Breakfast Meals and Ideas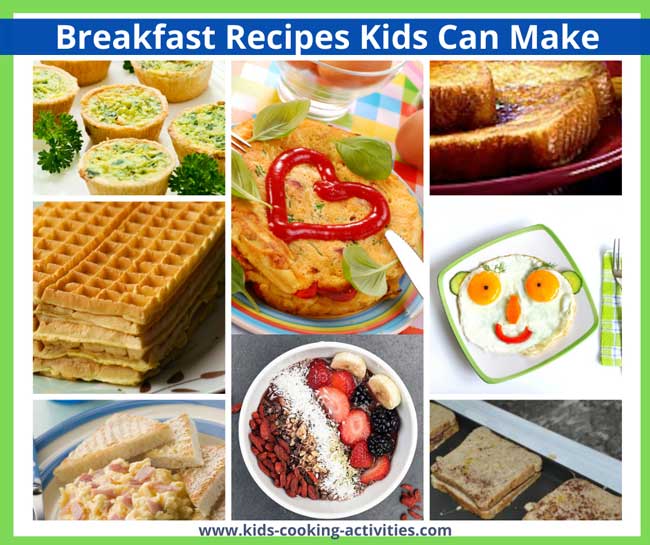 Breakfast Casserole. On a weekend create a egg casserole and use the leftovers for breakfast on the weekdays.


Parfait -Yogurt topped with granola, fresh fruit or dried fruit. See more parfait ideas.


Simple Smoothie with toast.


Pancake Wrap- Cooked sausage, ham or bacon wrapped in a pancake. Make these the night before and just reheat in the microwave.


Egg sandwich with tomato, bacon, ham or cheese.


Try some Toast Variations. Instead of butter and jelly, how about trying pizza toast, fruit pizza toast or spread apple butter, honey or cream cheese on your toast.


Homemade trail mix can be mixed ahead of time and stored in individual containers or in a jar in the pantry. Be sure to include a mix of healthy nuts (for protein) and dried fruit.


Pre-packaged nut packets are also a quick solution when you are short on time on week day mornings


Frozen grapes or cherries. Not everyone is a big eater in the mornings but some frozen fruit to nibble on during the ride is a great way to wake up their tummy.


Apple Cheese Tortilla. A tortilla can be filled with shredded cheese, thinly sliced apples and microwaved for a few seconds until the cheese melts. It's tasty, nutritious and fast.


Bake banana bread or zucchini bread on Sunday to make your Monday mornings go a little smoother and tastier. Try some baking recipes here.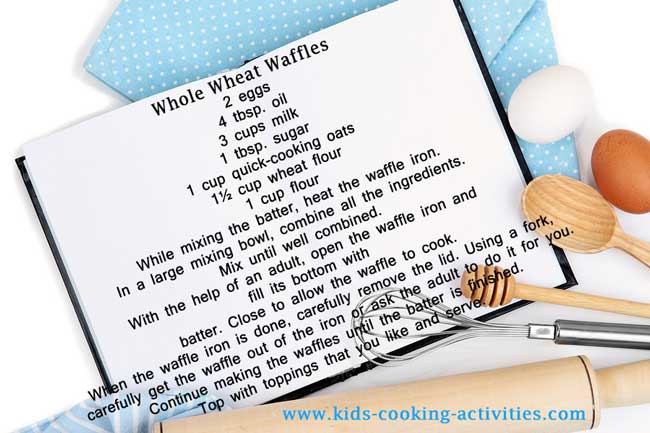 Burritos
Try breakfast burritos

Breakfast Kabobs
Ingredients
Assorted fruit slices
mini waffles or mini pancakes
powdered sugar, if desired
Directions
Add waffles or pancakes on a skewer alternate skewer with cut fruit. Before serving sprinkle with powdered sugar if desired.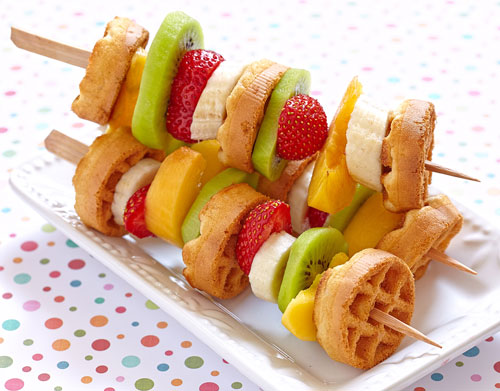 Overnight Baked Peach French Toast
Easy breakfast meals that you can prepare the night before:
6 eggs
1 1/2 Cups milk
1 teaspoon vanilla
1 teaspoon cinnamon
1 can peaches, drained
1 loaf french bread or thick slices of bread
In a mixing bowl blend together eggs, milk, vanilla and cinnamon. Spray a casserole dish with cooking spray and place slices of bread in a single layer of casserole dish.
Place peaches on top of bread. Pour egg mixture over the top. Wrap in tin foil and store in the fridge until ready to bake. Bake at 400 degrees for 30-35 minutes or until golden brown.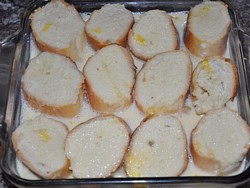 If you'd like a sweet topping to this baked french toast recipe, try adding this topping right before baking,
1/2 cup butter, chilled
1/2 cup brown sugar
1/2 cup chopped pecans
1 teaspoon cinnamon
Mix together until crumbly. Sprinkle on top of french toast, then bake.
Try an Apple French Toast Recipe
Check Out More Breakfast Recipes
Quiche
Pancakes
Omelets
Waffles
Smoothies
Breakfast Meals
Crepes
Oatmeal
Granola
Breakfast Burritos
25+ breakfast ideas
Share your Easy Breakfast Meals and Recipes
Submit your favorite kids recipe
Do you have a favorite recipe your kids love to make? Or a recipe your kids ask you to make again and again? Share it with us!
Reader's Submitted Recipes
Click below to see contributions from other visitors to this page...

---
Related Easy Kids Meals and Ideas:
~
Easy Kids Meals
, ~
Easy Meal Ideas
, ~
Breakfast
, ~
Breakfast 6 or fewer,
~
Side Dishes
, ~
Snacks
, ~
Main Dishes
, ~
Desserts
, ~
No Bake Recipes
, ~
Kids Lunches
, ~
Portion Sizes
, ~
Microwave Meals
, ~
Hidden Vegetable Recipes
, ~
Healthy Kids Meals
, ~
Picky Eater Tips
, ~
Family Dinner
, ~
How to menu plan
, ~
Diabetic
, ~
Toddler Ideas
, ~
Low Calorie
, ~
Gluten Free
, ~
Vegetarian
, ~
Low Carb
---
Follow Kids Cooking Activities