Salad in a Jar Kids Style
I have discovered a great way to eat a salad everyday! Perhaps you've heard of it before but haven't tried it. This works great for the whole family and you can stock up for the week ahead! It can be a big endeavor to stock the fridge but you'll so appreciate having something healthy to grab out of the fridge through the week.
Kids Cooking Activities Teaching Materials
Make teaching easier with our activities and recipes compiled in theme sets and books with an easy to read format
Perfect for teaching!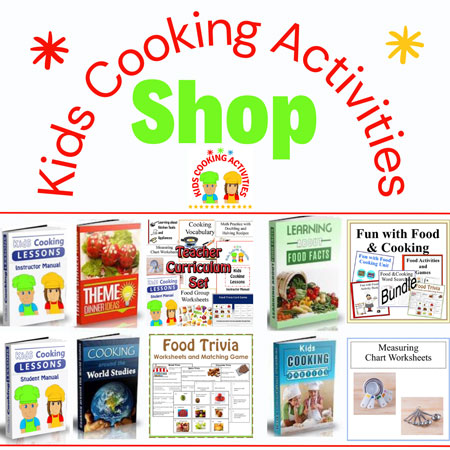 ~This post may contain affiliate links and I'll earn a small commission if you shop through them. There is no extra cost to you. This is how we help support our family and continue to bring you amazing content. To learn more see the
affiliates disclosure here.
~
How to Make Salads in a Jar with your Kids
First, I bought a
case of pint jars
which work well for me and my kids, my husband prefers a little larger salad so you could also do a quart jar. I like to eat right out of the jar so buy wide mouth jars if this is your plan as well. Others in the family like to store the salad in the jar and eat it in a bowl. Either way you prefer works well.
First, get all your salad ingredients you and your family like. Go ahead and make a list of items to have on hand for salad making days.
Salad Ingredient Ideas
Here are some things we like to have on our salad and we try to keep stocked in the house. On salad making days is when we will chop everything and add to th
e jars. Remember smaller chopped vegetables work better in the jar.
30+ pick and choose salad ingredient ideas:
Romaine lettuce
baby spinach
kale mix
broccoli slaw
chopped or shredded carrots
chopped cucumbers
cherry or grape tomatoes, cut in slices or tomato chopped
chopped green onions
green or black olives
artichoke hearts
hearts of palm cut in slices (just discovered these!)
chopped ham or turkey
shredded or cubed cheese
feta cheese
bell peppers, chopped
garbanzo or other beans you like, drained and washed
corn
broccoli, chopped
cauliflower, chopped
grilled chicken chopped
tuna or salmon
raisins or Craisins
fresh mushrooms
chopped celery
snow peas
boiled eggs, sliced
Other topping ideas:
(you may want to store separately so they don't get mushy through the week)
roasted chickpeas
sesame sticks
chopped nuts
bacon bits
sunflower seeds
pumpkin seeds
Layer your ingredients in the jar. The kids can make their own as well. They will love being able to create their salad in their own favorite way.
Add lids to the jars and store in the fridge.
Easy, peasy
Salad in a Jar Tips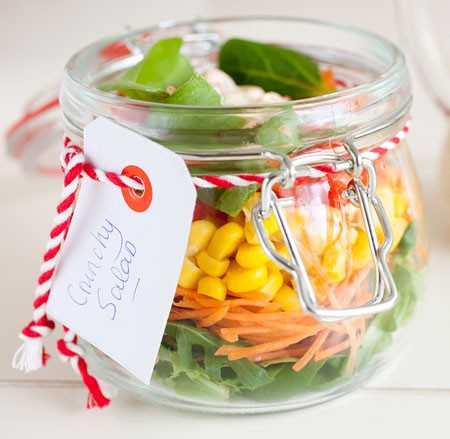 Start by putting the chunkier vegetables on the bottom. I have found lettuce or spinach works better after a few days if you put it towards the top of the jar and not the bottom. (If you plan on making salads just for that day or next day it will probably be fine)
I like to add my salad dressings right before eating. We have small containers that we store salad dressings. Make sure it has a secure lid if the kids are taking it to school!
We like to include a wide variety of ingredients and tell the kids there needs to be 5 different food items included. (otherwise some would have a jar of chopped cucumbers and nothing else!)

Colorful Jar Turkey Salad
We all know how kids can be picky when eating, especially when you serve them veggies. Very often we end up by begging them to eat their veggies. Would you believe that there is a more simple way to talk the kids into eating vegetables?
Instead of serving them already prepared salad, invite your kids into the kitchen and prepare one together. During this process, kids will have a chance to choose favorite ingredients and create their own dressing. You can explain the benefits of each vegetable or fruit you are choosing for the salad. This way the kids will learn the benefits of consuming fresh vegetables and fruits and adopt healthy habits.
Preparation time: 10 minutes
Servings: 2
Ingredients:
1 cup turkey deli ham (kids can cut with scissors)
½ apple, diced and tossed with some lemon juice – to prevent browning
2 tablespoons celery, diced
¼ cup cucumber, seeded
diced ¼ cup tomatoes, chopped
½ cup cooked chickpeas
2 tablespoons dried cherries
2 tablespoons chives, chopped
2 tablespoons water
Juice of ½ lemon
½ cup fresh peas
2 mint leaves, chopped
Salt and pepper
Directions:
Place the peas, water, mint, lemon juice, salt and pepper in food blender; process until smooth and divide evenly between two standard Mason jars. Top the peas dressing with shredded turkey, chickpeas, cucumber, celery, dry cherries, apples, tomatoes, and chives, dividing all between the jars. Shake well or stir before serving.
>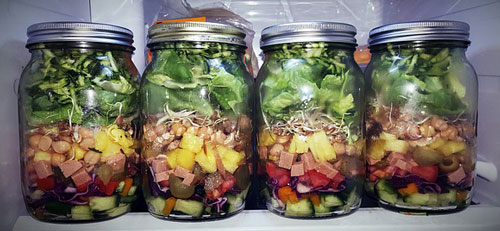 Follow Kids Cooking Activities