Best Salad Recipes
These best salad recipes are our favorite salads. Whether it is a cobb, pasta, vegetable or fruit salad we've included a variety of dishes to add to your meals and in some cases be a main dish salad.
You can share your great recipes too!
Kids Cooking Activities Teaching Materials
Make teaching easier with our activities and recipes compiled in theme sets and books with an easy to read format
Perfect for teaching!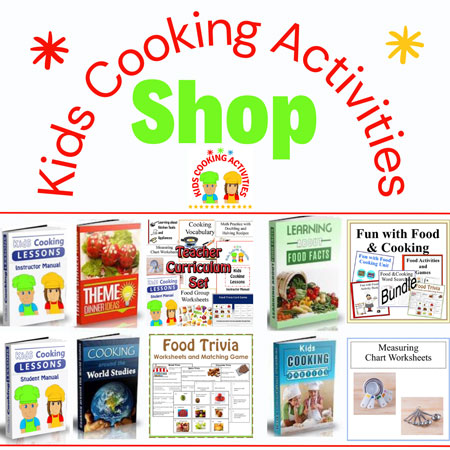 ~This post may contain affiliate links and I'll earn a small commission if you shop through them. There is no extra cost to you. This is how we help support our family and continue to bring you amazing content. To learn more see the
affiliates disclosure here.
~
Some of our Best Recipes
Doritos taco salad
Best tuna salad
Best egg salad
Pasta Salad
Steak salad
Potato salad
Chicken salad
BLT pasta salad
Carrot raisin salad
Chef/Cobb
Chinese salad recipes
Taco salad
Fruit salad recipes
including spinach strawberry recipe, classic Waldorf and ambrosia.
Tabbouleh
Salad in a Jar
Italian Panzella Salad
Steak Salad
Best salad recipes included on this page:
Greek Salad
Caesar
Ham Orzo salad
Caprese
Green Bean Salad
Broccoli Salad
Three Bean
Making Homemade Croutons
Homemade Dressing Recipes:
Ranch Dressing
Homemade Vinaigrette
Hummus
Caesar Dressing
Best Greek Salad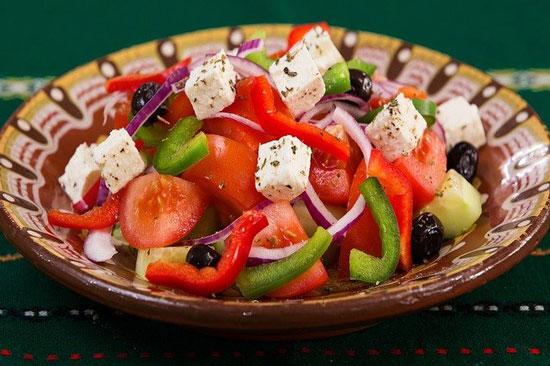 Ingredients:
3 tomatoes, diced
2 cucumbers, peeled and diced
1 red or yellow pepper, diced
1 small red onion, diced
1 cup crumbled feta cheese
black Greek olives, pitted and sliced
1/4 cup olive oil
4 teaspoons lemon juice
1 1/2 teaspoons dried oregano
salt and pepper to taste
Directions:
Add tomatoes, cucumbers, pepper, and onion in a serving bowl. Gently add in feta cheese and olives. In a small bowl or cup blend together olive oil, lemon juice, oregano, and season with salt and pepper. Drizzle over salad and serve.
Ham and Orzo Salad Recipe
½ Cup orzo, tiny tube macaroni, couscous or tiny star pasta
1 Cup frozen mixed peas and carrots or broccoli mix
8 oz. ham, cubed
Dressing
½ C plain yogurt
2 T creamy cucumber dressing
¼ tsp. Dill weed
Boil water and cook pasta add peas and carrots last few minutes. Drain and rinse with cold water when tender. Stir together pasta peas and carrots and ham. In small bowl mix dressing. Pour over salad mix and chill 4 hours.
Chickpea Salad
Green Bean Salad recipe
fresh whole green beans
blue cheese or feta cheese
canned corn, drained
chopped cherry tomatoes
sliced olives
chopped nuts such as almonds or pecans
cooked and chopped bacon
sliced red onions, optional.
Add all ingredients together and place in serving bowl. If desired serve with Italian or vinaigrette dressing.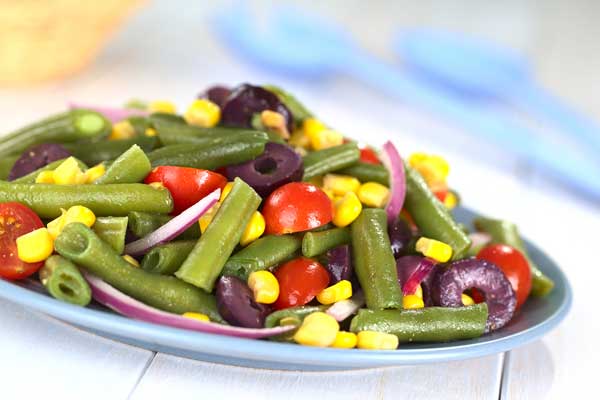 Three Bean Salad
1 can green beans or green peas
1 can wax beans, drained
1 can dark red kidney beans, drained
Dressing:
1/4 cup vegetable oil
1/4 cup cider vinegar
1/2 cup sugar
pinch of salt and pepper
In serving bowl, blend three beans together. In measuring cup, stir together vegetable oil, cider vinegar, sugar and season with salt and pepper. Pour over bean salad and chill several hours.
Classic Caesar Salad
Homemade Caesar Dressing Ingredients:
½ c. mayonnaise
½ c. Greek yogurt
½ T. fresh lemon juice
1-2 large cloves garlic, minced
1 t. Dijon mustard
1 t. Worcestershire sauce
1 t. anchovy paste
Sea salt and black pepper, to taste
¼ c. Parmesan cheese, freshly grated
¼ c. light olive oil
Salad Ingredients:
1 large head Romain lettuce, cleaned, chopped
½ c. shaved Parmesan cheese
Directions:
Prepare the dressing by combining the mayonnaise, Greek yogurt, lemon juice, garlic, Dijon mustard, Worcestershire sauce, and anchovy paste in a medium-sized bowl. Season with salt and black pepper, to taste, and whisk to combine.
Add grated Parmesan cheese and stir to combine. Slowly drizzle the olive oil into the dressing and whisk until thoroughly incorporated into the mixture. Taste and season with additional salt and black pepper, if desired. Cover and set aside.
When ready to serve, assemble the salad by adding the chopped Romaine lettuce to a large mixing bowl. Add the croutons and shaved Parmesan and drizzle with 1/3 cup of dressing. Gently toss to combine. Serve immediately!
Broccoli Salad
large bunch broccoli
3 stalks celery, chopped
bacon fried crisp and diced
1 Cup sunflower seeds or almonds
Swiss cheese or cheddar cheese, grated
1 red onion, sliced in rings
1 Cup raisins, optional
Dressing:
1 Cup mayonnaise
2 Tablespoons vinegar
¼ Cup sugar
In a serving bowl, add washed and chopped broccoli. Add in celery, bacon, seeds, onion, swiss cheese and raisins. Toss salad ingredients together. In a measuring cup stir together mayonnaise, vinegar and sugar. Drizzle over salad and serve.
Salad in A Jar
See how to make salads in a jar here.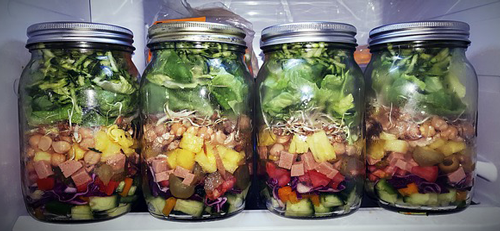 Readers Best Salad Recipes
Mini Chopped Salad
by Janet (Ortonville,Mi)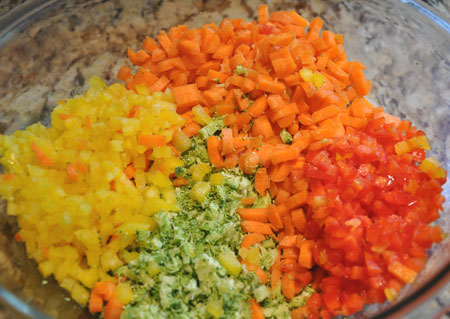 I love salad and my kids do too. However it was hard getting them to eat all the veggies I put in the salad. I decided I would try to chop everything to see if they would eat it. I chopped the lettuce(romaine and leaf lettuce) in very small pieces.

I added chopped cucumbers, onion, carrots and peppers(reds and yellows). I then added chopped chicken. I pick up a magic chicken(the ones already cooked at the store, we call it magic because it is done and ready just like magic).

We eat half of it for one meal then I chop the rest for the salad. It also is a great way to use the dark meat which my kids hate but can't tell the difference in the salad. After I mix the meat, veggies and lettuce I mix in the salad dressing which ever we are in the mood for that night. Then I dish it up in a bowl for everyone.

I just made it all easy to eat in on a fork in one bite. It is delicious and everyone loves it. Not one thing is picked out and set to the side. They eat it all. We love it and have it about once a week. Makes for a quick easy meal.

Quick Caprese on the Go
by Cameron (USA)
half a roma tomato chopped
1-2 tbsp finely shredded basil leaves
half cup cottage cheese or slice of mozzarella
1-2 tbsp pesto or olive oil
salt and pepper
Mix the tomato, basil, and cottage cheese together in a leak-proof to-go container, drizzle with olive oil and sprinkle with salt and pepper to taste. I like this snack because I do karate, and it is light, refreshing, and healthy to eat. I take it with me when I am training at the dojo.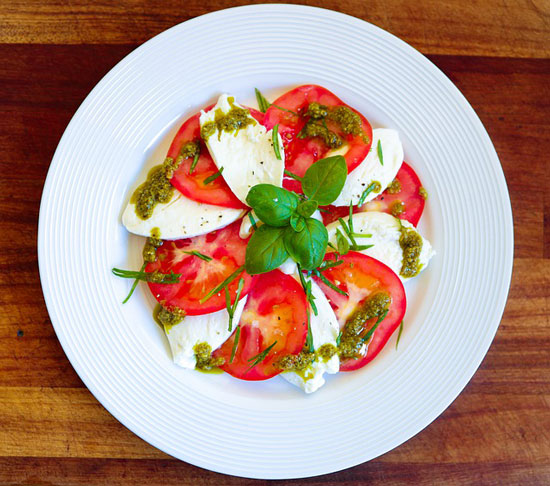 Avocado Delight
by Annalena Marie (Winston-Salem, NC, USA)
3 avocados, chopped
1 bag of salad mix
2 tomatoes, chopped
Chopped almonds
Corn chips, broken into pieces
1. Mix all the food together well with your hands.
(Make sure they're clean.)
2. Pour into a medium size bowl
3. Mix again
4. Gently put the salad on plates
5. Make sure it looks like a fancy restaurant would
6. Enjoy!

Grilled Chicken Salad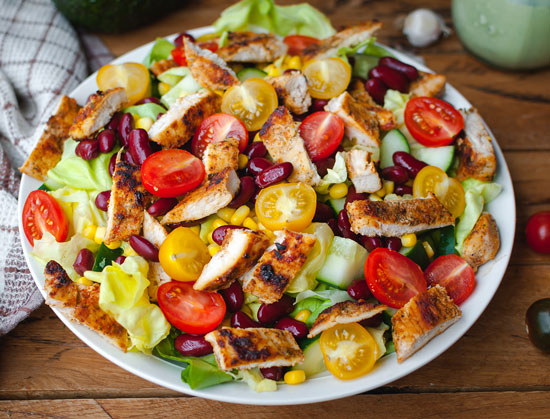 Ingredients:
1 lb. boneless chicken cut in strips
1/3 cup olive oil
2 limes juiced
1/4 cup white wine vinegar
1 teaspoon yellow mustard
1 clove garlic, minced
1/2 teaspoon seasoning salt
1/4 teaspoon pepper
In a ziploc bag add oil, limes, vinegar, mustard, garlic, salt and pepper. Add in chicken and seal shut. Marinate in fridge several hours. Grill.
To make into a salad add:
grilled chicken, cut in pieces
black beans
corn
shredded lettuce
shredded cheese
Ranch Pasta Salad
Ranch Pasta Salad Recipe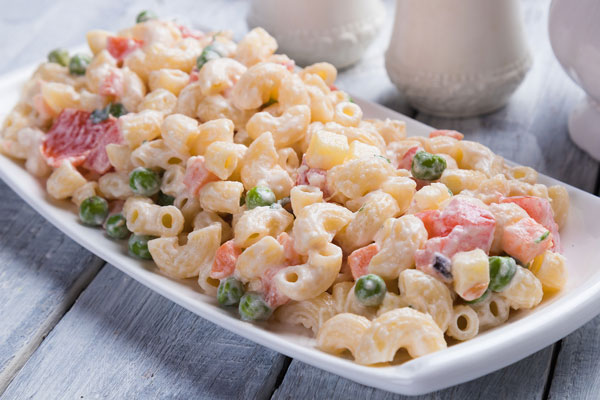 Salad in a Jar Recipes Video
Using Leftovers to Make Salads
Here are a few salad ideas made with leftovers you can try the next time you've got food in the fridge that no one wants to finish off.
Leftover roast beef can be sliced and added to a salad for a hearty lunch.


What about pork? Add it to a salad with some sesame seeds and coleslaw for an Asian side dish.


Left over hamburger can be added to a bit of lettuce to make a taco salad. Add tomatoes, cheese, black olives and onion with a little dab of sour cream. Toss in some tortilla chips or use the ingredients to fill a taco salad bowl and you have the perfect taco salad to delight the whole family.


What about chicken or turkey leftovers? Remove the meat from the bones. Add some mayonnaise, celery, hard boiled eggs and pickles for a chicken salad.


Cooked vegetables can be tossed together with cooked pasta to create a pasta salad. Drizzle with salad dressing if you choose.


Leftover fruit can also be made into a yummy fruit salad. Add a few marshmallows, some nuts and a dab of whipped topping and you have the makings of a perfect dessert.
Parmesan Croutons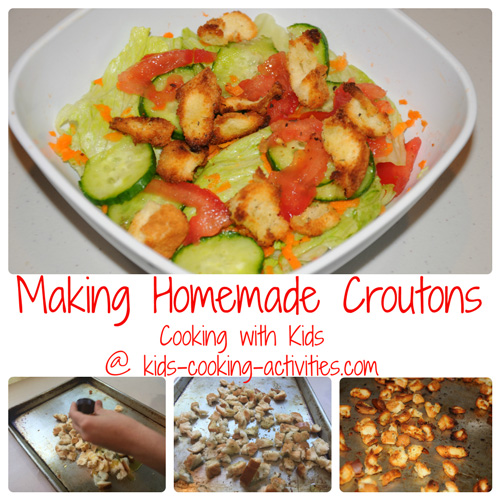 These go great on top of any of your best salad recipes.
1 loaf day old French bread
1 cup cooking oil
1 tsp garlic salt
2 TBSP grated Parmesan cheese (the dried version in canister)
Preheat oven to 350 degrees.
Cut French bread up into cubes. spread out on baking sheet and drizzle oil over, coating evenly.
Bake in preheated oven for 5 to 8 minutes or until golden brown.
Dump immediately into large paper bag and sprinkle in the garlic salt and Parmesan cheese.
Shake the bag vigorously until croutons are coated well.
Dump out onto rack and let cool.
Store in tightly sealed container in a cool, dry place, and use as needed sprinkled over salads and casseroles.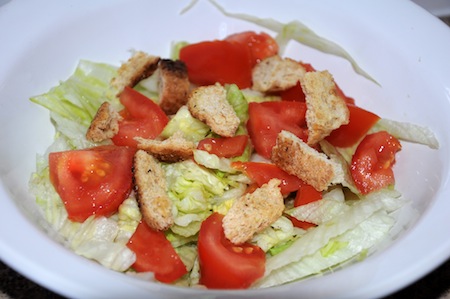 Do you have recipes to share?
Submit your favorite kids recipe
Do you have a favorite recipe your kids love to make? Or a recipe your kids ask you to make again and again? Share it with us!
Reader's Submitted Recipes
Click below to see contributions from other visitors to this page...

Steak Salad
Dressing Ingredients: ¼ c. balsamic vinegar ½ c. extra virgin olive oil 1 T. fresh lemon juice 1 t. Dijon mustard 2 t. Italian seasoning Sea …
Basic Vinaigrette
Here is a basic Vinaigrette recipe 3/4 Cup olive oil 1/4 Cup balsamic vinegar 2 Tablespoons Dijon mustard 2 teaspoons honey 1-2 cloves finely minced …
Romaine Lettuce Hearts Salad
Directions: 2 hearts of Romaine lettuce 1 Tablespoon pecans, toasted 1 small red pepper 1/4 Cup Italian cheese, shredded 1 Cup Balsamic Vinaigrette …
Follow Kids Cooking Activities