Shrimp Broccoli Penne Pasta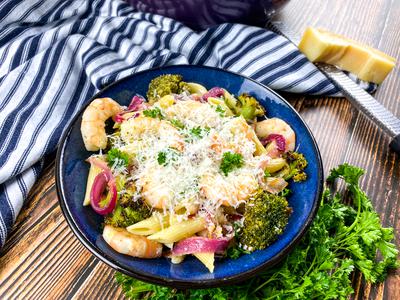 Prep time: 15 minutes Cook time: 25 minutes Serves: 4-6
Ingredients:
3 T. extra virgin olive oil
¼ c. fresh lemon juice, divided
2 T. honey
1 t. garlic powder
¼ t. crushed red pepper flakes
Sea salt and black pepper, to taste
1 12-oz. bag frozen broccoli florets
½ medium red onion, sliced
1 16-oz. box penne pasta
1 lbs. shrimp, peeled and deveined, tail removed
2 t. fresh lemon zest, preferably organic
½ c. Parmesan cheese, freshly grated, divided
2 T. fresh parsley leaves, roughly chopped

Directions:
1. Place top oven rack in center position and pre-heat oven to 400°F. Line a large, rimmed baking sheet with parchment paper or a Silpat® baking mat. Set aside.

2. Whisk together olive oil, two tablespoons lemon juice, honey, garlic powder, and crushed red pepper flakes in a medium bowl. Season with salt and black pepper, to taste, and stir to combine. Set aside.

3. Combine broccoli and red onion in a large bowl and pour two-thirds of the lemony olive oil mixture on top. Toss until vegetables are evenly coated before spreading into a single layer onto the prepared baking sheet. Do not overcrowd.

4. Place baking sheet in pre-heated oven and roast for 20 minutes, or until vegetables are crisp tender and starting to brown on the edges.

5. While the vegetables are roasting, prepare the pasta according to package directions in generously salted water. When pasta is finished cooking, reserve one-half cup of the cooking liquid and set aside. Drain and rinse the pasta, then return to the pot. Cover to keep warm and set aside.

6. Just before the vegetables are removed from the oven, toss the shrimp with the remaining olive oil mixture in the same mixing bowl used earlier. Season with additional salt and black pepper, if desired, and set aside.

7. After 20 minutes, remove the baking sheet from the oven and turn the vegetables with a spatula. Add the seasoned shrimp to the baking sheet and carefully spread the shrimp and vegetables into a single layer without overcrowding.

8. Return to oven and roast for another 3-4 minutes, or until the shrimp is cooked through and opaque. Do not overcook.

9. Remove from oven and pour the roasted shrimp and vegetables into the pot with the cooked pasta. Add the remaining lemon juice, lemon zest, half the Parmesan cheese, fresh parsley, and the reserved cooking liquid. Season with additional salt and black pepper, if desired, and toss to combine.

10. Serve immediately topped with the remaining Parmesan cheese.

Make teaching easier with our activities and recipes compiled in theme sets and books with an easy to read format
~This post may contain affiliate links and I'll earn a small commission if you shop through them. There is no extra cost to you. This is how we help support our family and continue to bring you amazing content. To learn more see the