Spaghetti Squash
by CL Hendricks
(Texas)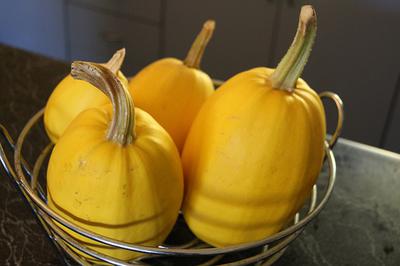 Instructions regarding how to cook spaghetti squash are straightforward. Simply cut a spaghetti squash in half (lengthwise), remove pulp and seeds, place the halves rind side up on a cookie sheet, and bake for 35 minutes at 375 degrees Fahrenheit.

When done, turn the squash over and use a fork to gently separate the strands of "spaghetti", working deeper, until you are actually scraping the inside of the rind. Always use the "stem to stern" direction when separating strands to avoid breaking them into shorter strands.

Boil Spaghetti Squash

You can also boil spaghetti squash to get the same results. Boil squash for about 20 minutes.

Microwave Cooking Spaghetti Squash

Prepare the squash as if you were going to cook it in your over, but using a glass baking or casserole dish, placing the halved squash cut-side down. Microwave for 8-10 minutes.

BBQ Spaghetti Squash

One of my favorite ways to cook spaghetti squash fresh from the garden is to brush the halves with seasoned olive oil or marinade and place face down on the grill. The smoky flavor means that no further seasoning is required, except an good appetite.

Since spaghetti squash is pretty bland, you can perk it up with any variety of toppings, spices and sauces. Here are some of my favorites:

-Pour melted butter over the separated strands, then add salt and pepper to taste.
-Top with garlic powder and grated Parmesan cheese.
-Mix with your favorite spaghetti sauce and meatballs
-Drizzle olive oil on the squash and top with Parmesan cheese
-Serve with Alfredo sauce

How to Cook Spaghetti Squash for Dessert

What? Dessert? You bet! It's good. You bake or cook it as indicated above…not using any salt, pepper or garlic. Once you removed the spaghetti strands from the squash, place in a microwave bowl, top with butter and brown sugar, and microwave on high for one minute. Top with a scoop of vanilla ice cream.
Kids Cooking Activities Teaching Materials
Make teaching easier with our activities and recipes compiled in theme sets and books with an easy to read format
Perfect for teaching!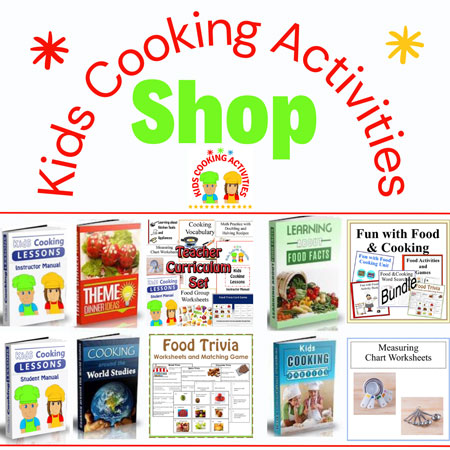 ~This post may contain affiliate links and I'll earn a small commission if you shop through them. There is no extra cost to you. This is how we help support our family and continue to bring you amazing content. To learn more see the
affiliates disclosure here.
~
Follow Kids Cooking Activities