Winter Squash Facts
Winter Squash facts and general information about winter squash.
Kids Cooking Activities Teaching Materials
Make teaching easier with our activities and recipes compiled in theme sets and books with an easy to read format
Perfect for teaching!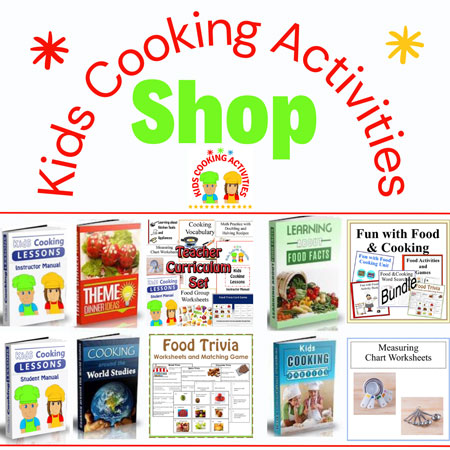 ~This post may contain affiliate links and I'll earn a small commission if you shop through them. There is no extra cost to you. This is how we help support our family and continue to bring you amazing content. To learn more see the
affiliates disclosure here.
~
Winter Squash is Available:
Winter squash are available fall through winter season.
How Does Winter Squash Grow:
From a seed planted in late spring.
What to Look for When Buying:
Choose a squash that is heavy with a thick hard shell. No spots, mold, bruises or cuts should be seen.
Storage Tips:
Store in a cool dark dry place. If cut in half store in fridge covered with plastic wrap.
How to Cook:
Cut in half and roast in oven at 350 degrees for 30 minutes-1 hour depending on size of squash. You will know it is done when a knife can be inserted in the flesh easily. Allow to cool then mash, add to stews, soups or add in baking (such as quick breads and pies)
Nutrition Facts:
1 serving equals about 1 cup cubed. Squash with darker orange flesh are more nutritious. Winter squash is high in Vitamin A, Vitamin C and dietary fiber and potassium.
Winter Squash Facts- Recipes:
Spaghetti Squash
Ingredients:
2 medium spaghetti squash
3 T. extra virgin olive oil
½ t. garlic powder
Sea salt & black pepper, to taste
¼ c. unsalted butter, melted
¼ c. Parmesan cheese, freshly grated
2 T. fresh parsley, chopped
Directions:
Place top oven rack in the center position and pre-heat oven to 400°F. Line a large, rimmed baking sheet with aluminum foil or a Silpat™ baking sheet. Set aside.
Trim the top and bottom off each spaghetti squash to create a flat surface. Sit the squash upright and slice down the middle with a sharp knife. Scoop out the pulp and seeds with a spoon without piercing all the way through the squash. Reserve seeds and set aside to toast later, if desired.
Brush the edges and inside of each squash half with olive oil. Sprinkle each half with the garlic powder and season with salt and black pepper, to taste.
Place the squash cut side down on the prepared baking sheet and place in the pre-heated oven for 40 minutes, or until the squash is for fork tender.
Remove from oven and cool for several minutes. Once cool enough to handle, flip over the squash and carefully "shred" the inside with a fork to create spaghetti-like strands, leaving the shredded squash inside the squash shells.
Drizzle the melted butter over the spaghetti squash and top each with some Parmesan cheese. Place back into the oven until the cheese is melted and starts to brown.
Remove from oven and serve immediately with some freshly chopped parsley sprinkled on top. Enjoy!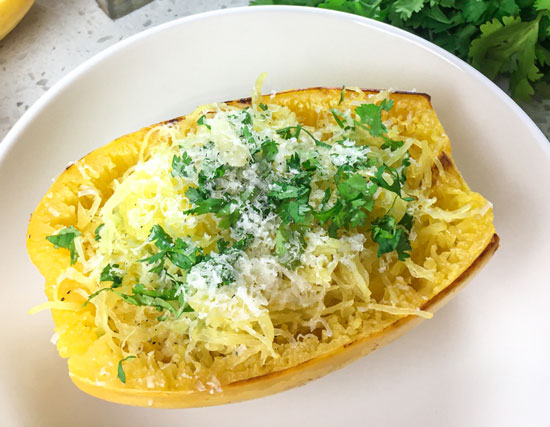 Sloppy Joes Stuffed Squash
Make your favorite Sloppy Joe recipe and stuff an acorn squash. Cut squash in half and remove seeds. Cook in boiling water about 10 minutes. Place on serving dish. Prepare sloppy joe recipe and stuff squash with mixture. You can also sprinkle with bread crumbs and cheese and broil on baking sheet 2-3 minutes until cheese melts.
More ideas for cooking Spaghetti Squash
How to Cook Butternut Squash
How to Cook Acorn Squash
Pumpkin Recipes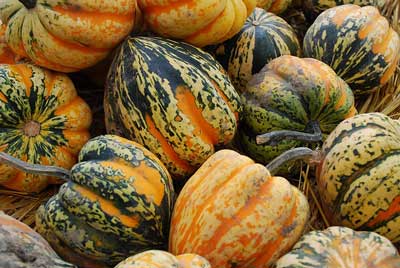 Squash Centerpiece
Pick a butternut squash that is free of blemishes. If it doesn't stand upright on its own slice off some of the bottom so it is flat. Cut off the top of the squash and hollow out seeds and insides.(as you would a pumpkin) Cut out any excess flesh inside. Place on a small saucer or plate. Use your squash vase for flowers and decorate your autumn table.
Cream of Squash Soup
1 medium squash cut in half or wedges and cook in oven for 1 hour or until tender. Allow to cool and scoop out flesh from skin.
3 Tablespoons butter
1 leek, chopped
In saucepan, saute butter and leek. Add,
1/2 teaspoon ground ginger.
Stir in squash. Add 4 Cups chicken broth. Simmer for 20 minutes. Puree in blender. Serve.
~~Try butternut squash or pumpkin for this recipe.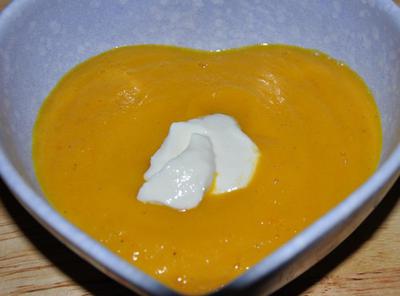 More Cooking Ideas
Add cubed or julienned squash to soups, stir fry, pot pies.


Make cooked butternut squash into a cream soup.


Add ½ cup pureed cooked squash to pancake or waffle batter.


Stuff squash with chopped apples and bread stuffing such as stove top or a homemade version.


Cube squash and roast in the oven with Brussels sprouts, carrots or other vegetables. Drizzle all vegetables with olive oil and season with salt and pepper. Bake at 375 degrees until tender.
More Pumpkin Recipes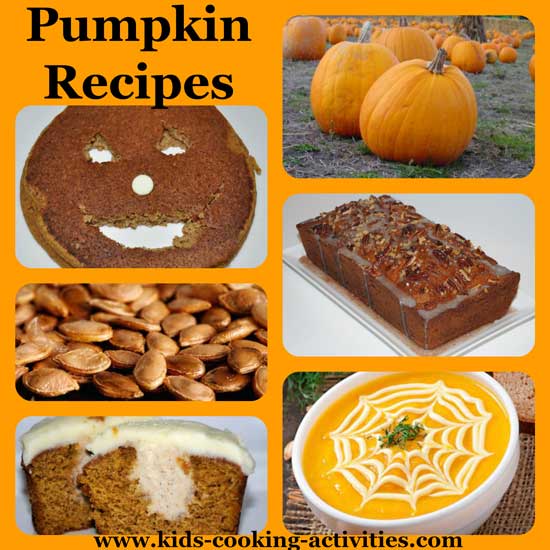 Pumpkin Pancakes
Share your food facts and recipes
Do you have a food facts or recipe to share?
Reader's Submitted Recipes
Click below to see contributions from other visitors to this page...

Spaghetti Squash

Instructions regarding how to cook spaghetti squash are straightforward. Simply cut a spaghetti squash in half (lengthwise), remove pulp and seeds, place …
Cooking butternut squash

The reason I learned how to cook butternut squash was my uncle told me that butternut squash was a fruit when I was very young. I didn't believe it was …
How to cook acorn squash

This is one of the best ways I know how to cook acorn squash it is fast, easy and anyone can do it. I learned it from watching my grandma and she used …
---
Related Food Facts Pages:
~
Apple
, ~
Apricot
, ~
Avocado
, ~
Banana
, ~
Berry
, ~
Cherry
, ~
Coconut
, ~
Cranberry
, ~
Dates
, ~
Figs
, ~
Grapefruit
, ~
Grapes
, ~
Kiwi
, ~
Lemon and Limes
, ~
Mango
, ~
Melon
, ~
Orange
, ~
Papaya
, ~
Peach
, ~
Pear
, ~
Pineapple
, ~
Plums
, ~
Tomato
, ~
Artichoke
, ~
Asparagus
, ~
Beets
, ~
Broccoli
, ~
Brussels Sprouts
, ~
Cabbage
, ~
Carrot
, ~
Cauliflower
, ~
Celery
, ~
Corn,
~
Cucumber
, ~
Eggplant
, ~
Garlic
, ~
Green Beans
, ~
Kale
, ~
Lettuce/Salad Greens,
~
Mushrooms,
~
Okra
, ~
Onion
, ~
Parsnip,
~
Peas,green
, ~
Peppers,
~
Potato
, ~
Radish
, ~
Rhubarb
, ~
Spinach
, ~
Summer Squash and Zucchini
, ~
Sweet Potato
, ~
Turnip
, ~
Winter Squash, including Pumpkins
, ~
Beans
, ~
Eggs
, ~
Nuts
, ~
Seeds
, ~
Meat
, ~
Dairy
, ~
Grains
---
Follow Kids Cooking Activities