Spicy Potato Skins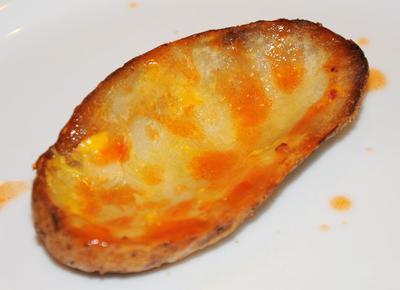 Ingredients
8 baking potatoes, scrubbed well
4 tbsp butter, melted
2 tbsp hot sauce, optional
1/2 tsp salt
1/2 tsp onion powder
Directions
Preset the oven to 350 degrees allowing the oven to preheat.
Pierce the potatoes in a few places with a fork.
Place the potatoes directly on the oven rack and bake 55 minutes or until fork tender.
Remove the potatoes and set aside to cool enough to handle.
Adjust the oven temperature to 450 degrees.
When the potatoes have cooled cut each of the potatoes into halves or quarters.
Remove the potato pulp with a spoon leaving a 1/4 inch shell.
Reserve the pulp for another use.
Place the potato skins, skin side down, on an ungreased baking sheet.
Stir the hot sauce, salt and onion powder into the melted butter until blended together well.
Brush the potatoes with the melted butter mixture.
Bake 15 minutes or until browned and crispy around the edges.
~This post may contain affiliate links and I'll earn a small commission if you shop through them. There is no extra cost to you. This is how we help support our family and continue to bring you amazing content. To learn more see the